As the tech behemoths are chasing to touch the numero-uno position in the ever-changing market scenario, Microsoft Corporation (NASDAQ: MSFT) CEO Satya Nadella seems infuriated about rejoicing $1 trillion valuations. Even though Microsoft has surpassed all its peer competitors in the tech industry as the most valuable company, Satya Nadella states that the valuation is certainly not a "meaningful" benchmark.
In November last year, Microsoft outclassed Apple to become the most valuable U.S publicly traded company. Though, the achievement was short-lived as Apple and Amazon have been constantly challenging Microsoft in terms of market capitalisation. On April 2019, Microsoft's market cap superseded all the other tech titans to hit $1 trillion, which made the company most valuable U.S. publicly traded company once again. That's fairly upsurged, more than 230% ever since Nadella became CEO in February 2014.
However, Nadella doesn't believe that such a feat should be the reason to celebrate. In a recent interview with Bloomberg, he stated that any festivity about such an autocratic milestone would signify the outset of the doom.
"I would be disgusted if somebody ever celebrated our market cap," Nadella told the  Bloomberg Businessweek.
The goal marching attitude of not turning back is the sheer strength of the Nadella. The 51-year-old engineer with a whole lot of degrees raised up in Hyderabad, India, is commonly known for his custodian's nature who effectively holds the responsibility of his curated portfolio. Once he stated that at Microsoft, people tend to have this rather bad habit of not being ready to push individually because they do feel well self-satisfied with the success they have achieved. He also quoted exclusively that people at Microsoft learn and practice the habit of not looking back at their past.
Nadella's contemporary remarks speculate the prospective mindset. When he was introduced into Microsoft, he immediately infused a perception that employees must not take success for granted and spontaneously necessitate efforts to surmount limitations rather than fussing about them.
The thought provocative man describes this peculiar mentality in his book "Hit Refresh," in which he bestowed an anecdote about how he once became annoyed when an employee asked him why a particular app wasn't compatible with a printer. He told that employee to expedite it as they got the full authority.
This particular mindset has supported Microsoft to expand its cloud market to mature as an earnest competitor to the powerful player in the scope, Amazon Web Services. Even though Microsoft's Azure is found to be diminutive, it is now evolving faster than AWS. In its fiscal Q3 2019 report, Microsoft announced the revenue for its commercial cloud business, that covers Azure, grew 41% YoY to $9.6 billion, a specific rate fairly resembling AWS' Q1 growth proclaimed the corresponding week. However Azure revenue alone increased by 73%, Microsoft announced.
Nadella took up the preferable decision of focussing on building the cloud computing business at Microsoft to the next level. Rather than just pulling the shaft of comprehensive resources to the Windows group.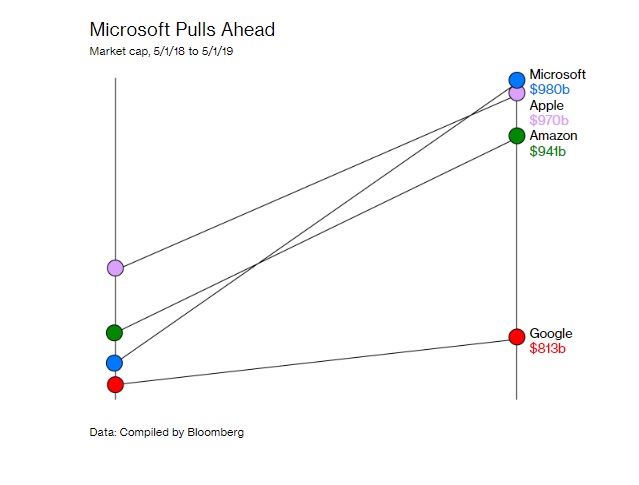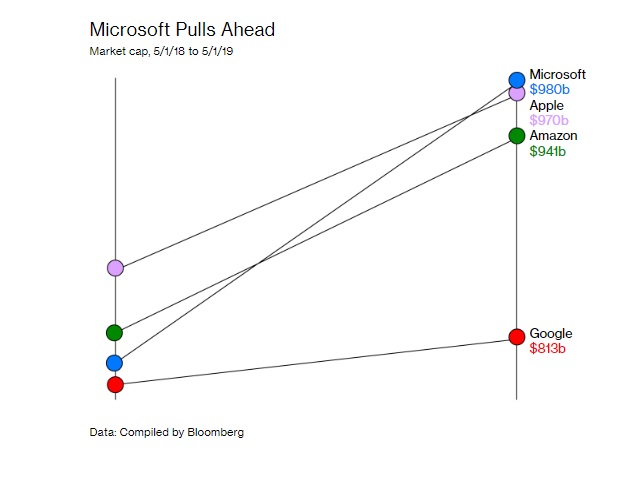 To prove the steering spirit, Nadella's $7.6 billion write-offs of then CEO Steve Ballmer's decision to acquire Nokia signifies that he was relegated to peering forth at the company rather than converging on past objectives in the mobile industry. Microsoft extensively blew its prospect to become a better performer in the global mobile industry, presently dominated by Apple and Google.
Microsoft has placed its foot high by combatting all the challenges with its dynamic CEO's winning strategy, who kept his eyes always on the target.