After years of relative stability, the global mobile handset industry continues to undergo a massive transformation as a recent report from Counterpoint Research shows that the combined handset profit of Chinese brands has shattered the $2 billion barrier in Q2 2018. This marks the highest ever combined net profit achieved by Chinese OEMs in a single quarter.
Global Handset Profit Q2 2018: Apple Is Still the King
According to the report, brands like OPPO, Vivo, Huawei and Xiaomi are leading the relentless Chinese assault on the global smartphone industry, going so far as to threaten the incumbent giants of the industry – Samsung and Apple. Nevertheless, despite all the production difficulties associated with their flagship iPhone X, and a lack of enthusiasm surrounding the lacklustre iPhone 8, Apple continued to be ridiculously profitable in Q2 2018. In fact, Apple took home a mammoth 62% share of the total global handset profit in Q2 2018!
However, despite their dominant market position, Apple does have some chinks in their armour. Their market share of the profits actually went down a bit from the 65% share they enjoyed in Q2 2017.
Nevertheless, Apple's troubles are nothing compared to their biggest rivals, Samsung. The South Korean smartphone giant has had a torrid quarter, with poor sales of their flagship Galaxy S9 smartphone having a marked negative effect on their bottom line. Samsung's global handset profit share fell to 17% in Q2 2018, down from 22.3% in Q2 2017. In fact, this is the second consecutive year during which Samsung's share of the handset industry profits has fallen sharply.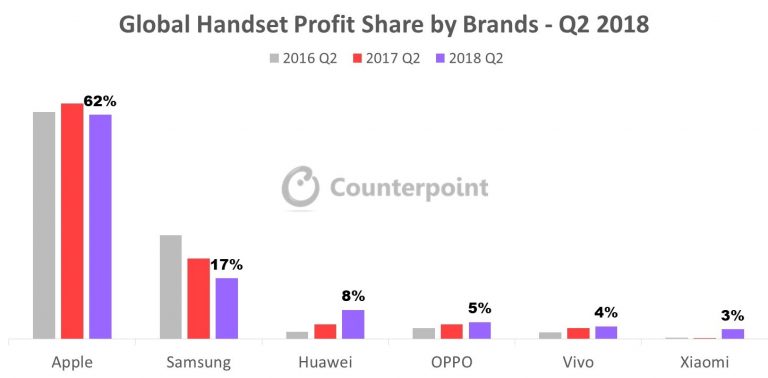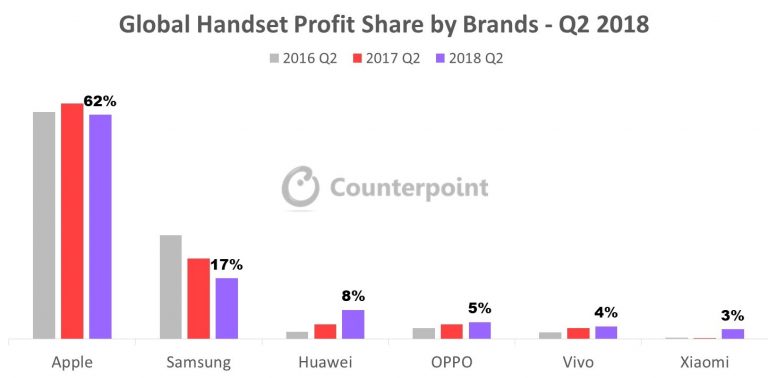 Chinese Brands Handset Profit Q2 2018: Xiaomi Surprised Everyone
However, Samsung's loss is the Chinese smartphone industry's gain. Each of the big four of the Chinese handset scene – Huawei, OPPO, Vivo and Xiaomi experienced a massive increase in their overall industry profit share. Huawei's global handset profit share now stands at 8% in Q2 2018, up from nearly 4% in Q2 2017. That's over 107% YoY increase. Vivo came in second with a 24% YoY increase in their handset profits, now accounting for 4% share in Q2 2018. On the other hand, OPPO registered a nearly 23% YoY increase, accounting for 5% of the total global handset profit share.
However, without a doubt the biggest winner of this quarter was Xiaomi. Xiaomi's handset profit soared by a whopping 747% in Q2 2018, capturing 3% of the global handset profit share!
The fact that Chinese handset OEMs are becoming more profitable is not really a surprise. In fact, Chinese brands mobile handset profit had crossed $1.5 billion in Q3 2017 – the first time ever. However, this was followed by a less than stellar two quarters, as cumulative Chinese OEM profits fell to $1.3 billion in Q4 2017, and continued their unexceptional performance in Q1 of 2018 when it comes to smartphone shipments. In that sense, Q2 2018 has been somewhat of a mini-renaissance for them.
So why have Chinese OEMs suddenly started becoming so profitable? There are a few factors behind this. The primary factor is the shift in focus to mid-range and premium segments of the market. These segments typically enjoy much more generous profit margins compared to the low end, where margins are razor thin. Nevertheless, the question remains – how are these companies convincing customers to move away from trusty name brands such as Samsung and Apple and embrace the Chinese revolution?
The answer is rather simple – innovation. For years, Chinese OEMs were merely playing catch up with the big boys. Companies like Apple and Samsung would drive innovation with attractive new features, and Chinese OEMs would incorporate them into their own offerings a year or two down the line. However, now Chinese OEMs are leading the line in terms of creativity and innovation with cutting-edge technology such as under screen fingerprint sensors, triple cameras, etc. These highly futuristic features are obviously coveted by a lot of smartphone buyers today, and the data backs up this idea. Another factor driving up profitability is Chinese OEMs' tremendous success in emerging markets, particularly India. In fact, the Chinese manufacturers' strategy in India has been so effective that it has decimated the local competition and displaced even Samsung and Apple at the top.
As it stands, it is looking increasingly likely that the future of the smartphone industry may well be dominated by Chinese brands. As a couple of Chinese smartphone OEMs fast approach the $100 billion valuation mark, one has to wonder what the future has in store for a beleaguered Samsung and an under threat Apple.