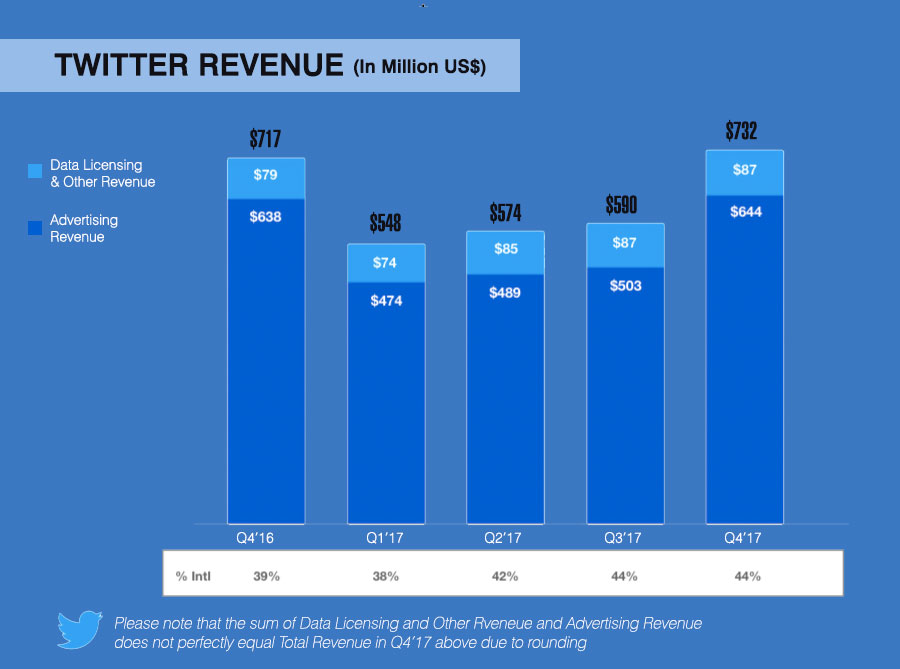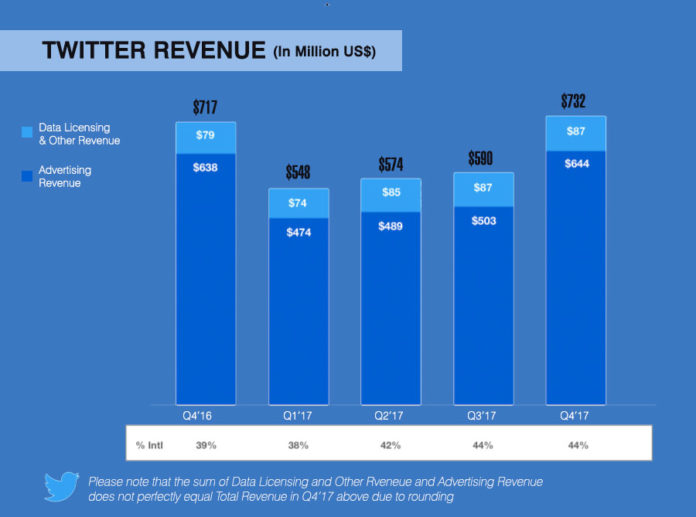 In its 12 years of history, it is the very first time when Twitter Inc. (NYSE:TWTR) has achieved something it was trying for long –  recoding a profitable quarter. The micro-blogging social network has reported GAAP net income of $91 million in Q4 2017 as revenue reached $732 million, beating $686 million revenue estimation by Thomson Reuters. Consequently, the share Twitter shares jumped more than 20% on Thursday.
The fourth quarter performance of Twitter will definitely boost the confidence of the management, board and investors as well. Twitter didn't record a big jump in its monthly active users that reached 330 million though, its daily active users base went up 12% year over year. Twitter tried to justify the growth in monthly active users with the crackdown on fake accounts and malicious activities, which amounted to less than 5% of its monthly active users. The microblogging network also blamed the new changes in Safari's third-party app integration policy which affected 2 million monthly active users.
Twitter Revenue 2017: More Than 86% Came From Advertising
Twitter also reported that in Q4 2017 its revenue soared 2% year over year, while a 7% jump was recorded in its advertising revenue. Overall, in 2017, over 86% of Twitter's total revenue came from advertising.
Despite all the positive signs and performance, Twitter has a long way to cover before it wins back investors confidence completely. By providing the outlook of 2018 Twitter has explained that the year of going to be more of strategic investment and less focus on profitability. Once again Twitter emphasized its commitment to fight with malicious, fake and spammy content with the help of having a more robust system in place. The focus of Twitter would be driving engagement, identifying credible accounts and improving its sales team, all will need more investment.
The road ahead is not going to be a cakewalk, especially when Twitter has got a lot to improve and fight with. The departure of top executives continues; It's Chief Operative Officer Anthony Noto is leaving on March 1, to join a finance startup as CEO. Unlike Facebook, the failure of attracting big-time advertisers who are capable of pouring millions of dollars on ad campaigns is another challenge Twitter is facing.
But not all have lost for Twitter. The fourth quarter results bring a ray of hope and if Twitter continues with the modest growth and profit in the upcoming quarters, it won't be tagged as sinking ship anymore. It may not become Facebook in terms of advertising revenue but it will surely become more valuable and respected platform, due to the demographics of its users, Facebook always wants to be seen as.