Augmented Reality and Virtual Reality is a bit of a hot topic in the tech industry these days. We have covered AR/VR on a number of occasions here at Dazeinfo. The general consensus so far has been that, while promising, AR and VR are yet to take off as a mainstream consumer technology for various sets of reasons. However, latest data from IDC's most recent report, "Worldwide Quarterly Augmented and Virtual Reality Headset Tracker" predicts healthy growth for both in the upcoming years. Worldwide AR and VR headset shipments to grow from under 10 million in 2016 to near about 100 million by 2021. This comes out to an incredible 5-year CAGR of 57.7%!
So, what are the main factors enabling this growth? And what are the factors still holding back these hugely promising technologies?
Finally, and perhaps most importantly, we must ask – Is the age of VR and AR finally upon us?
Dawn Of The Age Of VR
A while back, we analyzed the current state of the VR industry and identified key issues stunting growth. Some of these issues are:-
High Cost Of Entry – Quality virtual reality experiences are limited to high-end headsets whose cost is prohibitively high.
Hardware Requirements – Besides the cost of the headset itself, VR requires considerably powerful PCs to run. On the mobile front, high-end Galaxy smartphones are required for the Samsung Gear VR.
Health Issues – VR use can induce nausea, motion sickness, blurriness, headaches, etc.
Lack Of Meaningful VR experiences/content
Clunky Software And Hardware Design
However, all of this is set to change very soon. VR is set to become much more accessible to the average consumer in the next 18 months. The report estimates VR headset shipments to grow from 9.2 million in 2016 to 67.1 million in 2021, representing a CAGR of 48.7%. Screen-less viewers like the Samsung Gear VR were dominating the VR market with 77.5% of share in 2016, not least due to their lower cost and convenience of use. Tethered HMDs constituted 21.6% of market share, whereas standalone HMDs accounted for less than 1% share of VR market in 2016.
Factors Driving VR Headset Growth
Release Of Newer Headsets – The 2nd generation of high-end VR headsets are due to be released soon. Vendors such as Microsoft are also set to introduce their own tethered headsets and high-end standalone VR headsets. These headsets will offer much improved, and simplified experiences as the technology will have matured.
Lowering Costs – As prices of VR headsets go down, we can naturally expect more people to invest in the technology.
Reducing Hardware Requirements – As consumer GPUs become more and more powerful with the upcoming Nvidia Volta range and AMD Vega, the hardware requirements for VR are getting more manageable.
Ironing Out Health Issues – Efforts are being made to mitigate or even eliminate many of the health issues currently plaguing VR.
With growing adoption of VR, we are also likely to see a consumer shift from screen-less viewers to tethered and standalone HMDs. In fact, by 2021, the share of screen-less viewers is expected to fall to 45%, while the market share of tethered HMDs (27.9%) and standalone HMDs (27.1%) is set to increase drastically.
All of this points to a single unmistakable conclusion – the age of VR is upon us.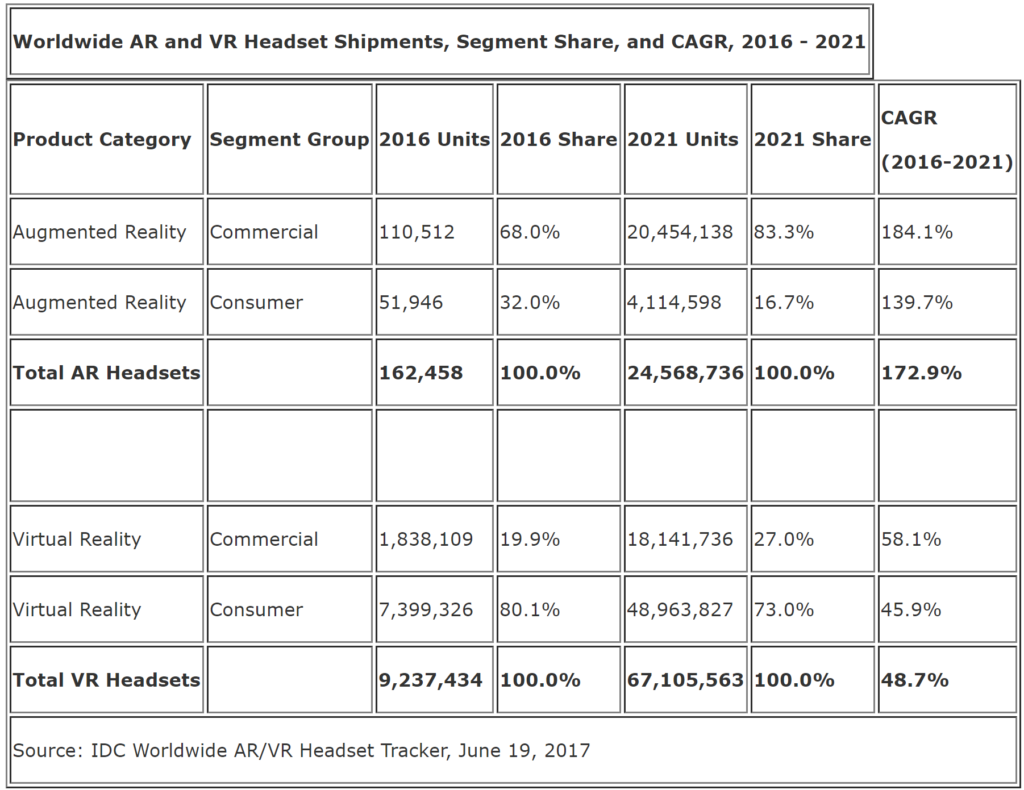 AR Still Needs Time
While the age of VR may be upon us, Augmented Reality still has some way to go before it can become successful consumer technology. The primary reason for this is simply that AR is a considerably more challenging proposition compared to VR. The flip-side of this is AR is expected to have a much higher ceiling than VR. AR has the capability to find use in a larger number of verticals, and have a much bigger impact on the industry itself. In fact, many believe that AR may actually be the next dominant computing platform, replacing smartphones in the near future.
Currently, the bulk of AR headset sales comes from commercial enterprises, not from the consumer market. There is a huge level of interest from the healthcare, manufacturing, field service workers, and design industries. There are quite a few companies like Microsoft, Epson, Intel, Meta, ODG, and DAQRI which are catering to these demands. In 2016, AR headset shipments have been quite slim compared to VR, with a net total of 162,458. The bulk of this (68%) has come from the commercial segment. However, the incredible growth is expected in both commercial and consumer segment in the upcoming years. In 2021, we can expect around 24.5 million total AR headset shipments, with the majority (83.3%) come from commercial segments. This represents a combined CAGR of 172.9%.
Takeaways
VR headset sales are about to explode in the consumer market. Development of VR games and other experiences could become a very lucrative option for software developers and vendors.
While VR is driving sales in the short term, AR is expected to be a much bigger platform eventually. Companies investing in AR stand to reap huge dividends if this prediction holds.
The consumer market for AR is quite small and will be for some time. Those targeting the consumer segment would do better to focus on VR.