The exploded adoption of smartphone and improving internet infrastructure have played a vital role in Google Chrome mobile browser market share in India reaching the highest level ever. Google Chrome has recorded an unprecedented growth in the last 12 months. Consequently, the market share of Google Chrome browser swelled to 29.27% by the end of March 2017, from just 13.45% in March last year.
The record jump of 15.82% point in the market share of Google Chrome mobile browser in India was the result of other mobile browsers – mainly Opera and Android browser – losing their ground. Opera had lost nearly half of its market share, while Android lost more than 55% of its share between March 2016 and 2017.
Google Chrome Mobile Browser Share in India: The Unprecedented Growth
Unlike Western countries, where mobile apps have already become the gateway to the Internet, emerging markets, likes of India, are turning to mobile browser to quench their internet thirst. By June 2017, India is estimated to have 450 million internet users.
Despite India being the second largest country by the number of Internet users, the penetration of internet is quite disappointing as compared to other competing countries. In comparison to 88% and 53% internet penetration in USA and China, respectively, the Internet penetration in India has reached to just 34%.
The growth in the overall Internet adoption in India is primarily driven by the ongoing smartphone revolution. This could be very well understood by the fact that the growth of mobile internet users has been much faster than Desktop users in the country. Nearly 80% of internet users in India connect with the internet using their mobile devices. Nearly 92% of smartphones sold in India every quarter are powered by Android, and these devices come with pre-installed Google Chrome browser.
The first time smartphone users in India struggle with limited computing power and data. Interestingly, the share of the first time smartphone users in quarterly sales of smartphone sales is sizable. This is highlighted by the fact that nearly 71% of smartphone devices sold in 2016 belong to sub-$150 category.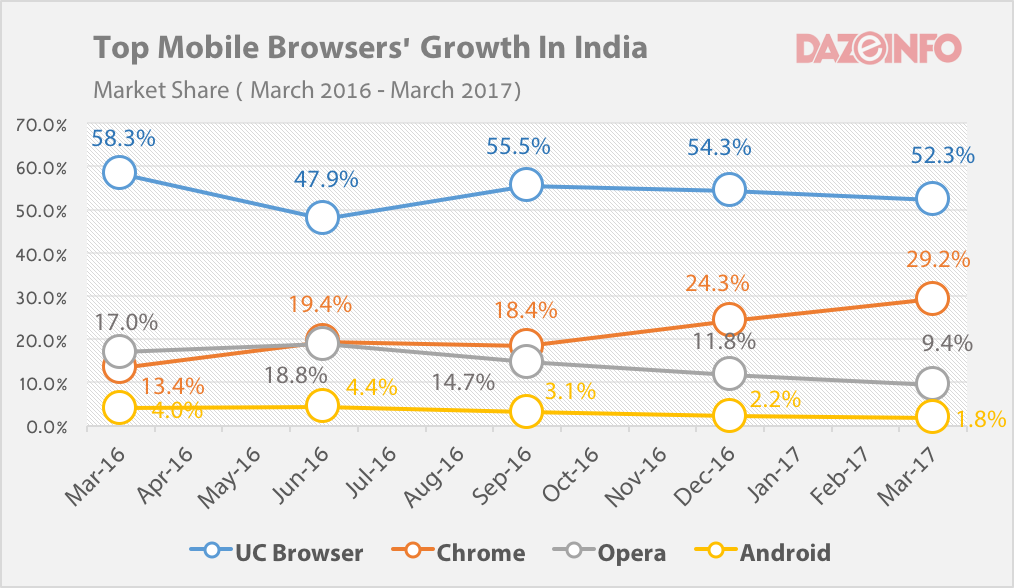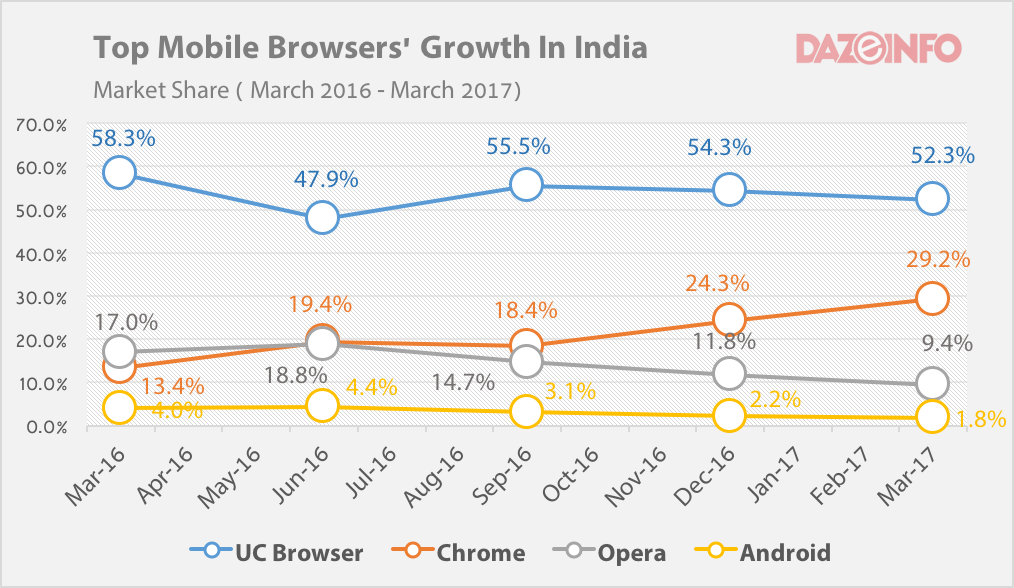 These first-time smartphone users find a great deal of comfort and ease in accessing the internet via browser instead of apps.
Google Chrome and UC Browser Making Mobile Web Experience More Adorable
Recognising that mobile internet users in emerging market are more of browser friendly, browser companies, especially Google and UCWeb, have constantly been working in the direction of making mobile web experience more adorable.
UC Browser, which rules the mobile browser market with 52.3% share, has started offering data compression which curtails the load time and cost of data for users. It has also become a content aggregator and employee every possible strategy to get users hooked up.
Similarly, Google Chrome, which has been narrowing the gap with UC browser for the last one year. Quite recently, Google has optimised Chrome on mobile for minimal consumption of the battery, which has been the biggest concerns of Chrome users on mobile.
Google Chrome mobile browser market share in India has been swelling for the last one year. While UB Browser is leaving no stone unturned to secure its numero-uno position in mobile browser space, it would be interesting to see if Google could turn the tide.
[poll id="72″]