LinkedIn Corp (NYSE: LNKD) is gearing up with a new UI to keep brands hooked to the platform. The online professional network has released an early preview of a more clean and appealing user interface. This new UI is apparently visible to a few selected users for personal profiles as well as company pages. The interesting twist is, the new UI of LinkedIn looks heavily influenced by the box design pattern of Facebook.
According to LinkedIn, this is the 'largest desktop design overhaul' since its inception.
The new UI will apparently enhance the user experience. Consequently, this will also narrow down the gap between the desktop and mobile app for personal profiles. According to LinkedIn, the objective behind this design overhaul is to make content easily accessible, provide a smooth navigation and a clean interface. The changes in design will help users to have an uninterrupted focus on opportunities and conversations that interest them, irrespective of device selection.
To make the interface cleaner and eye-catching, LinkedIn has increased the size of icons on top and included a chat window, like Facebook. This will allow you to continue with your discussion while you explore the platform at the same time.
LinkedIn has also tweaked the algorithm to show the most relevant contents on your news feed. The company claims that the new algorithm will not just allow users to discover contents aligned with their profession, but will also ensure that they do not miss out on any professional opportunities they care about.
Linkedin has introduced many other new features in their new profile interface, but the similarity with Facebook is simply the talk-of-the-moment!
LinkedIn Pages: Design in Box
LinkedIn has not limited the new design only to personal profiles. The online professional network has also revamped company pages to the extent that it now looks like a replica of Facebook Pages.
A three-column design with big size boxes in the middle makes updates from brands stand out. In the left side column that is comparatively small, LinkedIn Pages display company names and few other vital stats about the followers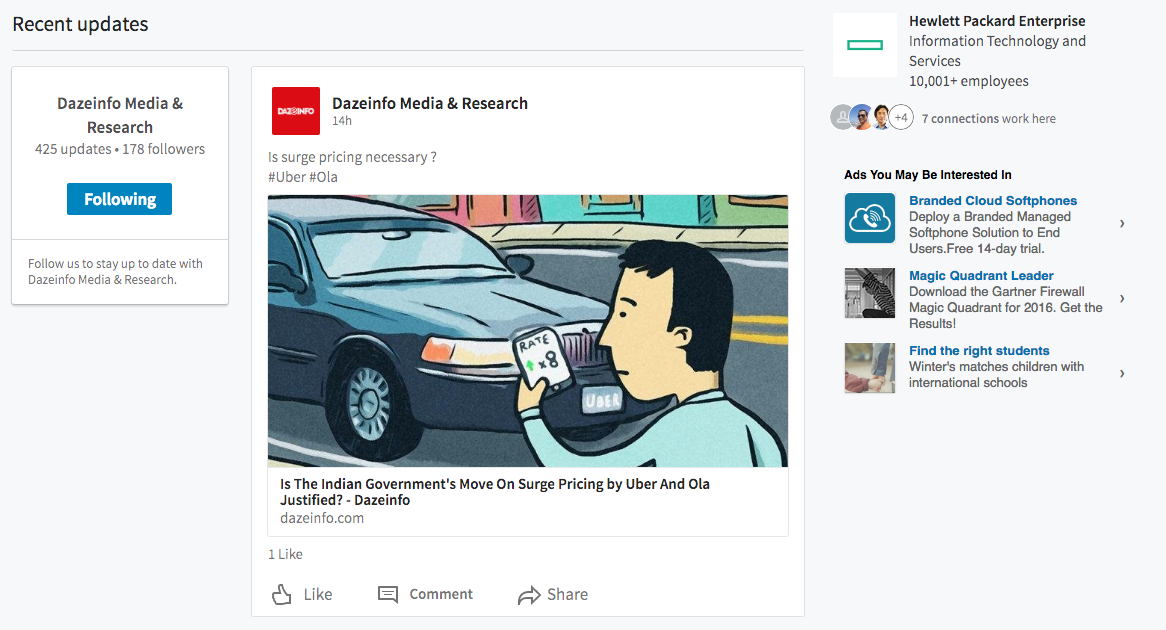 LinkedIn's Battle with Facebook
After Mark Zuckerberg's move to introduce features that propelled better business opportunities for brands on Facebook, LinkedIn had to make a move. The new design overhaul is apparently aimed at winning back the lost interest of brands and keep them hooked onto the platform.
Facebook, of late, has been attracting businesses with its wide range of business services and tools. And this is definitely a potential threat for LinkedIn. Hence, it makes more sense to deduce that LinkedIn's decision to revamp their UI experience is more likely to counter the growing threat from Facebook. In the last year in November, Facebook introduced features that were similar to the key features of LinkedIn, like Job Listing. In February last year, Mark Zuckerberg & Team rolled out Facebook at Work that allows users to keep their personal and professional digital world separate.
In the last few years, Facebook has consistently evolved from being just a social network to a platform that offers great business scopes. And this transformation is not at all hidden from LinkedIn. However, after the acquisition by Microsoft, it looks like LinkedIn has decided to go all out against Facebook to retain its own grounds, either by being innovative or influenced.