Gone are the days when cheap electronic items could save your few bucks; especially the Apple chargers. A new research conducted by UL exposed fake Apple chargers as highly dangerous; reports MacRumours.
UL, a global independent safety company based in Illinois, conducted simple safety tests in which 99% of fake Apple chargers failed. The tests, commissioned by UK's Chartered Trading Standards Institute, were done to check the insulation levels of the chargers.
The chargers were purchased online from countries like US, China, Australia and 5 others. A high voltage was applied to them. However, the results found that out of the 400 knockoff chargers, only 3 had sufficient insulation against electric shocks.
Apple Furious, Filed Lawsuits
Many online retailers, like Amazon, has been suffering from a colossal counterfeit problem for a long time.
In October, it was revealed that Apple bought over 100 iPhone devices, Apple power adapters, charging and Lighting cables from different sellers on Amazon and tested them. What they found was that around 90% of those adapters and cables were fake, even though they were 'fulfilled by Amazon.' On contacting Amazon about the issue, Apple found that most of these accessories were supplied by Mobile Star LLC.
Furious over the counterfeit, Apple pressed charges against Mobile Star LLC. But the point of concern is, when trusted sites like Amazon sell such cheap knockoffs, people get deluded and end up buying these chargers to save money. This issue of counterfeit products being sold online is grave in the wake of the fact that these products are supposedly sold directly by the trusted sellers, like Amazon.
After Apple notified Amazon, the retailer giant spoke out against the issue, saying it strictly follows 'zero tolerance' policy to against sellers indulged in selling fake products. This news comes in the wake of the earlier Dazeinfo report stating that Amazon is finally fighting back against its fake products' problem.
Fake Charges Could Kill You!
The major reason to check these chargers is that they could cause damage to your iPhone or other Apple products. Further, they may end up injuring you physically by electric shock, or catch fire due to low insulation.
According to Mirror, these chargers are poorly insulated, have exposed metal pins and live parts that could cause harmful electric shocks.
News also had that these chargers are capable of catching fire. Katie Skerchock, an Apple consumer, reported that the metallic covering on the USB wire of her charger shorted out. Now that's not a great thing to look forward to in the morning when you unplug your charger, eh?
Besides, the use of these chargers also caused handsets in China to shut off at random.
Spot the Fake Before Buying
Spotting the fake charger is very important. Though Apple products are a little pricey, it is never a good option to buy cheap knockoffs. Apple's support site provides a detailed list of identifications that can be done to verify that you're using certified Apple accessories. When you can dish out enough cash to buy the pricey handset, why not get the certified accessories too?
Some simple bugs to recognise the fake chargers from the real deals are:
The safety mark must be between the two bottom pins on a 3-pin charger and must be light grey in colour. But, the image below shows a fake charger, as the safety mark does not sit between the two pins.
Weight:

The weight of a genuine iPhone charger is generally more than its cheaper counterpart.

USB Cable (Phone Side):

The white piece at the end of the cable should be round. Additionally, the edges of the cable must be well-finished. Image shows a fake cable on the left and genuine on the right.
USB Cable (Socket Side):

The joining of the two metal pieces on the socket side of the cable will be perfect and tight. But in the fake, there might be a slight jutting out of the metal.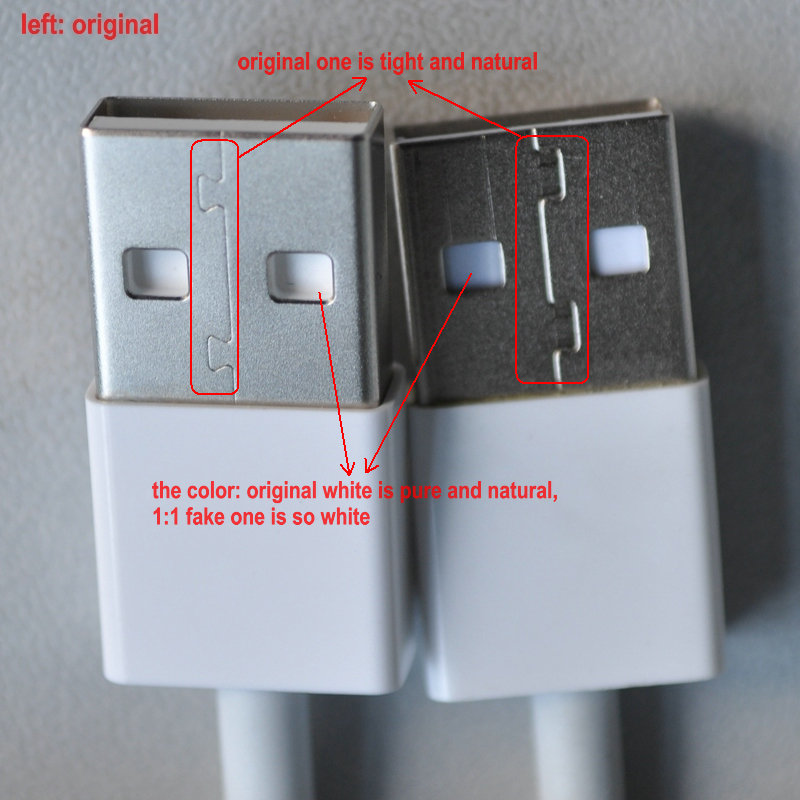 USB Socket:

The sockets of the charger, where the USB cable connects, will have a smooth and neat arrangement as shown. While the Copy (C) has a shabby metal finish.
Pins:

An Apple charger's pins are matte-finished and have well-rounded smooth edges. The image depicts an Original (O) and a Copy (C).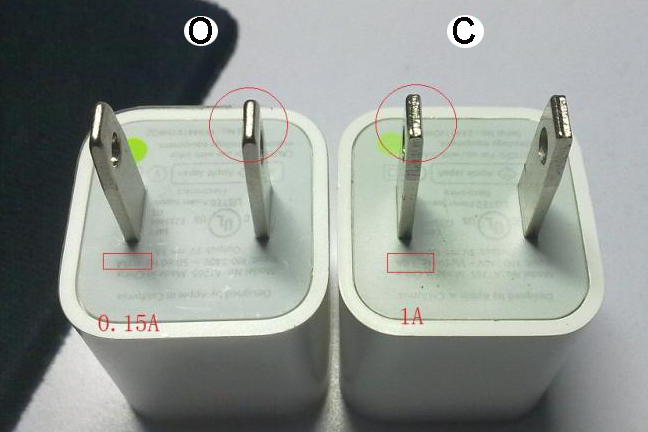 According to MacRumours, Gillian Guy, Chief Executive, Citizens Advice urges consumers to look for counterfeiting mistakes in the brand names, logo and safety marks. To help consumers in the Europe region spot fake chargers, Trading Standards also included certain parameters in its press release to check for.
As we draw a conclusion, we would request all consumers to be more careful when buying electronic products from any other sellers than the genuine ones. It might be a great way to obtain an awesome product at a low price, but it is not worth all the hassle that follows and the danger it could pose. So, always go for the original product. The extra cost is not more valuable than your life!