We keep saying that we live in an app-centric world. We have a host of apps to pick when it comes to deciding which one we use the most. But never has it occurred to us to think of the 'keyboard' when listing our most favourite or most used application. The keyboard is an integral part of our app experience. In fact, it is the keyboard that facilitates our interactions with the system or over a network of users. Despite being so pivotal, this application has had the least innovation in its design till date.
To bring forth the much-needed change, KeyPoint Technologies launched the first 'Search and Discovery' platform Xploree.
Xploree is a step ahead in innovation for keyboards and was launched last year in India. The winner of '2015 New product Innovation Award', Xplore lets brands and services to connect with their users without having them to exit from the conversation apps. The myriad of options has fuelled the popularity of Xploree. Starting with offers, discounts, deals, coupons, products and services – Xploree lets you discover all these while chatting with your friends.
To use the keyboard, download it from the Google Play Store and replace the current keyboard with it.
Features of Xploree:
The new smart keyboard provides a hyper contextual, intent-driven experience to the user.
Xploree has a natural language processing engine that understands the context or meaning of the sentences that you type. Based on the current as well as past context, it provides relevant recommendations to services and brand. For example, if a user expresses a desire for pizza to his friend by typing the word 'pizza', Xploree will understand the intent of the user to have pizza.
Xploree provides ads, coupons and recommendations to the users, based on their intents. For the same instance mentioned above, it will deliver recommendations of various pizza places like Pizza Hut or Dominoes. This is hyper-context linking, where the type of ad depends on the preferences of the users and their location.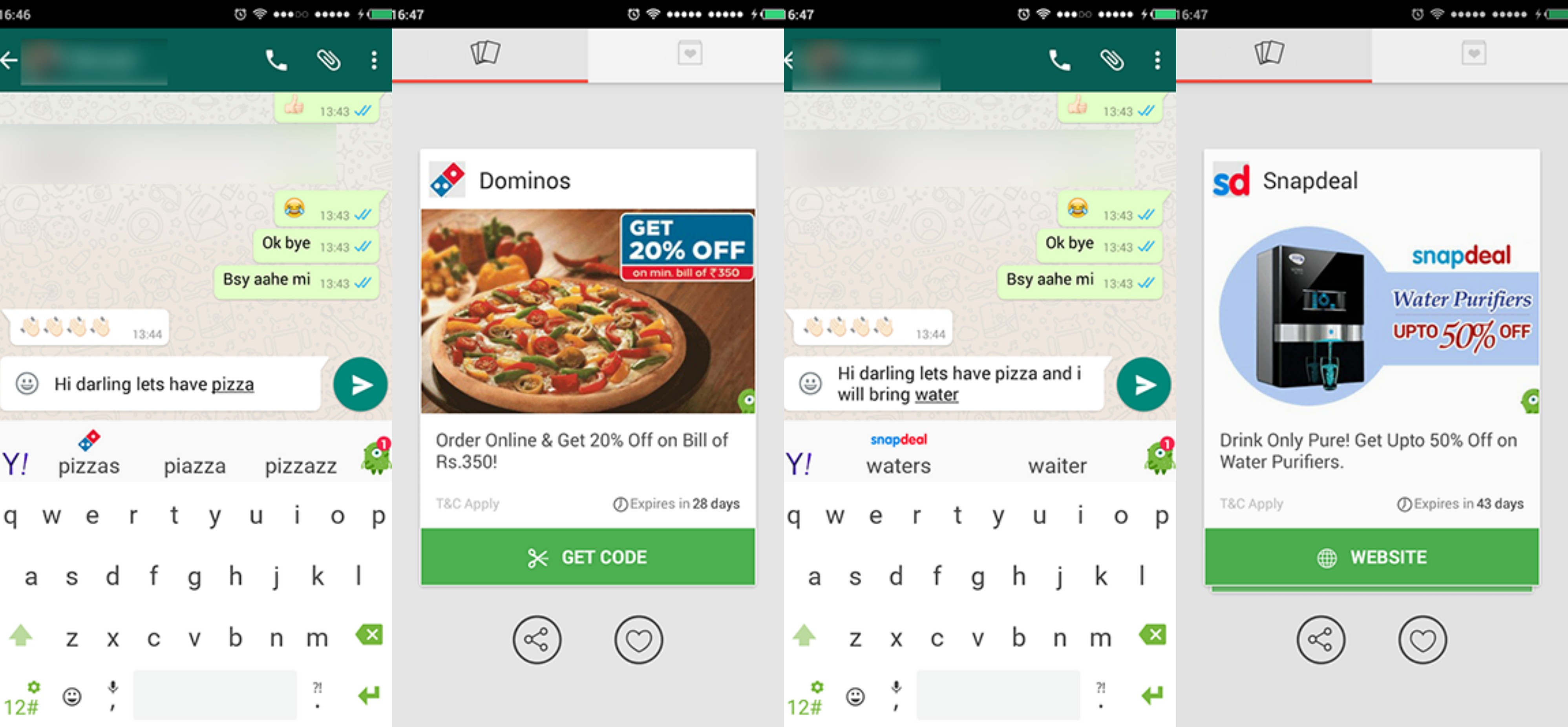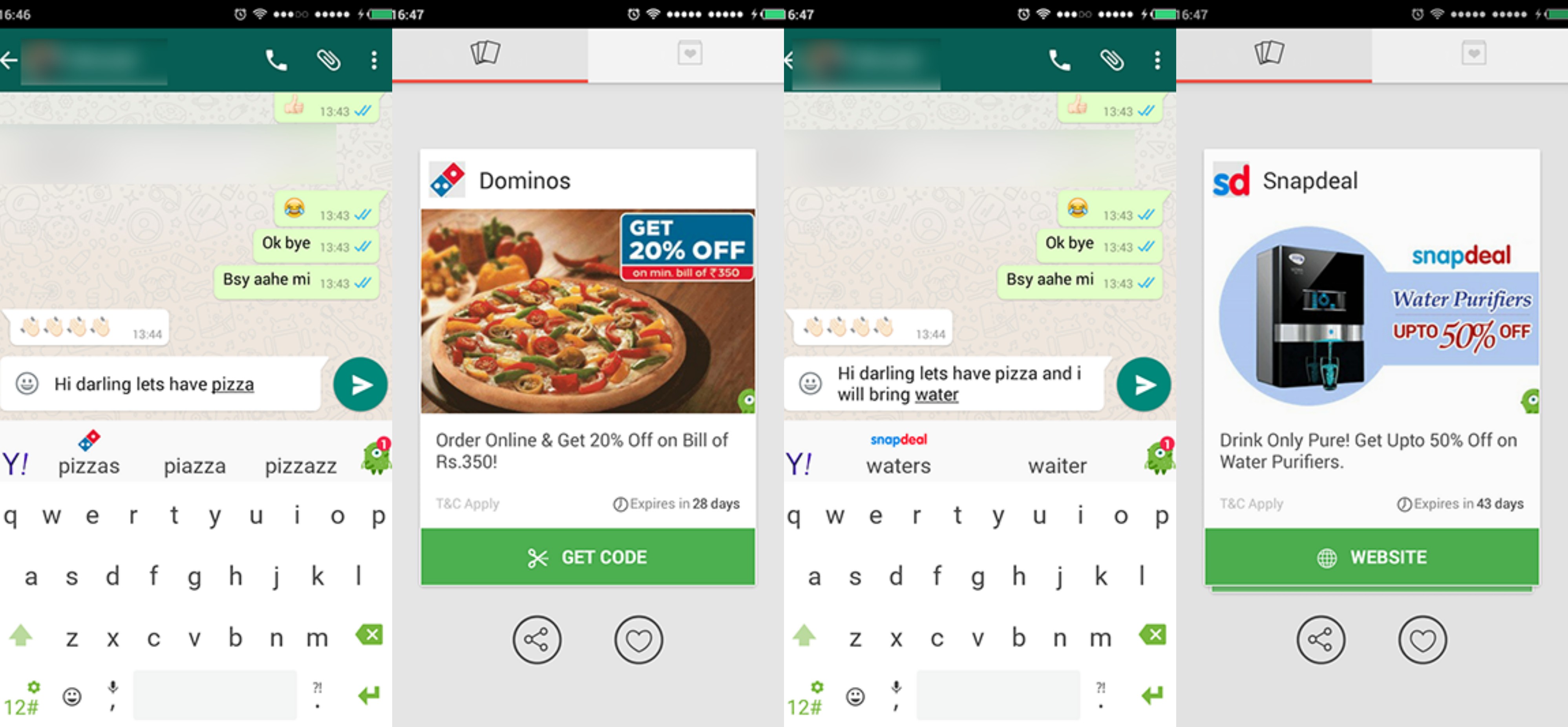 Multi-lingual Platform:
It is also a multi-lingual platform, accommodating multiple users across many different devices and apps. "75 percent of consumers in non-English-speaking countries prefer to buy products in their native languages." It supports Hindi, Telugu and many more and also incorporates transliterated languages like 'Hinglish'.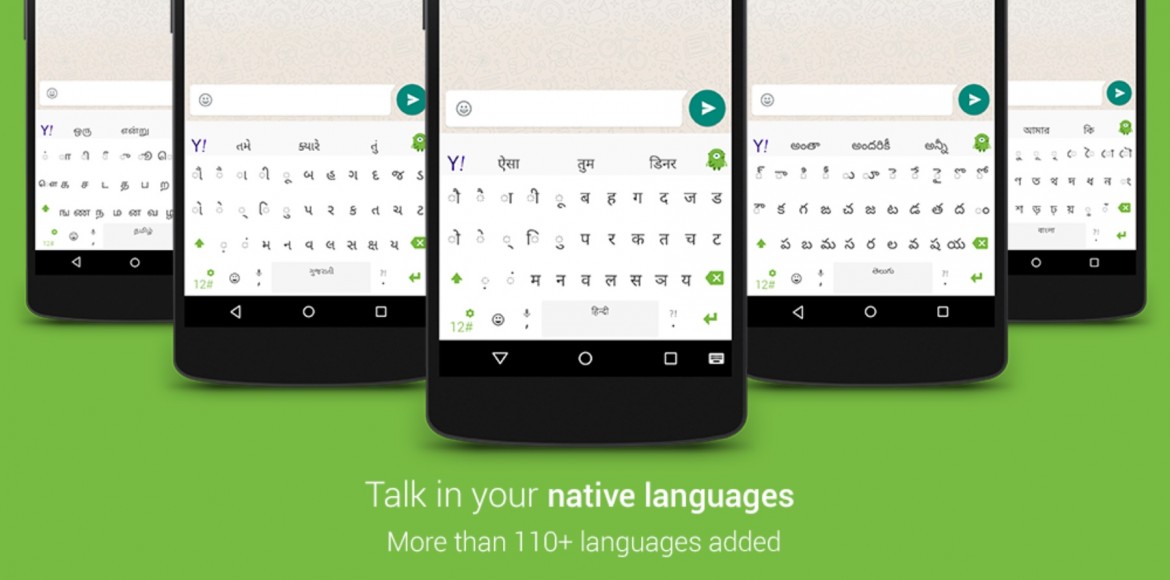 It supports every app, providing a cross platform to the users. It enables brands and services to connect with the consumers across multiple apps. Therefore, there is no need of additional SDKs for each app.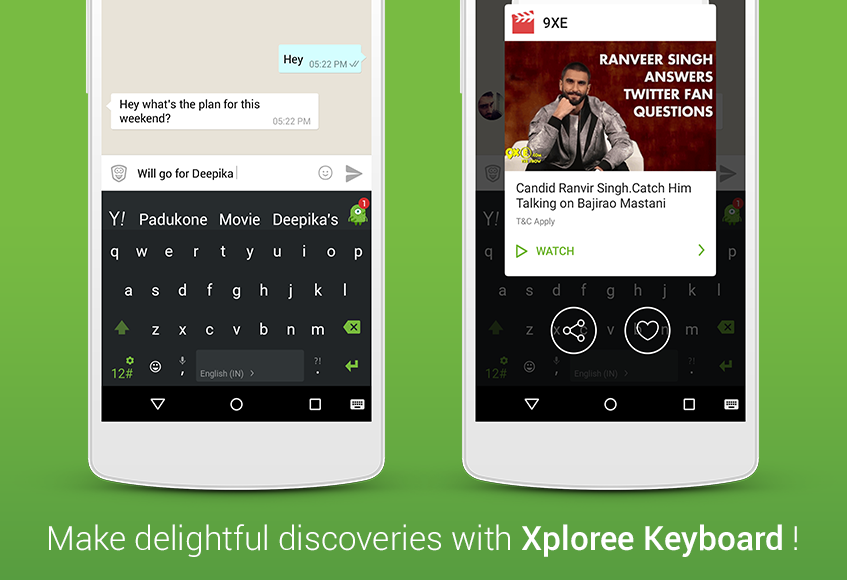 Not just for the users, Xploree also provides brands and services with a self-serve dashboard to effectively create campaigns and influence users across all apps.
In September 2015, Xploree partnered with Yahoo! Search engine to provide a powerful search experience across all apps. Thus, users can browse and search information without having to quit the app. Users can use the Yahoo! button on the top left corner to access the web.
It also incorporates the usual keyboard app features like auto-correct, themes, word predictions, multiple languages and emojis, along with its other intelligent features.
Xploree and Mobile Marketing
The innovative design and functioning of Xploree is a boon to the marketers. Xploree app is like another step towards bringing brands and services closer to their customers.
For instance, if you have to book a flight from your smartphone, you will need an airlines app; to buy a luggage you will need to have a retail store app; and so on. Imagine booking a flight while chatting with your friend. You will need to juggle between two apps.
Not with Xploree! Xploree lets you do all these while you are chatting with your friend. And biggest part is, you don't need to quit your chat app to do so.
The Hyper Contextual and intent driven technology of Xploree provide users with recommendations of products or services based on their conversation. Users will see product listings and deals that are relevant to them.
Albeit the ease of use of the app, it's intelligent UI and attractive keyboard features make Xploree a wonder app to use. With no other competition in the industry, Xploree has the potential to revolutionize the mobile shopping experience.