Retailers and customers both await the holiday season every year. It is this time of the year that sales escalate at a tremendous rate, thanks to raining discounts. This year, retail spending during the holiday season is expected to touch $655.8 billion, a 3.6% increase from the previous year. According to a recent survey by Blancco Technology Group, a significant 68% of the global mobile users plan to purchase a new smartphone either for self or as a gift during this holiday season. The study also highlights that 83% of the mobile users are likely to buy a new smartphone on Black Friday and/or Cyber Monday.
Smartphone Sales During Holiday Season: Low Prices & High Savings Attract Customers
The major factors that will fuel the purchase decision during the upcoming holiday season are promotional incentives and discounts on smartphones. Shopper, according to the respondents, is expecting $300+ credit for switching to a new carrier/OEM and heavy discount on new models. On the scale of 1 to 6 where 1 is the least and 6 represents highly influenced, these two factors ranked 3.6 each. It can be said that price is the most influential factor while making a buying decision, especially in the case of electronics, particularly smartphones.
While the holiday shopping season influences the sales worldwide, It impacts the US market the most. According to the study by PWC, in the U.S. 83% of the consumers said that low price is the most attractive factor for making purchases. On the other hand, 65% found deals and promotions more attractive.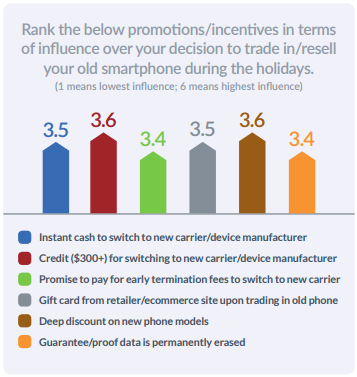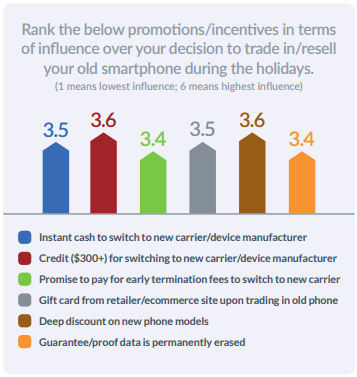 The intense competition between the e-tailers to achieve highest sales mark and to stay ahead in the competition is the reason why they provide heavy discounts on these devices. Moreover, the declining ASP (Average Selling Price) of the smartphone has squeezed the upgrade/replacement cycle. Consumers prefer smartphones over other products. Smartphones facilitates day to day activities like bookings, payments, purchases, communication, etc. This makes it the most preferred product during the holiday season.
Online sellers, as well as brick-and-mortar stores, need to brace themselves for this holiday season. They need to make sure that they provide the best possible offers to attract more and more customers. Even the marketing teams need to ensure that they successfully launch the best deals and promotions for the consumers.
Exchange/Reselling of Mobile Phones Might Lead To Data Breaching
Having a smartphone makes activities very easy. Even working professionals are dependent on smartphones to a large extend for tasks like mailing, messaging, audio/video conferencing, storing data and credentials, on the go. The survey reveals that 32% of the mobile users are willing to exchange their phones with their network carrier/OEM. On the other hand, 13% mobile users will sell their old phones.
While they do this, it is very important for the users to ensure that they clean all the data- both personal and corporate. One in five organisations has been affected by mobile security breach, primarily driven by malware and malicious Wi-Fi. As per the respondents, customer records, patent filings, and login credentials data loss are the top fears. 72% mobile users reported of their devices automatically connecting to any available Wi-Fi connection, and 76% users connect to their company's network. However, the fear of the loss/or theft of these data doesn't affect their buying decisions.
Make Sure to Wipe Off All the Data
The global BYOD (Bring Your Own Device) and enterprise mobility market is expected to reach $360 billion by 2020. However, according to 42% mobile users, their company does not have proper regulations to check the type and amount of corporate data that should be stored in mobile phones. It is very important for the employers and the employees to ensure that corporate and personal data are properly wiped off. This problem can be tackled by taking following measures:
Educating employees about factory reset by incorporating it into IT education/training to ensure that mobile phones are not exposed to any kind of security breach.
Giving employees free access to secure data eraser tool to ensure safe deletion of the data.
Pre-installing the secure data eraser software onto employees' mobile devices.
Publish tips on company's intranet and social media channels.
Cheers to a safe Holiday Shopping!
[poll id="64″]