With the growing consumption of content in the form of images and videos, insufficient memory is one of the key concerns of smartphone users. According to the latest survey by Western Digital conducted for SanDisk, 60% of smartphone users run out of memory every week. Due to this problem, users have to constantly delete apps and other contents like photos & videos to free up storage space on their smartphones. In no time, it reaches a point when there is now way to free up the memory on a particular device. Thus, users are forced to use external storage devices.
The rising inclination of consumers towards technology is bound to increase demand for storage devices that will append the phone storage and content transfer seamlessly from one device to another, said Rajesh Gupta, Country Manager, SanDisk India.
Consumption Pattern of Smartphone Users
India is witnessing smartphone revolution as the number of smartphone users in India has clocked over 300 million by the end of Q3 2016. These users frequently download and store content and applications on their phones. The report also highlights that the majority of downloads consist of social media apps (Facebook, Whatsapp, Snapchat, Instagram, etc.) and utility apps (banking apps, bookings apps, etc.). However, videos are fastly emerging the most popular content type that hogs up the storage of smartphone users. Around 60% of users share over 10MB of data every day, most of it being videos, followed by photos and music. Due to the improving mobile internet infrastructure smartphone users are no more hesitating from creating and sharing video content over photos and audio.
The study from Western Digital also reveals that approximately 30% of the respondents share photos and 29% share audio files on a daily basis. Users prefer to storing most of their shared data in their phones, making way for higher storage needs. Out of the survey respondents, 29% store videos and 17% store messages.
Increasing File Sizes Requires Increased Storage
Even though the storage need is so high, 65% of the users are using smartphones with a storage capacity of 16GB or less. Due to this, even Apple discontinued the 16GB version of all iPhones. Over 67% percent users expect an increase in content quality (Full HD, 4K, etc.) by 60%-80% within 6 months-to-a-year, which will again drive the need for high data storage capacity in smartphones. It will also lead to growth in the requirement of expandable internal capacity in the coming years. Out of the 80% respondents who expect an increase in data usage, a significant 77% expect an increase of 40%-60% within six months to a year.
Challenges Faced by Users Due to Need for Increased Storage
With this increase in storage needs, smartphone users are facing several challenges in solving storage issues. Approximately 52% of the users reach the level of insufficient storage every week, and one out of every three users run out of memory every day. This is usually due to lack of adequate internal storage capacity in smartphones. The average smartphones have an internal storage capacity of 16GB or less which makes it difficult for users to store a large amount of content. This also restricts them from downloading apps. Even though cloud storage is available, 75% of the users still store their data locally. High-end smartphones do not have expandable memory, but Samsung started rolling out Galaxy S6 and S7 with microSD slot to solve the storage issue.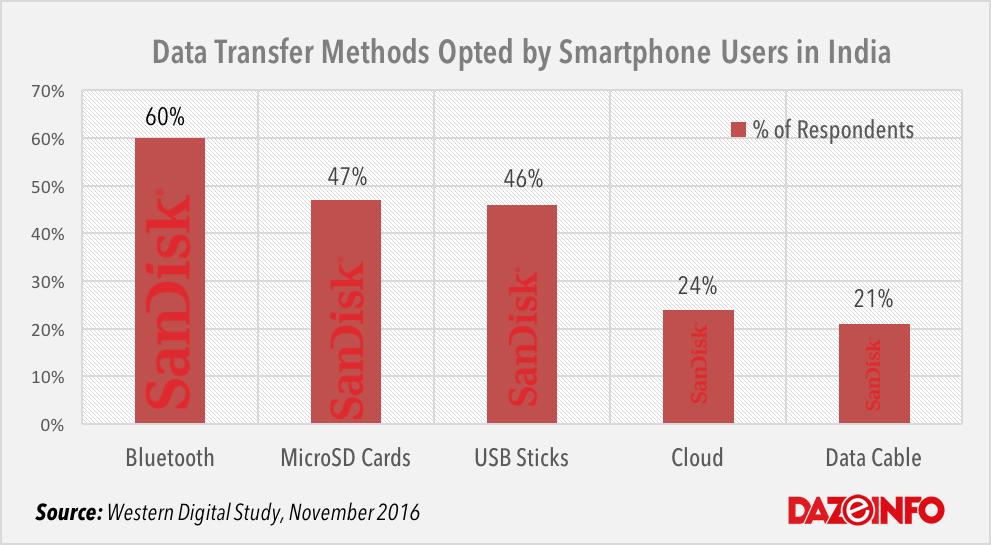 Users who do not have the knowledge about the available solution are not comfortable with transferring files, apps or data from their old phone to new one. Also, they keep deleting the files and data to make space on the phones. 83% of the respondents who participated in the Western Digital survey said that they delete apps to clear the storage. Similarly, 37% prefer deleting content, followed by 35% who prefer taking backups and 31% are in favour of upgrading their device's memory.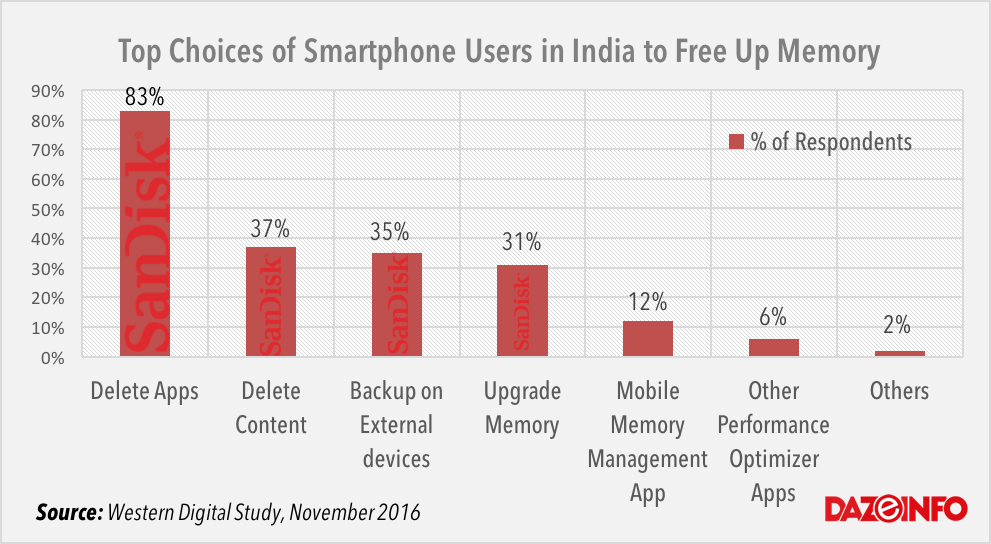 The users, as well as the OEMs, need to understand that the files and content these days are large, which requires higher storage capacity. Initially, customers did not consider storage capacity as an important factor. However, when the memory is full, they struggle with storing new files and contents. There are several options available, for instance, flash storage, cloud storage, etc. Even from the OEM side, providing smartphones with good storage capacity will be an attraction for the consumers due to increasing storage issues. In the near future, the issue will only increase due to high-resolution graphics and content taking over. Apple made a wise decision of discontinuing the 16GB versions.