"Many people think our main competition is Bing or Yahoo. But, really, our biggest search competitor is Amazon", Eric Schmidt, Executive Chairman of Alphabet Inc., said once. Today, nearly after two years, we all are surprised to see how accurate he was then.
So, what are the numbers saying?
According to a recent survey report by Bloomreach, Amazon.com, Inc. (NASDAQ: AMZN) has escalated its lead in product search as customers now turn to Amazon first to search for a product they need. 55 percent of consumers in the U.S. begin their search on Amazon over search engines and retailers when shopping for products online. Amazon has increased its share by 11 percent point compared to last year when 44% of consumers used to prefer Amazon first over search engines and retailers for the product search. Search engines and retailers accounted for 28% and 16%, respectively.
Even though Google's SEO is a league apart, Amazon offers 2x the search volume than Google for products in e-commerce SEO fraternity. The shoppers who started their purchase journey on Amazon cited the presence of a large volume of reviews as a key factor for doing so. Ninety-nine percent of these shoppers consult reviews on Amazon, which has become an implicit part of online shopping.
Is Amazon Really a Threat To Google and Other Search Engines?
Amazon's reputation for price-competitiveness, (as well as the fact that it sells just about everything) means it's the go-to destination for comparison shopping.
90% of consumers will check Amazon even if they've found their product elsewhere. 78% of these shoppers do this 'often' or 'always.'
The comparison works both ways, with 70% checking the same products on other e-commerce sites that they've already found on Amazon.
"What we specifically do is we provide all of the technology and the products and services that sellers need around the world to run their business on Amazon. So we are sort of your e-commerce engine, if you will. And the technology we develop helps them run their business on the Amazon Marketplace and reach customers and grow their business very successfully," said Peter Faricy, VP and GM of Amazon Marketplace.
Site-experience issues – especially those related to site search and product discovery – often were the reasons why consumers turned to Amazon. As stated in the survey,
53 percent felt Amazon had the best site experience overall.
More than 50 percent distinguished Amazon's site search and product filtering capabilities as superior.
One in three cited Amazon's site experience as the main reason they choose Amazon over other retailers.
41 percent reported a retailer's bad site-search experience caused them to shop on Amazon.
50 percent have left a retailer's site when they couldn't find a product they knew a retailer carried.
The Trend Helps Amazon To Dominate this Holiday Season!
Amazon's A9 has worked wonders for it, with almost 58 percent of U.S. consumer's leaving a retailer's website for them. These results are bad news for Wal-Mart and other retailers, who are struggling to make headway against Amazon in e-commerce. Also, with online sales expected to grow 13.6 percent in this holiday season, Amazon looks all set to dominate the shopping spree.
According to the "State of Amazon 2016", an astonishing 94 percent plan to shop on Amazon this holiday season. Also, consumers seem to view Amazon not only as a place to buy gifts but also as a place to get gift ideas:
When holiday shoppers know what gift they want – 59 percent will start on Amazon, only 24 percent will go to a search engine, and 16 percent will opt for a retailer that has that product.
When holiday shoppers don't know what gift to buy – 49 percent will start on Amazon, 28 will look on a search engine, and 26 percent will pick the retailer the gift recipient likes.
The above stats clearly highlights the fact that irrespective of purpose a prospective shopper lands on Amazon before hitting Google most of the time.
The survey also illustrates the mobile shopping habits in the US. The survey results point out that-
50% of mobile shoppers try Amazon first, compared to search engines on 34% and other retailers on 16%.
76% of consumers shop on their Smartphones, with 90% saying that they've made a purchase on a Smartphone.
Nearly 50% shop on a Smartphone weekly. 
92% say Smartphone shopping can influence a purchase decision, while 52% say Smartphone shopping often or always supports a purchase.
88% will use a Smartphone to assist shopping in stores.
78% have a retailer mobile app, and 82% of those have a retailer app that isn't Amazon's.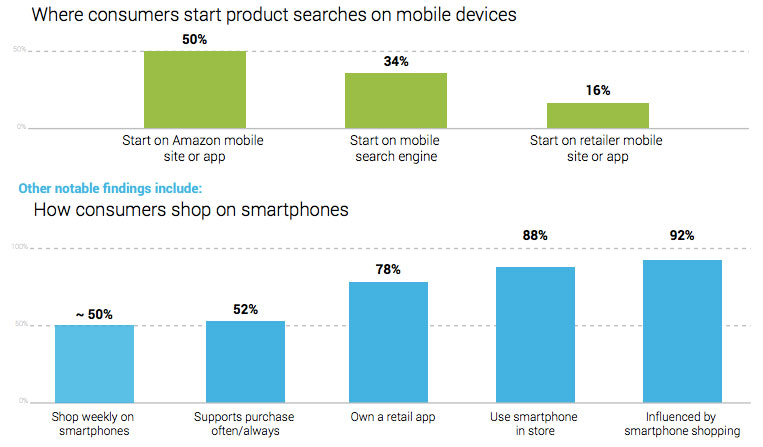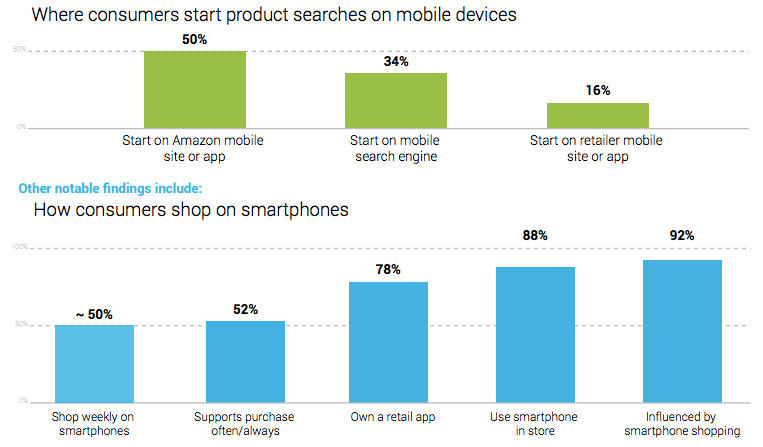 These figures will, of course, be a major concern for competitors, as the risk is that many product searches begin and end on Amazon before they even have a chance to appeal to shoppers.
Jason Seeba, BloomReach head of marketing, says search still has a major part to play:
"While online retailers increasingly feel the pinch, search engines still play an integral part of commerce strategy. This study highlights that just because consumers start on Amazon, that doesn't mean they ultimately buy from Amazon. Instead, they're often comparing and researching products on search engines and other retailers."
Thus, Amazon.com is now more of an undisputed go-to destination, apart from just being an e-store. It is providing an end-to-end platform for all online activities – be it searching for products or buying them. This inevitably leaves the world's largest search engine, Google, worried, along with its other competitors.