Seamless OS experience appears out of the context for Android. Even after the ten months since Android's latest Marshmallow was launched, a meagre 15.2% of all Android devices have adopted it. It has taken ten months for Marshmallow to achieve the adoption share of 15.2%, which indicates the lukewarm response by OEMs and device users. The previous version of Android OS, Lollipop, grew at a much faster rate as 12.4% of all Android devices were updated to Lollipop within seven months of its launch, the share soared to 18.3% within the nine months since its launch.
Now, Google is all set to launch its next version of OS Android Nougat that would probably overshadow its predecessor Android Marshmallow.
Despite, not everything goes against Marshmallow; Its adoption has increased considerably 5.1 percent points in the last two months. In the last one month alone, in July, the adoption went up 1.9 percent points to hit 15.2 percent. The significant jump in the adoption of Marshmallow is attributed to the roll out of Marshmallow update by Samsung and Honor to many of its popular older phones and tablets, including Galaxy S6. In fact, the percentage is about to increase further as Marshmallow will reportedly power the upcoming Note 7.
With 35.4% share, Android Lollipop, the predecessor of Marshmallow, remains the most adopted Android OS. Despite the availability of Marshmallow, the adoption percentage of Lollipop still increased 0.4% points in July.
While the latest two version of Android OS still commands nearly half of Android OS market, the market is still flooded with the devices powered by the relatively obsolete versions of Android OS. 0.1% of overall Android devices still run on Froyo, 1.7% on Gingerbread, 1.6% on Ice Cream Sandwich, 16.7% on Jelly Bean and 29.2% on KitKat. Thus, Android fragmentation may be regarded as an unending phenomenon for Android developers.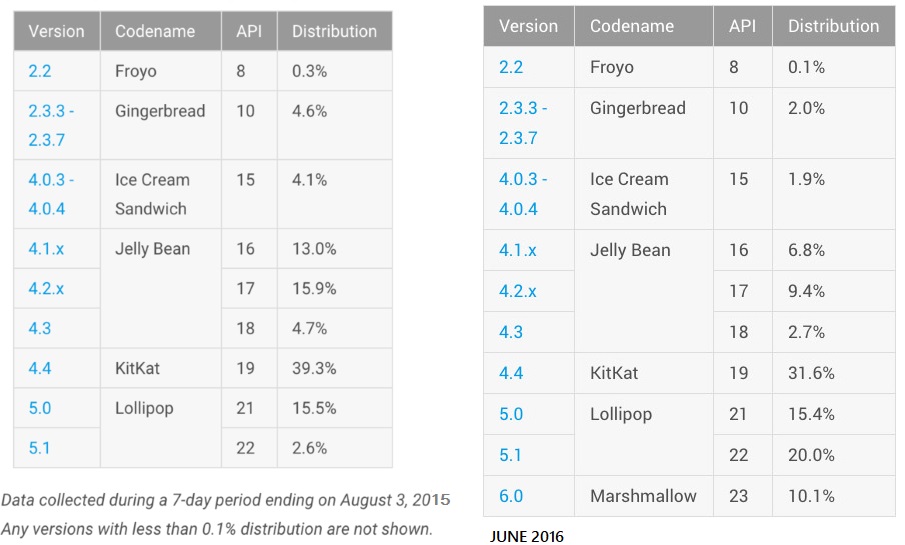 On the contrary, Apple is providing a seamless and unified experience of its latest OS to all of its devices. The Cupertino giant released iOS 9 in September 2015 and on July 18th, 2016 Apple revealed that it powered 86% of iOS devices across the globe. Android always envied Apple's seamless experience, but whenever it tried to control its ecosystem like launching Android One, the smartphone giant failed measurably.
Android Fragmentation: The Nightmare
The smartphone has become an essential part of out daily life and is available in some variants and prices. One must remember that Android OS powers 4 in 5 smartphones across the globe, over 1.4 billion people across the world are using Android powered devices.
Google is apparently pissed off with the diversity of Android OS. A study reveals that 72% of the people have absolutely no reservation against buying a smartphone powered by any older version of Android OS as they find hardware of such devices powerful enough to satisfy their needs.
Google's latest report reveals the dismal state of Android's latest updates, including Marshmallow and Lollipop. Together, these two versions of Android OS power 50.7% of all Android devices. That is why it has been a worrying sign for Google and Android developers alike. The other 50.3% of the devices are running on older, rather obsolete, version of Android OS. Thus, it's a daunting task for Android app developers to provide a seamless experience of their app by catering the needs of such a huge population hooked with the older versions of Android.
Apple's CEO, Tim Cook, once applied salt to the wounds of Android as he said: "Android Fragmentation turning devices into a toxic hellstew of vulnerabilities."
Quite rightly, the older versions of Android OS are the prime targets for potential hackers. A majority of incidents of hacking and Malware injection that have been reported over the years have occurred on devices running on older version of Android OS.
But, should Google be solely blamed for the fragmentation problem with Android? Not really; Google is frustrated by some smartphone manufacturers that delay the roll out the latest update of Android OS on their older devices. All the major OEMs, including Samsung, LG, HTC, Huawei, find it discouraging to optimise their UI running on the older series of devices.
Failed attempts
Google failed drastically when it decided to take matters into its own hands by launching Android One. Under the Android One program, device manufacturers have had to follow the BOM (Bill of Material) required to manufacture a device, which was provided by Google. The manufacturers were also not allowed to take the device under heavy customization at UI level. The arrangement allowed Google to roll out updates to all those devices running on identical hardware and software environment. However, due to some unknown reasons it failed to impress the masses, and Google decided to shut down its project.
That's enough
Despite all such challenges, Google is desperate to eradicate the Android fragmentation issue from its Android ecosystem either by hook or by crook. The company is reportedly planning to shame the lethargic Android smartphone manufacturers who either take a lot of time to roll out latest updates on their Android devices or turn their back to latest updates. The seamless OS experience is the biggest gap between Android and iOS, which has been hurting Android ecosystem for long.
Google is reportedly preparing the rank list of its top smartphone manufacturers. The list would be based on 'how up-to-date' the devices are, security patches and OS version. The company is vying to make this list public.
On the other side of the coin, a considerable time is spent in testing the updates to provide a seamless experience to their users, claims Android smartphone manufacturers. US Telecom giant Verizon takes a substantial time testing the Android updates to avoid any network disruptions in future. Though the Telecom behemoth has shortened the testing cycle after the request from Google, it has made it clear that reducing the testing time frame any further is out of the league as Android ecosystem has a variety of smartphones and testing the update for each and every one of them is mandatory.
[poll id="59″]