The current mobile ecosystem has undergone several changes since the era of smartphones, touch-enabled devices, have changed the way in which people perform tasks that were usually done through a PC or a Laptop. Everything from buying tickets, to shopping, to making reservations and browsing through emails is now being done through smartphones.
Users can choose between a mobile website or its app; what differs is the interface and experience that both mediums offer. Judging by a Quixey survey on questions about mobile app usage and mobile web browser usage, nearly one-third of mobile users prefer to use both at different times. While, 19.6% of the respondents said that they preferred a mobile browser, 23.1% of mobile device users said they favoured mobile apps and 24.7% said they have no preference.
Take a look at the key findings of the survey when it comes to users' choice between Mobile Website and Mobile App:
49.7% of the respondents dislike using mobile apps for two primary reasons: 26.1% feel that they chew up device storage while 23.6% of them feel that they are slow and have inconsistent performance. Of that, females were more concerned about storage than males, while males were worried about app performance.
66.4% of the respondents prefer to use the mobile web: 32.5% feel that they have access to all content at a single place; while 23.3% feel that they don't need to install anything new. Another 10.6% do not prefer to flip between multiple apps.
34.4% of the respondents cite 'features and functionalities' as the primary reason why they prefer mobile apps over mobile web. 28.4% cite 'user experience' as a major reason.
Interestingly, 83.8% of millennials have used some form of an ad blocker, while 83.1% of people aged between 45-64 revealed that they have not used one. A significant 54.8% of the respondents said they are using an ad blocker because it has an impact on their experience (29.9%); the ads slow down their experience (14.8%) or the ads they see are not relevant to them (10.1%)
A Deeper Look Into The Mobile App vs Mobile Web Scenario
When it comes to mobile applications, users switch from a mobile website to its app due to reasons such as convenience and the ability to browse faster through categories.
A recent study conducted by Yahoo! reveals that smartphone users spend almost 90% of their time in applications, but only a small fraction of 25 to 40 apps on user's devices are regularly used. The rest are either replaced or deleted eventually. Retaining users could be a problem, provided that a very tiny number of applications are used routinely. Yahoo study further points out that 52% of users were prompted to try a dormant app because of their family or friends recommended it to them and almost half (49%) of users tried a dormant app again due to online ads. A number of reasons including too many notifications, repeated bugs, or a bad UI/UX design could also discourage users from sticking to an application.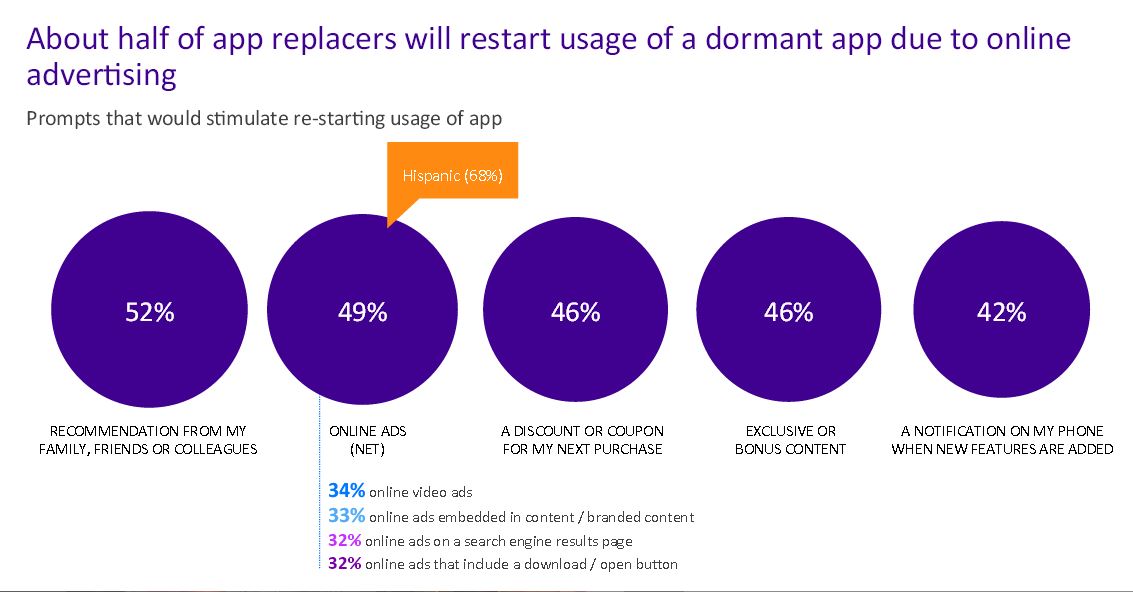 When it comes to mobile web, developers spend a considerable amount of time choosing between a Mobile Web App, or a Responsive Web Design. When a user loads a website through his mobile device, reading and navigating can become difficult as the users might require to zoom-in or zoom-out to click on specific links or buttons. This is when a Mobile Web App comes into play—the application combines the versatility of the web along with the functionality of touchscreen phone to provide an optimised view across mobiles and tablets.
A Responsive Web Design automatically recommends design, size and implementation of a website by responding to user behaviour and creating an environment based on the screen size of the device being used, orientation and operating system. However, the question remains—Which one is better?
Here is what a Senior Research Analyst, Raluca Budiu from Nielsen had to say when asked which was better, a mobile site or a responsive site:
"The short answer is no, I don't prefer mobile sites or responsive ones. What I do like is sites that deliver the best mobile user experience, whatever the site type. And sometimes the best experience is provided by a mobile-dedicated site, sometimes by a responsive site".
She further adds that users don't really care or understand if a site uses a responsive design or a mobile-specific design. All that matters is that a mobile website should follow the rules of a standard mobile design and must be optimized to cater to a varying range of mobile devices.
To elucidate further, a research conducted by RapidValue suggests that Corporate Websites/Blogs, Media/News sites, and Location-based Services are the three main categories of services that should stick to a responsive design. These sites bet heavily on maintenance and, therefore, providing control and flexibility is important. The above-mentioned services are used by a colossal amount of consumers, thus rendering a perfect fit across varying screen sizes is vital. Scrolling, zooming, and categorizing are again the top three functions that the above services necessitate. Therefore, a responsive site helps in minimizing discrepancies arising due to several functional constraints.
Companies looking to scale up their services using the web need to understand the changing shift towards the mobile ecosystem. As more users are embracing the shift, companies need to listen to their users and integrate updates to their application or websites in time. What we need is an ecosystem that is not fully tied to apps, but rather a dynamic and real-time service that people can rely on to get tasks done.