Twitter is no longer just a micro-blogging tool used for posting updates or pictures of your daily life or sharing news with your followers. A recent MIT study suggests that engagement on Twitter Inc. (NYSE:TWTR) could help the users become more innovative with their pool of ideas. The study found that the quality of ideas delivered by Twitter users at a workplace was better than their non-user counterparts.
Since from the beginning, LinkedIn has been termed as the most widely used social network for business discussion whereas Facebook and Twitter were always treated as platforms for casual networking with friends or family or most importantly sharing photos or updates about life. However, Twitter is gaining popularity among the industry leaders in the last few years to share or discuss recent news and ideas.
In the report, it is evident that Twitter has become the most sought network after business communications medium among the corporate industry. In this study, MIT analyzed 10 employee groups across five companies from different industries using a technique called Organizational Network Analysis (ONA) for 5 years as well as interviewed 205 employees to assess the role of Twitter in the corporate industry.
During the study, MIT analyzed a good number of ideas collected from the employees who worked at different levels at the companies that participated in the research. There were 100s of ideas submitted by EMC Corporation alone which was one of the 5 companies. All the ideas generated were through the internal idea management system which were then sorted and correlated with Twitter usage by the employees.
Here's what the study found,
Ideas from Twitter Users fared better than Non-Users
Although both Twitter users as well as non users, generated the same number of ideas, the ideas from Twitter users were highly appreciated and rated positively by the experts. Given the fact that the raters judged the ideas purely on its merit without having any knowledge about the source, it was clear that engaging smartly on Twitter can help one generate better innovative ideas.
Compact Twitter Network vs Loose Twitter Network
Analyzing the compactness ratio of the Twitter networks of the employees in the study, it was found that the network with low compactness ratio were better for ideation while the network with high compactness ratio provides outdated information which is generally correlated negatively with ideation.
In an example from the study with 2 employees of EMC Corporation, it was found that even though both the employees followed same number of twitter followers, Employer A's twitter network was less compact than Employer B. For instance, the compactness ratio of Employer A's twitter network was found to be as low as 18% as most of the users that Employer A followed weren't connected with each other whereas the compactness ratio of Employer B's twitter network was 83%. As per the results of the analysis, it was also found that ideas from Employer A got positive results while those from Employer B didn't fare well. The results were alike for other companies too.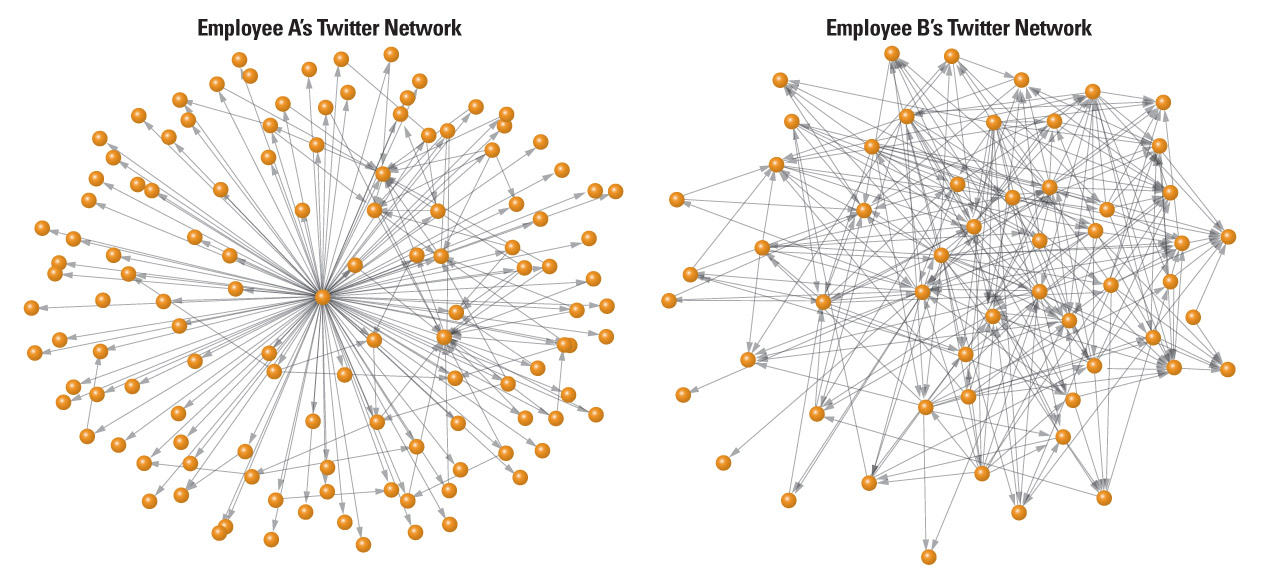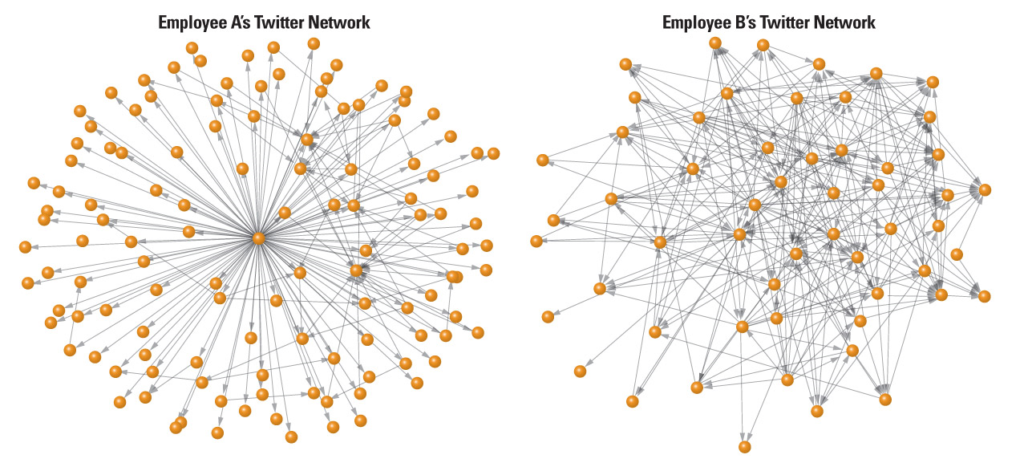 Hence, it is evident that a more diverse network with users having different perspectives who are capable of challenging your opinions would make you more innovative than having a compact network with like-minded people. With different perspectives, you can see things from different point of views and get a clear picture about everything.
Being an Idea Scout or Idea Connector Improves Innovativeness
Well, just using Twitter and interacting with diverse minds is not enough to improve your innovative skills. You need to put forth your opinions in front of people outside your organization who can challenge your beliefs and thereby bring new ideas as well as find opportunities to implement these ideas within the organization.
In short, to be more innovative you must be either an idea scout, who looks for ideas from outside the organization or an idea connector, who can integrate the external ideas within the organization.
How Are Employees Using Twitter To Get Better Ideas?
Along with analyzing each employee group, MIT conducted interviews with 205 employees from the five participant companies. All these employees had a different approach towards using Twitter in order gather information and generate more ideas.
According to the study, Twitter is popular among the corporate industry because of the following reasons:
Gateway to Solutions
Learn Best Practices from Industry Experts
Improve Personal Productivity
In order to make the most out of their Twitter network and improve their innovativeness, these employees also followed certain strategies to attract conversations.
Popular Strategies Used To Leverage Better Ideas:
Breadcrumb Method to Attract Experts for Debates
Many employees suggested that they implemented "breadcrumb" method to find subject-specific experts in the industry who can challenge their thinking. The main aim of this method is to find the right people to follow who can offer better engagement and discussions on certain topics.
Build Diverse Networks:
As explained above, diverse networks are more successful for the employees in generating better ideas and most of the employees preferred opting for diversity in their Twitter network. For example, an HR employee among the interviewees admitted that she followed a 70/30 rule while growing her Twitter network. As per this rule, she followed 70% of the people who belonged to her own niche whereas 30% of the people she followed were outside her niche. Among both the groups, the outside network challenged her opinions and beliefs more.
Create Specific Lists
Some employees preferred categorizing their network into certain lists by adding specific industry experts to their respective expertise. This strategy helped them follow updates by experts on a particular topic at one single place and also gave them the opportunity to interact with these experts using the lists.
Keep Twitter Account up-to-date
Interests of people change with time. Considering this fact, many employees believed that keeping their Twitter up-to-date is very important. According to these employees, a pruning strategy is necessary to eliminate redundancy by removing inactive users in order to keep the engagement lively and fresh all the time. Following an expert who is not quite active on Twitter is foolishness. To get the best out of your Twitter network, you must follow the experts who are willing to share their expertise and knowledge as well as don't shy away from discussions on Twitter.