Fan Page feature on Facebook Inc. (NASDAQ:FB) has made it easy for top brands to interact with their loyal customers and improve their brand reach to farthest corners of the world. And, to make their customer support more effective 51% of pages allowed the fans to post their queries and other content related to support on the page. Yet, a study by Locowise reveals that out of all Facebook Posts by fans to Brands' page, almost 87% go unanswered.
In this survey, Locowise researched on 900 Facebook pages that consisted of 3 million page likes altogether and studied their engagement for the month of May 2015. The study mainly focused on 51% brands that allowed its fans to post directly on their Facebook page.
Although top brands that post regularly on their Facebook pages are enjoying great user engagement, these brands are failing to address the customer generated feedback on their business page on Facebook. This might be the main reason why Social Media is among the least favored mode of communication for customers looking for support or feedback.
Key Findings of the Study:
After analyzing all the fans generated posts directly on Facebook page, Locowise found some surprising results on user engagement within Facebook Posts to Brands' Page.
Here are some of the results derived from the study:
Only 13% of posts were addressed by brands
For every 22,500 likes a page has, only one post was submitted to brands' page directly.
Even active pages on Facebook replied only 37% of all posts.
Out of all responses, only 33% came within 60 minutes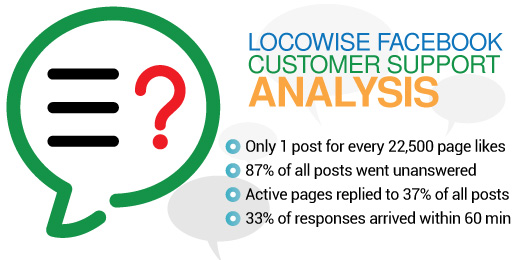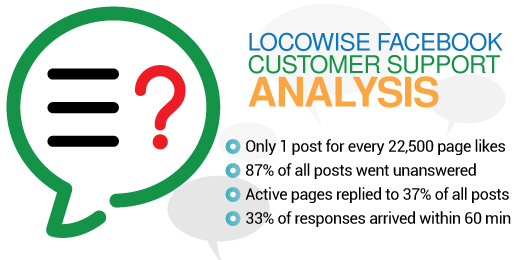 Today, brands across the globe have understood the fact that "Customer Support is the key to Success" and accepted it as a vital tool that ensures consumer loyalty as well as better referrals in the long run. But the findings of the report suggests that most brands are not responding to the customer feedback over Social Media especially on Facebook page.
With only 5% Business Pages on Facebook are relying on Facebook Ad service, it is evident that brands are quite satisfied with the organic reach they receive from the current user engagement on their Facebook pages. However, these brands must acknowledge the fact that in order to improve their brand loyalty, they must start responding to the customer feedback posted directly to Brands' pages.
Here are few takeaways suggested by Locowise based on the study that would help Brands on Facebook:
Disable Posts to Brands' Page feature if you can't respond regularly:
It is advisable to disable the feature that allows users to post directly on your page if you don't have the time to review or intend to respond to those posts. Having this feature enabled and ignoring the majority of posts from the fans can have a negative impact on your brand value.
Respond even if it's something as simple as "Thank You":
Now if you plan to keep the feature enabled then kindly make sure to respond to all the posts as soon as possible. You don't need to provide solutions there and then but instead you can reply with a simple "Thank You" and try to redirect them to the FAQ page on your official website.
Bring in your customer support staff into the social media workflow:
Social Media has evolved as a huge platform helping both brands and their loyal customers to connect with each other. Adding your customer support team into your social media workflow will help your brand connect with the audience to connect with their fans directly. You can either pass questions to your customer support team or let them access your Facebook page whichever is feasible for you.
Response rate is very important:
Customers who take their time to post feedback hope that their message, suggestion or complaint is acknowledged by the brand. Hence, it is important to respond quickly rather than waiting for a day or forever to reply back. If you have nothing to say currently, you can reply back with a simple "Thank You" or "We are looking into your suggestion" messages.
Although most of the brands disappointed the fans by ignoring their feedback, there were a few which acknowledged the feedback from their customers and responded quickly to all their queries and suggestions. Some of these notable brands were Domino's Pizza, Virgin Media, Vodafone, Missguided and Nando's.