If you're enrolled for an MBA program from a reputed institute with an aim of getting hired at an MNC firm during campus interviews, you must know that most of the companies hire only a portion of their interns as full-time employee. According to a report by LinkedIn, only 13% of the interns are hired full-time in venture capital and private equity firms whereas more than 61% of MBA interns at management consulting firms are retained as full-time employees.
With 84% companies globally looking forward to hiring Business Graduates, the demands of MBA professionals is at all-time high with the evolution of corporate work culture. Today, almost every reputed company or a startup is looking for an MBA graduate with innovative ideas and sharp vision towards the future. Hence, it is vital for the students enrolled into Business Management studies to start establishing their profile through internships.
Summers is the best time when students enrolled for MBA plan for their internship to improve their chances of getting placed at some top-level global firms. LinkedIn examined the portfolio of thousands of students from top 50 business schools around the globe who interned in 2013, graduated in 2014.
Industries Likely to Retain Interns as Full-Time Employees
As per the study, Management Consulting firms came out as the top retainer while venture capital and private equity firms were least interested in hiring interns for full-time.
At a retaining percentage of 28%, Software and Internet industry is ranked quite low when it comes to retaining their interns as full-time employees. With the increasing number of new tech startups, the needs for fresh MBA grads are also bound to increase in the coming future. Also, leading eCommerce brands such as Alibaba and Amazon have already launched an MBA recruitment track with a vision of developing commercial leaders who can take these firms to a whole new level while facing sheer competition from the upcoming eCommerce brands all around the globe. The number of conversions, therefore, from interns to full-time employees would eventually go up in the coming future.
The popularity of MBA grads among Banking and Financial firms all over the world also reflects on its retaining rate of interns. More than 42% interns are likely to be offered a full-time employment at Banking and Financial firms as per the LinkedIn report. The prospects of getting hired full-time after internship are also high in the industries like Information Technology (39%), Consumer Goods (37%), and Oil & Energy (36%).
Networking is the Key to Convert Internship to a Full-Time Employment
Now the big question is how to make the most out of your internship program at a reputed institute to improve your chances of getting appointed as a full-time employee. According to the report, 53% of the interns who made a connect with more than 20 colleagues during their internship returned as full-time employee in 2014.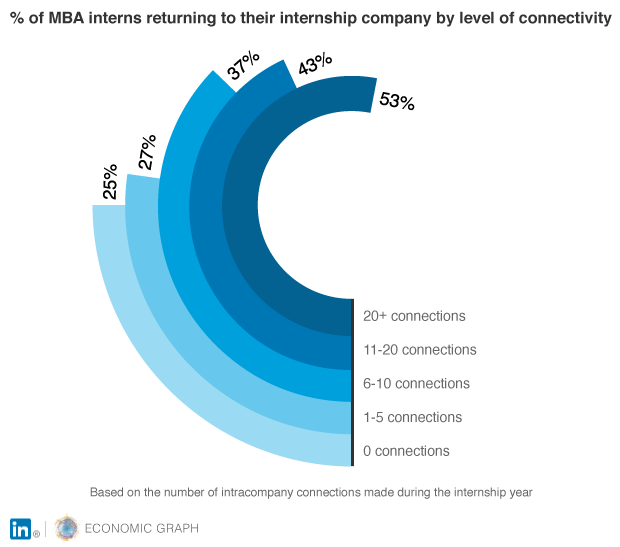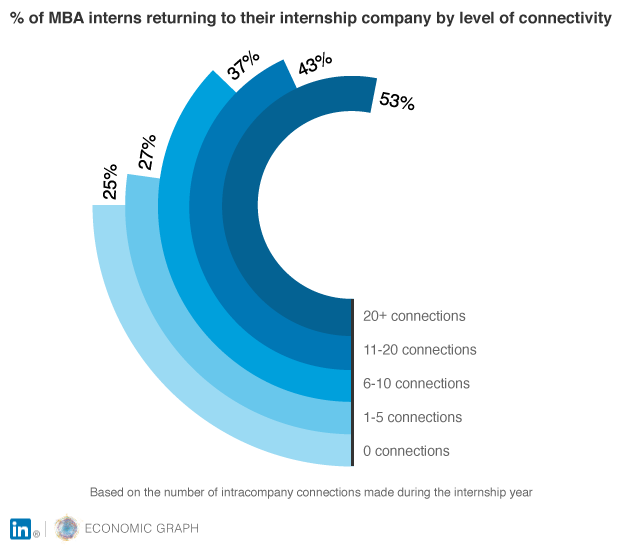 Networking is one of the most important tool to get yourself noticed by your colleagues especially the seniors or top-level executives. Most of these MBA interns built their network during casual lunches or coffee meetings with their coworkers, thereby adding up new connections within the company. The importance of such networking can be derived from the fact that only one-fourth of the interns with zero connections were able to convert their internship into a full-time job, the next year.
The networking during your internship plays a major role in determining whether you will stay at the company for long even after getting a full-time position. Getting a full-time employment, in spite of being a non-connector (less than 10 connections within colleagues) may increase your chances of quitting the job up to 50%, according to the report.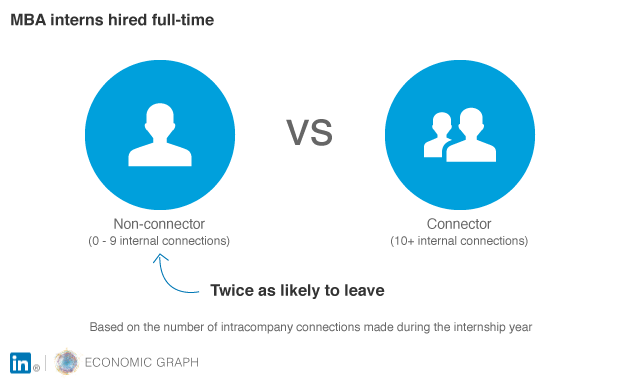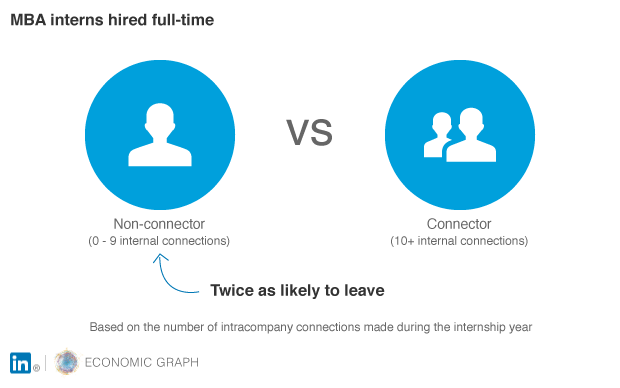 It is important for a fresh MBA grad not to get overly intimidated by an internship offer. An internship program is in fact an opportunity for interns to explore their skills through first-hand experience, whereas the companies can assess the performance of these interns in order to decide whether they are qualified for full-time employment. Interns can also choose whether to work for the company or not when offered a full-time employment.
An internship can help the professionals in making the right decision as they get a chance to resonate with the work culture and other employees at different levels through networking. They can easily identify if they would enjoy working at the company as full-time employee or not and on that basis could make the final decision in regards to their career.
Why Networking Helps Your Career During Internship?
Here are some of the basic reasons explaining advantages of networking for career growth:
Strengthens Relationships
Networking helps you grow your connections with colleagues and senior employees during the internship program. You can easily join the network of peers and thereby improve your chances of getting noticed by several other employees at the company.
Offers Opportunities
Once your network grows at the company, you can discuss your ideas with others especially the seniors who would evaluate your profile and remember you as an expert in the field.
Grows Connections
The growth in your network within the company would also show on your social media connections. These connections would not only improve your chances of getting hired as a full-time employee, but it will also increase your chances of getting hired at any other company as well.
Generates Positive Influence
If your ideas are approved or appreciated within your network, then it will spread a positive influence of yours around the company. HR managers and other senior employees will take a note of your influence and consider you for full-time employment.
Builds Confidence
You may hesitate a bit initially while networking with the colleagues at your internship company. However, with time and proper network growth, the hesitation will wither away building positivity and confidence within you.