VC Funding in India during Q1 2015 had reached new heights as the number of Tech investment deals surpassed China, first time ever. However, investors decided to play safe and investment amount was down by 28.5% compared to the earlier quarter. During the three-month period, ended March 30, 2015, the VC investment in Tech startups in India totaled $1.36 billion. The investment was made via 69 deals, the maximum ever in the last nine months.
During FY14-15, total $5.2 billion investment was made in tech startups via 233 deals in India. The staggering 426% financial Y-O-Y growth in the tech investment portrays the flourishing scenario of the Indian startup ecosystem.
One97 Communications, the parent company of mobile commerce platform Paytm led the growth by clinching a single deal, equal to 42 percent of the total VC investment made in tech startups during the quarter. Chinese eCommerce giant Alibaba invested $575 million in One97, at a valuation of $2 billion.
Mobile app based Taxi-booking aggregator OlaCabs raised the second highest amount of $126 million in a Convertible Note round. While Clues Network, the parent company of one of the eCommerce majors ShopClues.com, raised $100 million its series D round led by Tiger Global.
Freecharge, an online mobile recharge startup that was recently acquired by SnapDeal, also raised $80 million in its Series C round, followed by CarDekho.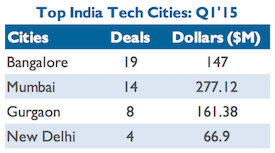 The silicon valley of India, Bangalore, topped the list of Cities with maximum number of investment deals in tech startups. Tech startups in Bangalore raised $147 million via 19 deals in Q1 2015. With 14 deals, Mumbai secured the second position in the list though, but startups there raised almost double the amount of Bangalore. Gurgaon and New Delhi remain at third and second position in the list. Interestingly, tech startups in Noida managed to click only a single deal, but the largest in amount, thanks to Paytm.
The report also highlights the top investors of tech startups in India. Sequoia capital, Tiger Global Management and IDC Ventures remained the top three investors in India tech startups. Sequoia Capital participated in 3 out of 6 largest investment deals – Freecharge, CarDekho and NewsHunt – during the quarter and had topped the list. Tiger Global Management emerged as the second most active investor of the quarter, by banking on early-stage deals to companies including News in Shorts, Grofers and MoonFrog Labs.
Tech Investment Across Asia Q1 2015
Overall, $4.8 billion was invested by VCs in tech startups across Asia in Q1 2015. China took the biggest chunk of the pie by securing $2.99 billion, followed by India and Japan. Out of 15 top deals, valued $100 million or more, 12 took place in China.
Beijing remains the hottest destination for tech startups in China with 31 deals valued $1.14 billion. Unlike India, Sequoia failed to secure the top position in the list of top tech investors of China. Matrix Partners has made the maximum investment in tech startups in China, including Zhaogang's $100 million Series D round.