In what seems to be a major change in the way Google Inc. (NASDAQ:GOOGL) ranks websites, a new algorithm update has been scheduled for Tuesday, April 21, 2015. With the new algorithm update, Google is adding a new factor called the "mobile friendliness" to decide the ranking of the website in the search results.
The new algorithm update is clearly meant to provide better ranking to the sites which are mobile friendly i.e. the websites which are optimized for mobile will have an edge in the search results ranking over those sites which aren't mobile friendly. The change in search results will be visible right from 21st April.
There were primarily two reasons, apparently, that forced Google to come up with this algorithm update:
1) A Steady yet major Increase in the number of mobile users.
2) The clicks or ad rates that Google gets on mobile is very less as compared to what it gets on the Desktop.
The recent report from ComScore clearly indicates the major improvement in number of mobile users, which rose from 24.1% in 2012 to 55.6% in 2015, which clearly states an increase in mobile users by 31.5% in a very short span of 3 years.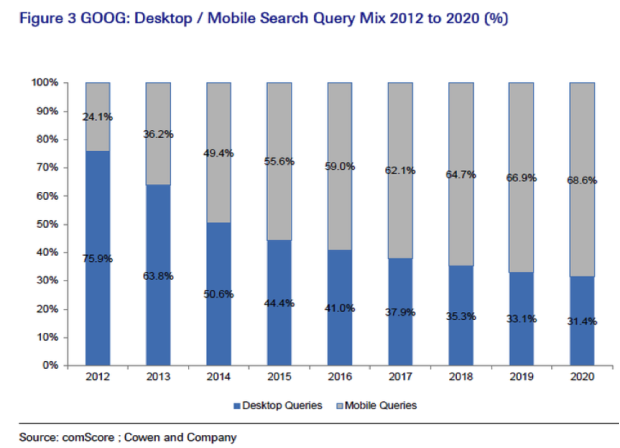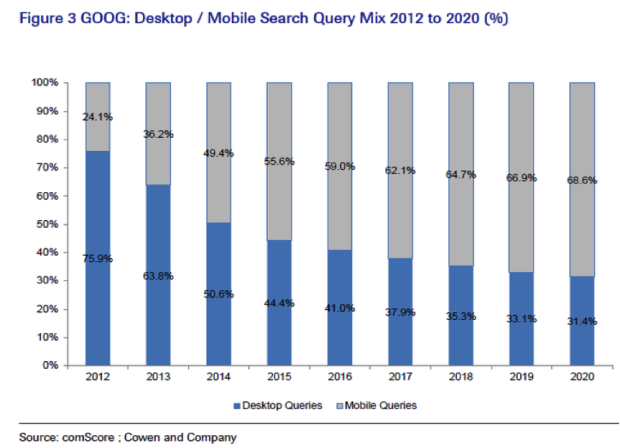 What is more important here is that by 2020, the use of Google search by mobile users is expected to reach a whopping 68.6% leaving behind the Desktop segment to a mere 31.4%.
What it actually means is that by 2020, on an average, out of every 3 Google Search, two will be made from mobile devices.
And since Google's major income comes from the advertising – 89% of US$18.1 billion in Q4 2014 – there was a serious need to improve the clicks or ad rates they get on the mobile devices. And This isn't possible without the websites making themselves mobile friendly. Therefore, the new algorithm update was inevitable.
But the real issue here is that the time Google has given to the websites to make themselves mobile friendly is very less. So, it is going to be a real tough task for big companies as they not only have to make their sites mobile friendly but that too very quick. And if it is that difficult for major companies, just think how difficult would it be for smaller ones.
However, there is an another aspect of this update that Google needs to look into; If the major websites fail to make themselves mobile friendly by April 21, they will face the penalty and will lose their rankings to other mobile friendly sites. But this will surely lead to a great decline of quality of search results as the sites which don't have quality content but are mobile friendly will start ranking ahead of those who have genuine quality content but lack mobile friendliness. So, overall quality of the Search results (which Google is very proud of) may decline and this could lead to the shifting of users to other search engines.
So, overall it is going to be very interesting to see whether Google would be able to cope up with the challenges in the next few months and remain the number one search engine or will this be the start of the downfall of Google.
Note: You can check whether your website is mobile friendly or not by heading over to Google's Mobile friendly site screener