Following the footprints of recently acquired fashion portal "Myntra", India's online shopping czar Flipkart is planning to adopt an App-Only model within a year. Flipkart's VP, Michael Adnani told Economic Times that the e-commerce giant is looking forward to an app based model for Flipkart which will be rolled out very soon.
Adnani further added that the mobile traffic has increased 6 folds within a very short span of 18 months and this peak in mobile traffic has steered Flipkart's focus on an app-only model.
This move is basically a result of the rapid growth in the number of smartphone users in the country. The smartphones industry has grown tremendously with the smartphone shipments reaching 80 million last year from 10 million in 2011 i.e. an eight-fold increase in just three years.
Going by the numbers, Flipkart generates about 75% of its traffic from the mobile app. Also, almost two-thirds of Flipkart's 8 million monthly shipments come from small towns and cities, where mobile penetration is way ahead of desktop reach, so this move does make sense. Adding to this, out of the 26 million registered users, more than 11 million users have already downloaded their app, thus making Flipkart one of the 15 most downloaded app on the Google Play store, yet another factor in favor of their decision.
The Internet market in India has been growing very fast. India has already become the third-largest Internet market in the world with more than 243 million users. According to Boston Consulting Group, by 2018, the number of Internet users in India will rise to 580 million and the best part to note here is that 70-80% of the Internet users will be accessing web on their mobile phones.
One of the main reason behind such a tremendous growth of the smartphone market in India is the evolution of budget smartphones, mainly coming from Chinese factories. The smartphones have become a lot more affordable as 71% of smartphones that shipped in India in 2014, belong to sub-$200 price category.
According to Forrester, there will be nearly 3.5 billion individual smartphone users globally by the end of 2019. Because of such a huge number of users, every web-based company must take smartphone users very seriously. It's like a new battleground where you must win to survive the digital market. And this is exactly what Flipkart is trying to achieve with their new business model.
An interesting question that arises here is whether the Indian market is ready for an app based model? Are Indian desktop users ready to adopt to a mobile first Flipkart?
Earlier a lot of heads turned when Flipkart decided to shut down their mobile website and switched to an app only model for mobile users. We had conducted a survey in which we asked our readers whether shutting the mobile site was a good idea and only 19% of them agreed with Flipkart's move. 51% of our readers believed that it was a disastrous decision to go with. In fact, 71% of mobile users still access internet via a browser as compared to mere 29% who prefer mobile apps. Thus, our readers voted against this move of Flipkart.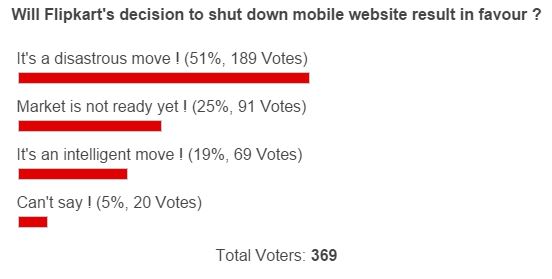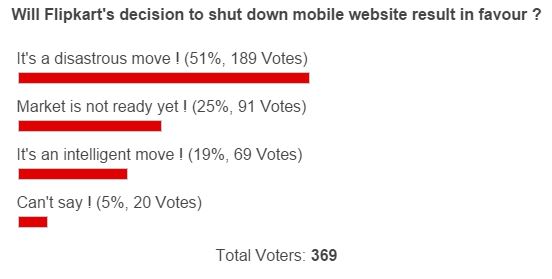 Given that the users were not even ready to give up on the mobile website, it isn't tough to predict how the users will react when an app only model is implemented. Actually it's a huge make or break kind of a gamble for Flipkart. If they succeed, they can totally outrank their competitors, but if things go wrong, this can even prove to be an exit point for them.
[poll id="46″]
UPDATE: Flipkart has responded to us stating that the company is immensely focused on making the mobile shopping experience more lovable. And, they have no concrete plans to shut down the website at present. However, when we dragged their attention to the fact that claim is made by their own VP, Flipkart has preferred remain silent on the matter.
@sraveshmotihari We're focusing on improving the mobile experience for our customers, no concrete plans to shut down the website at present.

— flipkartsupport (@flipkartsupport) April 21, 2015