Knowing that presence on social platforms can help catapult their business to another level, consumer brands are now working on improving their online presence. Most popular brands are dancing with several partners now, to see with whom they can tango best!
L2 conducted a study to assess the digital performance of 382 leading consumer brands in the world, drawing them from eight verticals across 17 platforms and concluded that they are active, on an average, on seven social platforms each. The researchers also found out that presence across lots of social platforms does not guarantee greater engagement from fans. It was also observed that local networks are capable of delivering better results in areas where they have a strong social presence instead of bigger sites like Facebook and YouTube.
Performance of Consumer Brands Across Social Sites
Almost all brands were seen to be active on three sites – Facebook, YouTube and Instagram.
With presence on 13 social sites, Adidas emerged as the clear leader while Gap, Uniqlo, Honda, Asos and Toyota are present on 12 platforms each.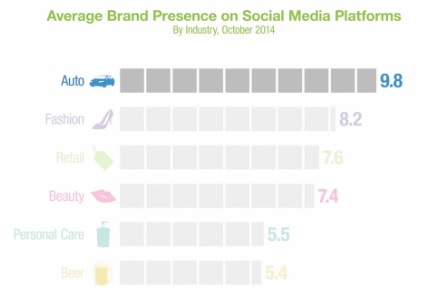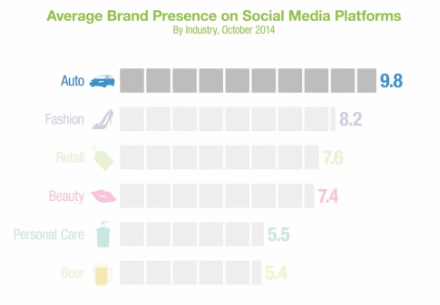 Auto brands were seen to be the most active, averaging 9.8 platforms each followed by fashion brands across 8.2 platforms. The lowest placed were personal care brands and beer brands with presence across only 5.5 and 5.4 platforms respectively.
Surprisingly, the brands with maximum presence over social sites were not the forerunners in terms of fan base and engagement. The brands which performed best on that front were Dior, Chanel and Burberry.
The adoption rate for another Zuckerberg owned social site, Instagram, has gone up phenomenally over the last year. With an increase of 18%, it is now touching 90%- which is HUGE!
The image based pinning site Pinterest, blogging platform Tumblr and Vine showed mixed results. 24 brand owners left Tumblr during the last year (choosing to host blogs on their own sites instead), 55% account holders on Vine did not post anything on the network over the period while Pinterest failed to show improvement in absolute engagement.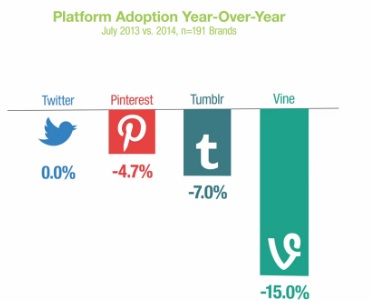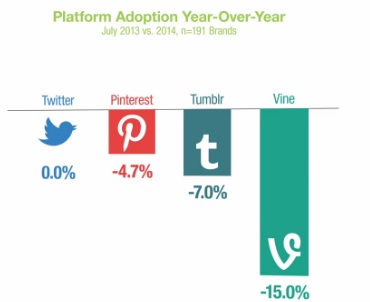 The report also laments over the fact that most brands were 'global to a fault', meaning thereby they did not try to cash in on the popularity of local native networks in regions where they had a strong presence. Brands chose, by and large, to pump in their time, money and energy on platforms with huge user bases (viz Facebook and YouTube) only. In China, for example, where the presence of Facebook is negligible.
Though China's own native network Sina Weibo has shown signs of slowing down over the last year, mobile messaging app WeChat has grown in that region by almost 25.7% – which is the highest growth rate for any network anywhere in the world over this period, whether in the east or the west. Not only does this site provide access to one of the largest consumer markets in the world, this has also emerged as the first platform to deliver direct sales.
Though SnapChat is not really 'popular' with brand owners, its demographics are enchanting because of which brands might just feel drawn towards it. But like any other platform, it will ultimately have to vie for sustained attention from users and promise a high rate of engagement to brands.
In sharp contrast to all other platforms, Instagram has shown high engagement rates and guarantees highest rate of interaction- higher than its 'bigger sister' Facebook also.
Facebook, on the other hand, capitalized on its sheer size and reach. While brands continue to flock this site awed by its huge user base, the organic reach of the site has fallen by 16% in April 2012 to less than 7% now and continues to plummet.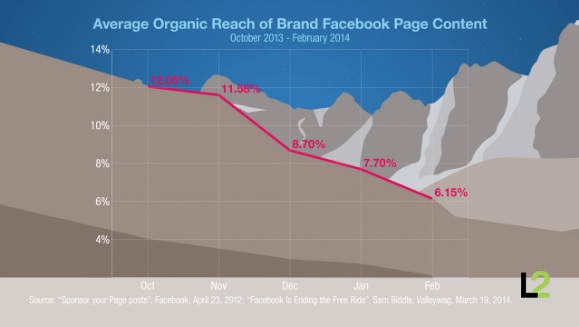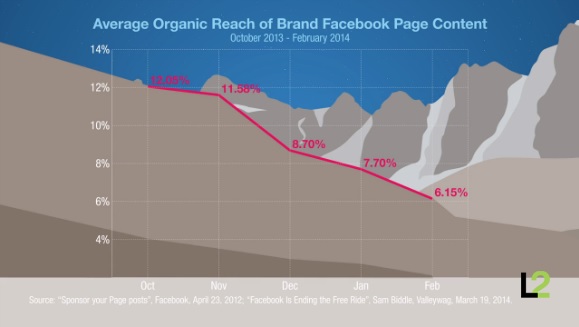 The networking giant urged brands to invest heavily into building huge communities on their platform, only to ask them to pay later for accessing their fans. Perhaps the "biggest bait & switch in marketing history", says L2.
Other social platforms who have tried to emulate that have not been as successful because their reach could not match that of Facebook.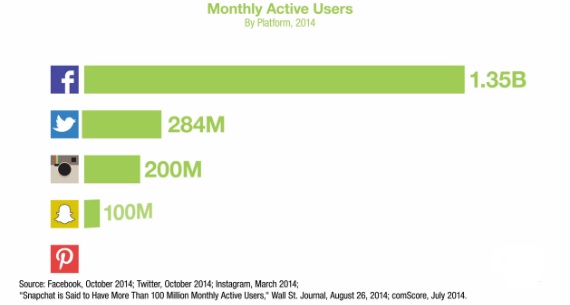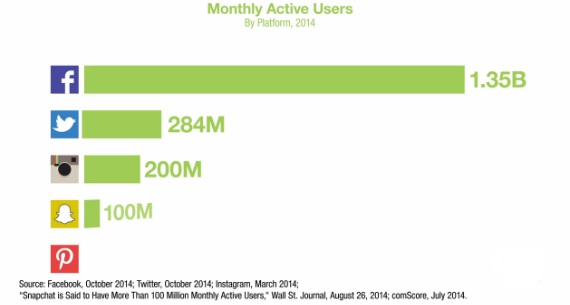 Engagement rates over Google+ have fallen sharply by 98% over the last year.
What These Results Mean For Brand Owners?
The social scene is undergoing constant and rapid upheaval. To leverage themselves effectively across social platforms, consumer brands will have to learn to adapt to this changed environment to get the best of both worlds- visibility as well as engagement.
To get the best ROI from ever shrinking budgets in a rapidly changing scenario, brands must choose only the sites on which they choose to leverage themselves effectively, instead of trying to grab attention every users on every network.
Brands will need some fresh thinking before they finally decide which platforms to partner with.
While the immense reach and popularity of Facebook and YouTube will ensure that they remain brand owners' favourite choices, it is time for them to start cashing in on the huge potential of Instagram while Twitter, Pinterest, Vine and Tumblr can be conveniently forgotten.