Social networking sites today are touching our lives and affecting the way we think, the way we interact and even the decisions we make. A recent survey conducted by Visual Website Optimizer (VWO) has confirmed that though the biggest of all social sites, Facebook Inc. (NASDAQ:FB) plays the most important role in influencing online shoppers behaviour, the importance of these sites is overstated. VWO conducted this online survey on 1,000 American respondents falling in the 18-55 age group, in an attempt to understand how online shoppers see social sharing and how it influences their decision-making process.
A lot more goes into shaping the final decisions and choices made by online buyers in America than what they see over networking sites, they realized.
When asked to name the network which keeps them informed about the best deals and offers for shopping online, more than half of them said it was Facebook. An overwhelming majority of the respondents said they were not likely to share the goods and/or services purchased by the over their networking sites. And though one out of every four people is likely to check out a product if it is mentioned by a friend on their social networks, low number of social shares for a product does not dissuade them from buying it online!
Social is an e-Commerce Asset, Sometimes!
The survey points out that while a presence along social networks does pay and could mean more business opportunities for online retailers, it does NOT always happen.
A little more than half of the respondents (53%) in the 18-34 age group named Facebook as THE network which kept them informed about the best online deals and products.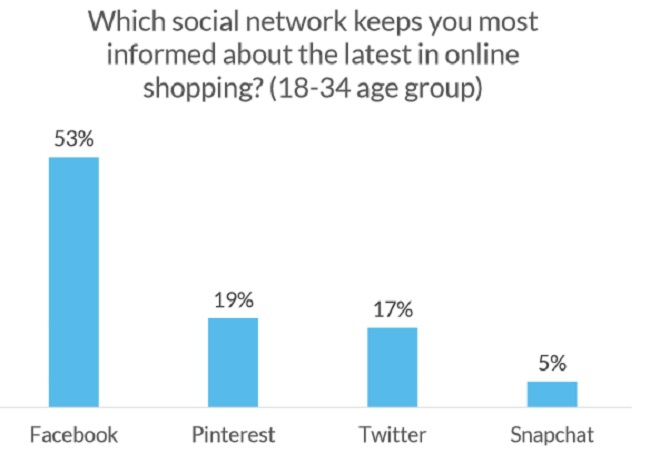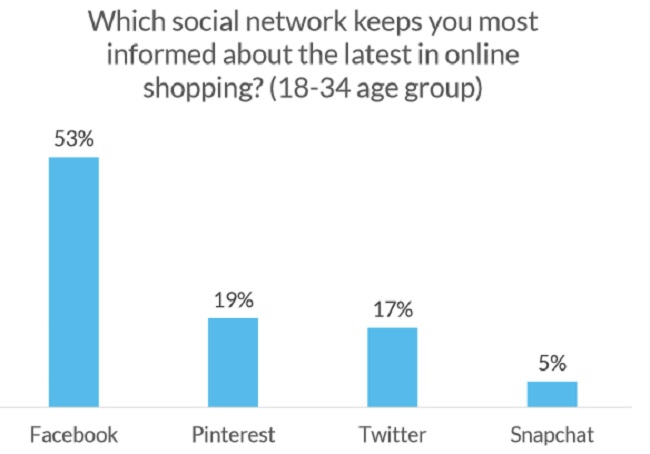 Facebook continues to be the leading social influencing factor for those buying online. Sellers use retargeting and paid campaigns to popularize their products and to reach out to a greater buyer base.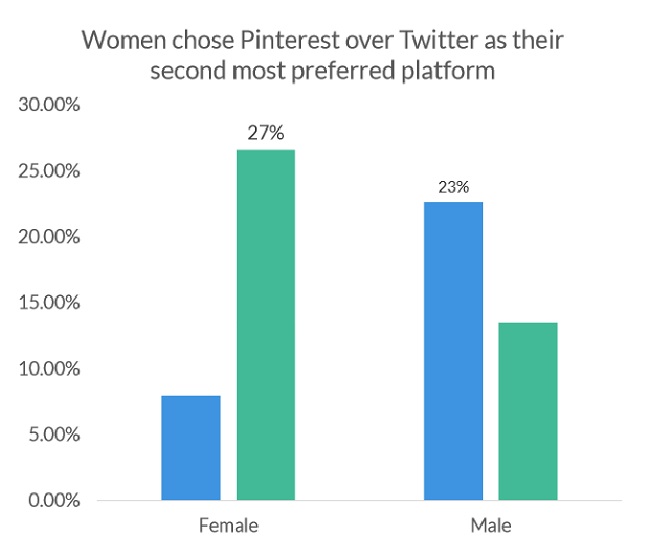 With Facebook emerging as the clear leader, readers were asked to name their second favourite site. While the men tended to prefer the micro-blogging site Twitter Inc. (NYSE:TWTR), women were more biased towards the pinning site Pinterest. I request the male readers to stop chuckling if they think it is because women love to go much beyond 140 characters while expressing themselves! It is because visual content was found to be more popular with female buyers.
VWO also found out that almost three out of four of their respondents who had shopped online did not share their purchases on Facebook. 17% of them said that they were indifferent to sharing on social sites whereas 9% of them said that they were likely to share information about their online purchases or their experiences with the same on Facebook.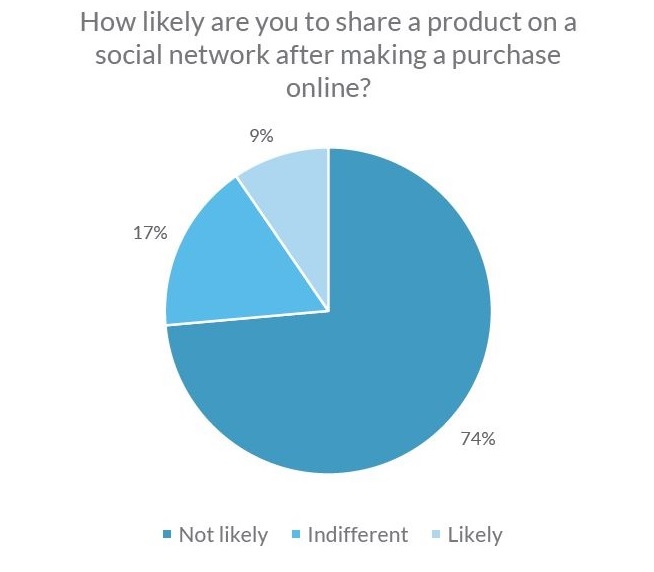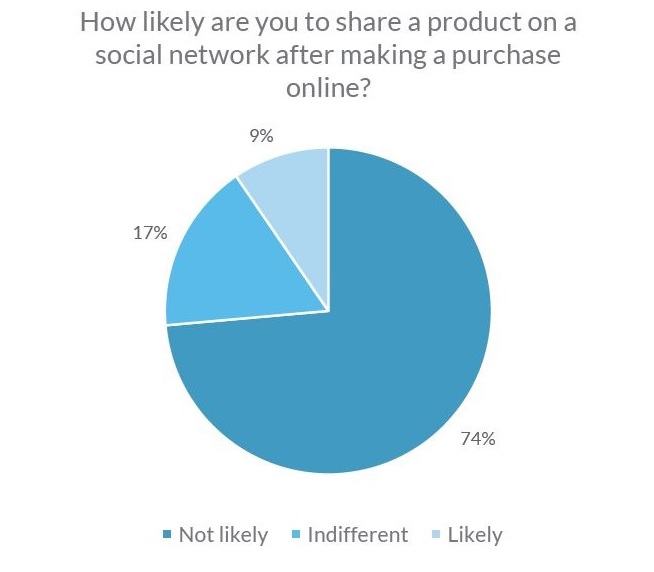 A large percentage of online buyers (42%) were not likely to check out a product shared by their friends on networking sites. Not only that, 25% of the respondents said they were indifferent to such shares on social sites.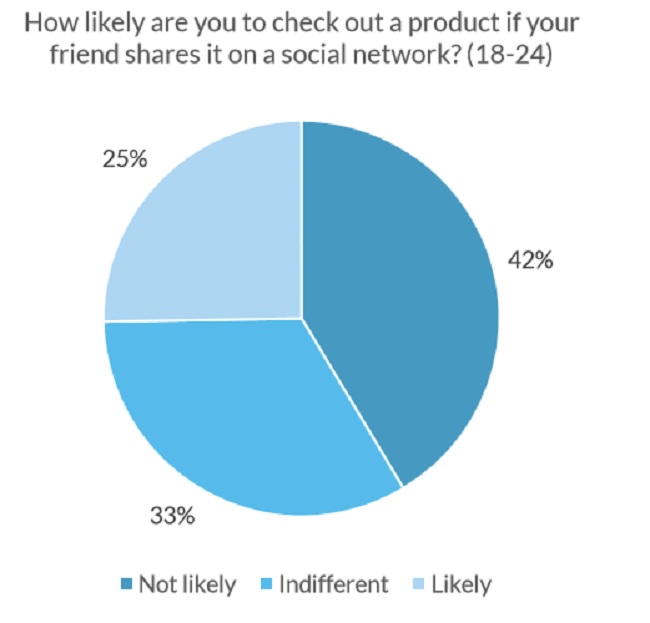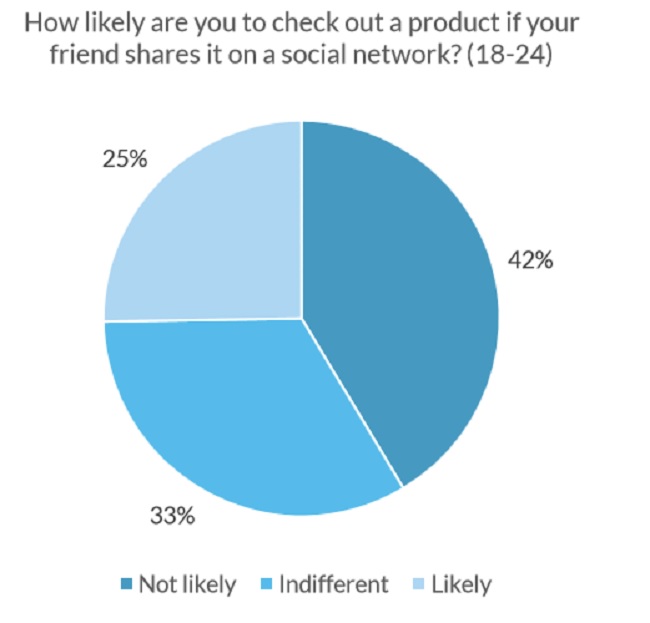 Respondents were also asked if the reviews left behind by their friends on networking sites were likely to influence their decisions to buy or reject their online purchases to which four out of every five (or, 80%) of them ruled out that possibility. Only 7% said they might be influenced to some extent.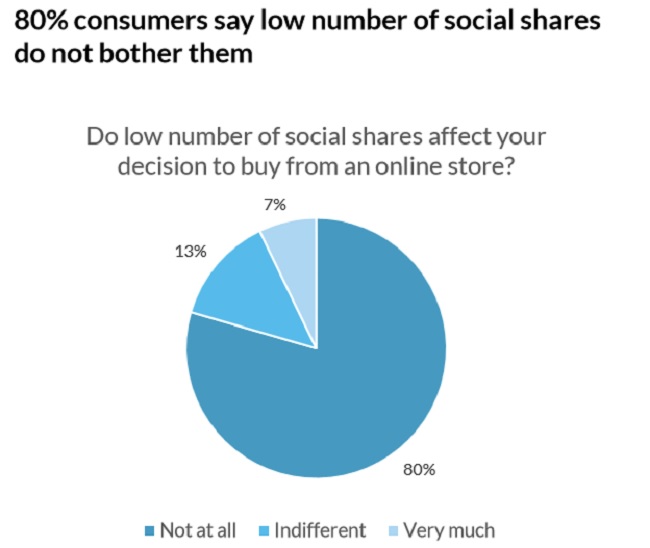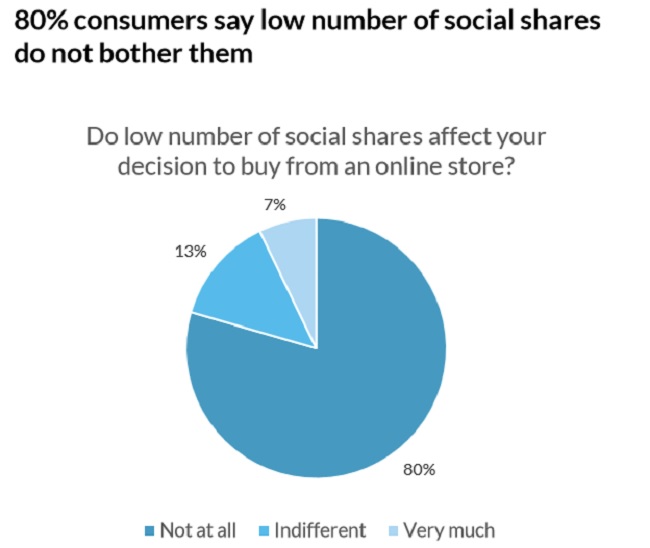 What Does This Imply?
The findings of this survey do not quite match with an earlier survey on 1,000 consumers carried out by Sociable Labs, a provider of social commerce solutions. Sociable Labs had concluded that 57% of online buyers were more likely to buy from sites from which their sites have purchased before.
"With high-velocity 'frictionless sharing,' social sharing can become one of the top drivers of both for almost any online retailer," said Darby Williams, Marketing Vice President at Sociable Labs.
Social sites do influence buyer behavior but not to the extent it was earlier thought.
Online shopping behavior has evolved over time, and people are now more likely to look for better deals – READ: lower prices – and in some cases, better customer service than getting carried away by reviews left behind by acquaintances across social sites.
"That recognition that you are not getting the whole story on social from tracking social to e-commerce conversions is a huge finding. If you are estimating the ROI on social by looking at social to web, you are missing roughly half your social-inspired purchasing," says Alexandra Samuel, Vice-President of Social Media at Vision Critical.
Online sellers who want results for every penny spent by them on advertising and marketing their site or product(s) want to know whether it was tweeting about the products, the pins for them or the numerous Likes across Facebook which actually converted into sales for them. Did the ultimate buyers decide to buy or reject a product on the basis of the feedback they got from their friends across social arena? And if yes, HOW much of that influence did that sharing have on their final decision?
It is difficult if not impossible for sellers to extract exact information about the effect, if any, of social sharing on the consumers' buying decisions even with better and more highly evolved research tools.
"If you ask people how many cars they've pinned or tweeted before they bought their car, they would have an idea. But the instances vary so much by product category. I mean, if you asked me how many pairs of boots I've pinned in the past year, not only would I be ashamed to tell you the number, but I don't really know," Samuel went on to say.
Now, those insights into the online buyers' minds might just help sellers start thinking afresh about their selling marketing strategy. Facebook can and does affect buyer decisions more than other networking sites – it is partly because of its humongous reach of 1.35 billion users and due to the fact that sellers can run paid campaigns across on that platform, which is capable of generating higher ROI than other online marketing channels many times.
For now, sellers need to understand that social can undoubtedly be an asset, but not all the time!!!