The battle for smartphone supremacy takes another new turn. According to Kantar Worldpanel Com Tech's sales data for the three months to July 2013, Nokia Corporation (ADR) (NYSE:NOK) Windows operated smartphones recorded a sales share of 8.2% across the five major European markets – its highest ever – emerging as a key player in the smartphone race.
Interestingly, the growth in the sales of Microsoft Corporation (NASDAQ:MSFT) Windows operated phones isn't coming from stealing iOS or Android consumers. Google Inc. (NASDAQ:GOOG) Android is far stronger across the major European markets and China where it accounted for around 70% of smartphone sales during the past quarter and Apple Inc. (NASDAQ:AAPL) iOS continues to perform very well in the USA where it has grown its share to 43.4% of sales. It is also continuing to show strong year on year growth in Britain, France and Mexico. Only 27% of Apple and Android users change their OS when they replace their handset, and those that do switch generally tend to move between the two big operating systems.
According to Dominic Sunnebo, strategic insight director at Kantar Worldpanel ComTech, Apple's iOS and Google's Android continue to dominate the sales of smartphones and so it is easy to overlook Windows as a real threat. Nokia's comparatively lower priced Windows smartphones such as the Lumia 520 now represent 1 out of every 10 smartphone sales in Britain, France. In Mexico, the platform has claimed second spot – with 11.6% sales.
Dominic Sunnebo: "Windows Phone's success has been in convincing first time smartphone buyers to choose one of its devices with 42% of sales over the past year coming from existing featurephone owners. This is a much higher proportion than Android and iOS. The Lumia 520 is hitting a sweet spot, offering the price and quality that new smartphone buyers are looking for."
The total feature phone owners still account for 50% of the mobile market globally, and this market may very well be the new fighting ground for the ongoing battle between mobile OS manufacturers to try to push the sales of their respective devices. While iPhone 4 and lower end or older Samsung Galaxy models are still selling well among new users, there's plenty of competition for these customers. "The brands that win in this segment will be those that understand and address the needs of consumers in terms of price, content, and quality", said Dominic.
Sunnebo explains: "Apple and Android must focus on a balance between retaining existing customers and attracting featurephone owners to trade up if they want to continue their success over the next year."
Following a difficult year, BlackBerry continues to struggle for sales and market share in this competition. The firm now accounts for just 2.4% of sales across the big five European markets and 1.2% in the United States.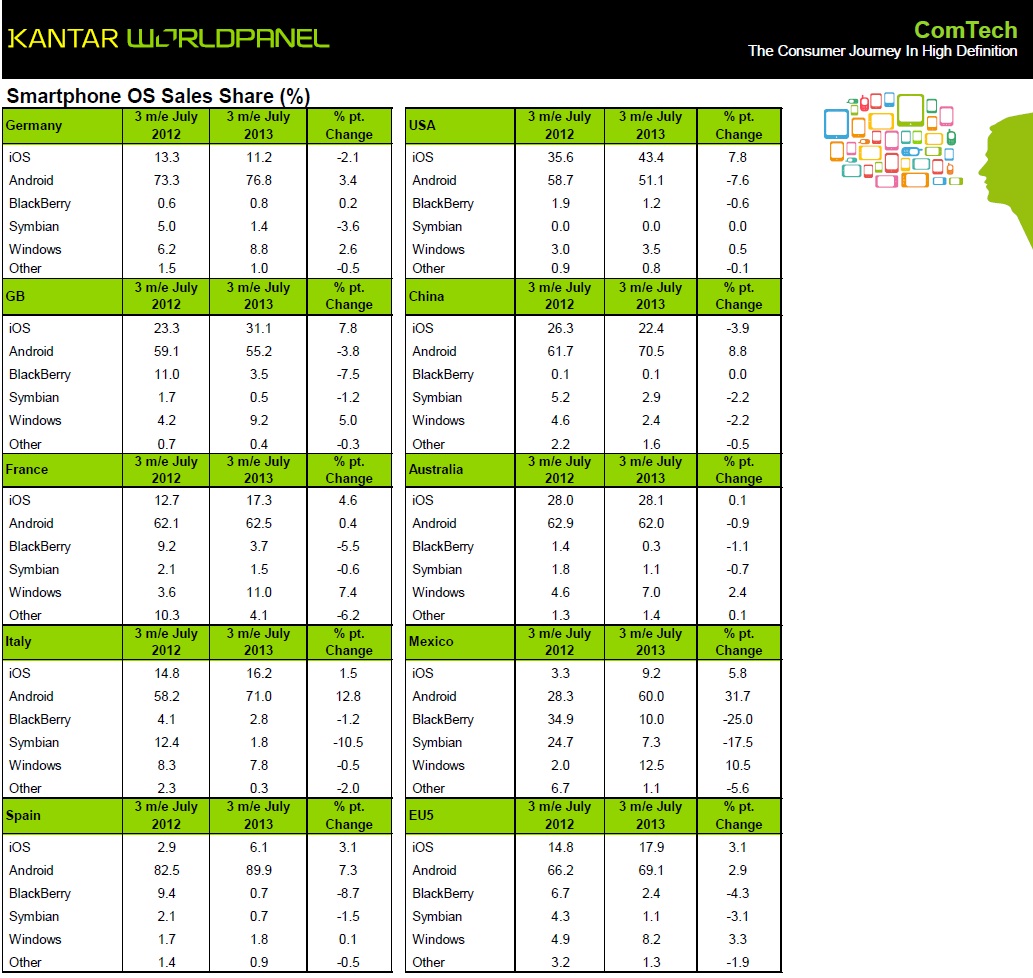 Smartphone penetration in Great Britain stands at 66% in July, with 85% of devices sold in the past three months being smartphones.
Nokia may be able to drive sales of Windows devices, provided it continues its current marketing trend by offering the price and quality that new smartphone buyers are looking for. But once they gain a certain amount of market share, the current big players Android and iOS may start to notice and may counter-attack Windows strategically.