While Apple Inc (AAPL) is being criticized for not following smartphone market trends, the latest report on Global Smartphone Market And Shipments Q1 2013 from IDC is out only to add Tim Cook woes. In Q1 2013, ended March 30, 2013, Apple has emerged as the biggest loser in terms of Q-O-Q Smartphone market share growth. The iPhone maker which was controlling 23% of total Smartphone market exactly a year back in Q1 2012, has registered 5.7% decline in Q-O-Q Smartphone market share growth, ended up by penetrating 17.3% Smartphone market in Q1 2013, according to IDC's report on Global Mobile and Smartphone shipments Q1 2013. In the first quarter of 2013, Apple managed to ship 37.4 million iPhones in Q1 2013, compare to 35.1 million iPhones shipped during the same time a year back.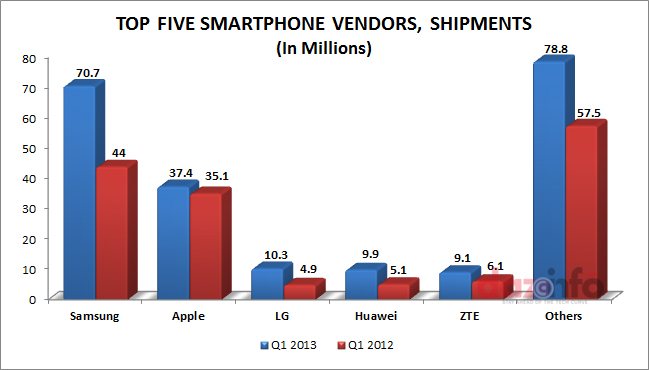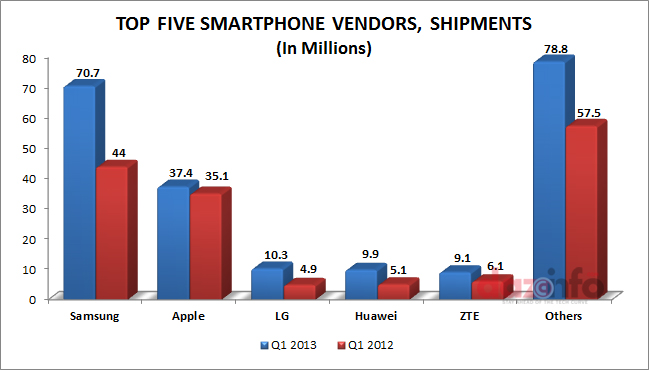 In spite of the fact that Smartphones are outstripping feature phone and users are more fascinated towards owning Smartphone, Apple is apparently failing to leverage upon market trend and need. In fact, Apple has emerged as the only vendor among top 5 global Smartphone vendors that has registered the negative Q-O-Q market share growth in 2013.
Though, the yearly performance of Apple Inc with iPhone still boils down to 6.6% growth; it's still the lowest among all top performing Smartphone vendors including LG.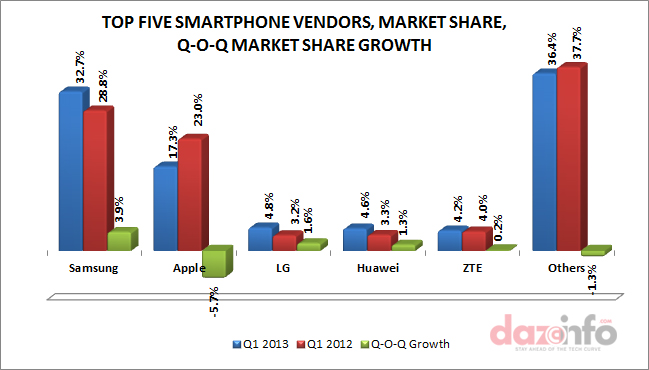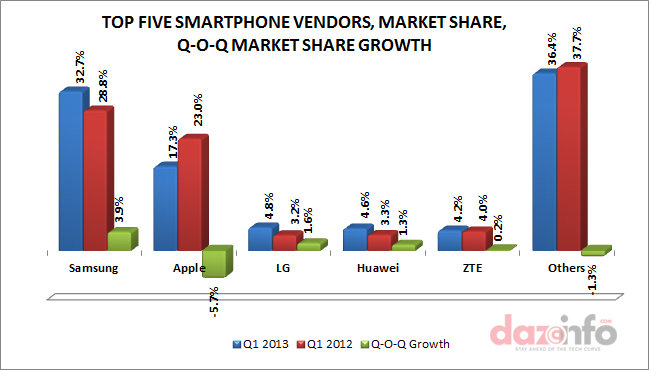 On the other hand, Samsung Electronics Co. Ltd. (KRX:005930) has continued to dominate by strengthening its Smartphone market presence; with 32.7% Smartphone market share in Q1 Samsung has registered 3.9% appreciation in its Q-O-Q Smartphone Market. Interestingly, Samsung has shipped almost double the number of iPhones Apple shipped in Q1 2013. The Korean electronics giant has recorded astounding 60.7% Y-O-Y growth nearly 10 times higher than Apple.
Chinese Smartphone makers Huawei and ZTE have marked their presence in global Smartphone market in first quarter of 2013. While LG Electronics Inc (KRX:066570) shipped 10.3 million Smartphones, Huawei and ZTE stood close by with 9.9 million and 9.1 million shipments respectively.
In Q1 2013, total 217 million Smartphones were shipped and almost every second Smartphone, shipped by top 5 vendors together, was labeled by Samsung. Users have shown more interest in top Smartphone vendors as the smartphone market Q-O-Q growth of local vendors (others) also decline by 1.3%.