With around 25 companies doing Smartphone business in India, this high and rich-feature category has authenticated significant growth. Although there is a huge hype around Smartphones, Indian mobile handset market is still dominated by shipments of feature phones. According to another study out of 221.6 million mobile handset shipments last year, 206.4 million were feature phones with almost 20% Y/Y growth, this shows people are still budget oriented in India. Post the recession Indian shoppers have become even more conscious about price than brands and they spend more time looking for attractive deals. On the other hand Smartphone shipments are also growing fast; with the availability of amazing features it is quite obvious that there is a desire for having smartphones and most of the customers are migrating from featured phones to Smartphones and this is where the local companies are striking gold by manufacturing handsets with eye-catching specifications at a fraction of the cost of International brands.
Commerce of Local brands
Micromax and Karbonn are doing exceptionally well in Indian market. Micromax increased its shipments to 6,33,000 in Q4 2012, compared to 9,900 in Q1 2012.  Karbonn also exhibited an enormous growth, with shipments over 3,0,4000 handsets. According to a finding from CyberMedia Research,  Last year approximately 0.55 millions of Tablets were sold and 18.4% of the devices sold were from Micromax; all thanks to the affordable price of Micromax Fun book. From the reports of IDC, as far as ranking goes in feature phones in 2012 Nokia (NOK)  is still leading with 22.50% share, followed by Samsung (Samsung Electronics Co.Ltd)  with 21.80% and Micromax with 6.50% market share. But when it comes to Smartphones, Samsung tops the list with 43.1% share followed by Nokia with 11.50% and Sony (SNE)  with 8.2% and pushed Blackberry (BBRY)  to fourth position followed by Micromax with 2%.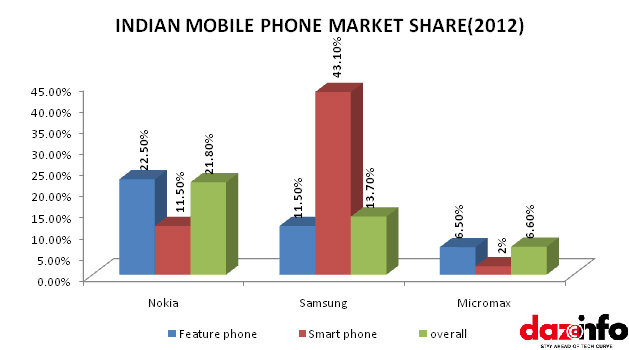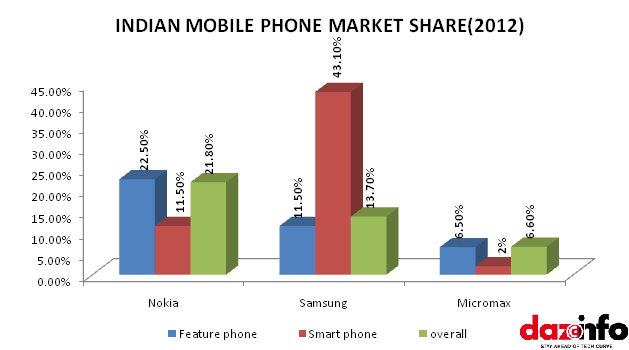 Local Vendors have been quite serious about their market presence and are offering Smartphones at affordable prices which are quite irresistible for Discount Gaga Indians whereas their Global Counterparts are going heavy on the price tags (40000-50000) which makes us wonder whether these local companies are cutting few corners to increase their market share, nevertheless these phones are suited for people who are not brand conscious and are happy that they do not have to spend a fortune on a Phone.
The International Giants who are known to manufacture quintessential devices every year, they have not been able to tap the Indian market completely if these manufactures want to ride the wave of demand completely then they have to come up with products and services which are available at a right price, and are flexible and make the customers feel that they have purchased additional benefits and services with the phone.