You might have noticed different stunts adopted by Apple and Samsung for their smartphone advertising. Currently, the South Korean mobile handset maker is spending a huge amount on its Galaxy smartphones commercials, which is considered as more effective compare to Apple's ads related to iPhones. The Cupertino-based company still focuses on its products, and this is the reason why it wants to describe its devices within 30-second of short TV commercial. On the other side, Samsung has different strategy with advertising. Unlike Apple, the Android device maker is focusing more on people in its advertising,  rather than devices. Last year, Samsung Galaxy S3 ads became the most viral commercial, and more importantly, the ads are still doing well and helping the company to deliver its messages effectively across the world.
In late November 2012, Asymco posted that Samsung invested an awful money (hoard of cash) for advertising purposes. In its report, the firm also included the ad spending of some other major corporations such as Apple, Microsoft, HP, Dell and even Coca Cola. Samsung was expected to spend about $4 billion on advertising in 2012, roughly a billion more than in the previous two years. On the other side, its biggest rival in smartphone segment–Apple–spent about $1 billion on ads, slightly up compared to the previous year.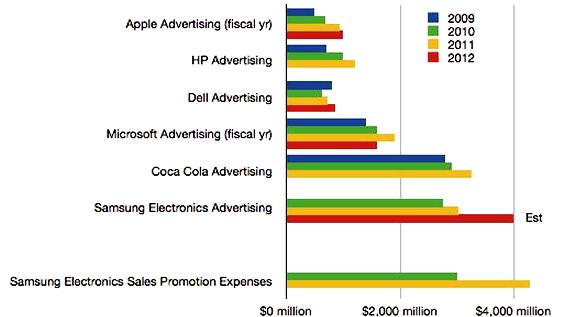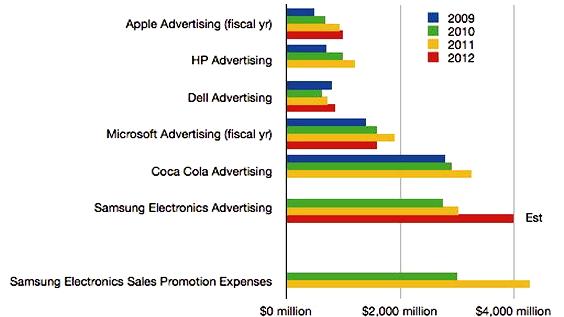 In addition to these, Samsung also spends a lot of cash on sales promotions and commissions, which were expected to crossover $4 billion figure in 2011. However, Asymco didn't provide such estimation for 2012. It has been noticed that Samsung uses to increase its advertising budget every year, and it wouldn't be unethical to believe that it would have spent over $4 billion on those commissions and sales promotions in 2012.
Apparently, it's also tough to find out how much does the company spend on its marketing last year? But as per Asymco's estimation, the company might have spent on Marketing Expenses around $12 billion in 2012. It should clearly be understood that $12 billion figure pointing to Samsung's entire business, not just to its mobile division. Breaking out some facts, the bulk of those marketing expenses have been invested on Galaxy smartphones ads and promotions by Samsung.


It's pretty much clear that Samsung is willing to pay a hoard of cash to make a lot of money from the sales of million of Galaxy devices. In other words, Samsung is likely to adopt all stunts those are going to boost Galaxy devices' shipments, even if the target is being achieved by pouring billions of dollars on advertising purposes.
It's obvious from the above graph that Samsung has already spent over $30 billion in marketing since 2009, with most of that cash went for promoting Galaxy Smartphones and Tablets. Now, the term "Galaxy" is used as synonyms for Android. This is the key reason why Google is worried with the Samsung's hold on Android. More importantly, the company has also planned to ship 100 million Galaxy S4 smartphones this year. On the other side, Samsung's outspending strategy on ads and promotions is worrying to other mobile device manufacturers. Indeed, it's not surprising whether anyone else with the Android ecosystem would invest the same kind of cash on marketing as Samsung is currently spending.