Instagram is an online photo-sharing and social networking service that enables its users to take pictures, apply digital filters to them and share it on Social sites. It was created by Kevin Systrom and Mike Krieger which was launched in October 2010.
The service rapidly gained popularity, just 12 hours after the release of its Android app, it added a million users to its online community of photo-sharing shutterbugs. Apple even named this app as its best iPhone app of the year in 2011.
Instagram announced yesterday that there are 100 million people around the globe use it every month. This start-up was acquired by Facebook last year for $1biilion in cash and stock, for a company with just 13 employees it was too good to pass up, so it sold.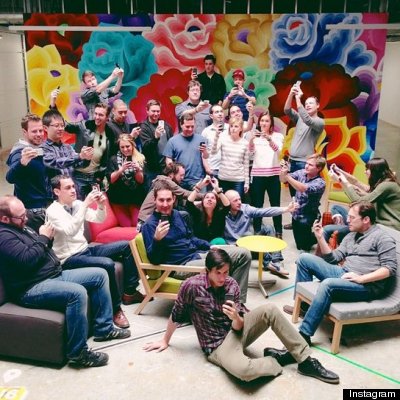 In a blog post, co-founder and CEO Kevin Systrom explained the journey to building an app that's created "a world more connected and understood through photographs." "It's easy to see this as an accomplishment for a company, but I think the truth is that it's an accomplishment for our community". "Now, more than ever, people are capturing the world in real-time using Instagram –sharing images from the farthest corners of the globe," co-founder and CEO Kevin Systrom wrote.
In fact,  in September, Facebook CEO Mark Zuckerberg told a crowd at a TechCrunch conference that this app had "100 million registered users", which means that 100 million people signed up for the app. Now in February, 100 million people who not only signed up for the app but who have also used it in the past month.
Also, earlier reports on this app were greatly exaggerated. After Systrom announced in December that the company would update its terms of service, many of its users were outraged and declared they would stop using the app. Many interpreted that the document meant that this photo-sharing app's users would no longer own their photos and that their images could be sold to third parties — but both accusations on this app proved to be fake.
Well, according to this announcement made at the end of January and one made yesterday (February 2013), the user base has grown to all time high with 11.1% growth in just over a month period (40 days). On the contrary, Instagram over shadows Facebook growth rate as on October 2012 the social networking giant recorded its user base number as 1 billion, in January (Q4 earnings 2012) it saw 1.06 billion users, that is 6% growth in a fourth month period of time.
Its truly a great achievement for Instagram, a mobile only app and Facebook took a wise decision in buying this photo-sharing app that too when it was just a budding star. This photo-sharing app proved its worth, but if Kevin Systrom had just awaited for few more days, Instagram would be worth more than what Facebook Paid.