Yesterday, at dual events in New York and London, HTC revealed its flagship smartphone–HTC One–for 2013. Of course, the device would be the company's best smartphone for this year. The Taiwanese company has already unveiled its one of the flagship models–HTC M7–at the beginning of 2013. Definitely this time, the company is trying to saddle down its all efforts to turnaround its mobile business in order to rescue itself from continuous market share decline and strategic missteps.
It's also true that HTC One would have to compete with some formidable existing smartphones such as Samsung Galaxy S4, LG Optimus G Pro and more. Yesterday, HTC released specification, features, design, and software involved in the device (HTC One). However, the design of the device wasn't the big surprise for smartphone enthusiasts–thanks to number of leaked images which was unveiled by variant sources.
This time, HTC is trying to deliver a robust and ground-breaking product in the market. HTC One would be the second device so far in the world with Snapdragon 600 SoC, a Qualcomm's new generation mobile chip. Apparently, the device with integrated quad-core CPU, Adreno 320 GPU, and an LTE modem would be a potent rival for upcoming high-end smartphones. However, LG Optimus G Pro is also expected to come with Snapdragon 600 processor.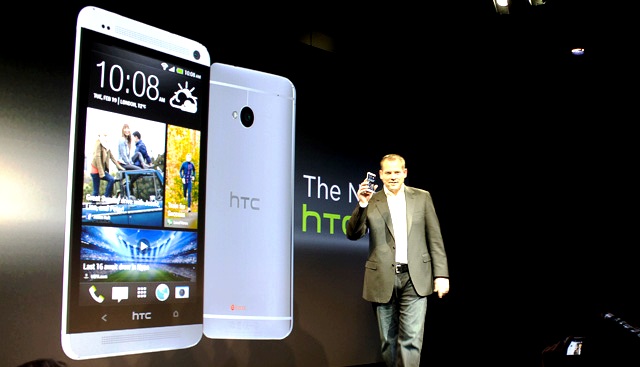 This time, HTC has also worked on the pixel density of the device– which is superb with 468 PPI. In other words, HTC One beats  other existing smartphones including Sony Xperia Z and the Droid DNA in terms of pixel density. Besides, video display on the HTC One device appears breathtakingly sharp.
HTC has always been conscious about the sound and camera experience on its smartphones. Once again, the company has come up with the same camera and audio strategies. The camera sensor of the HTC One comprises three layers that enables the device to take sharper and less noisy images, even in low lighting. The HTC One also features two stereo frontal speakers, which ensures users to have an impressive (93 db ) sound level. However, the Beats Audio Integration in the device isn't creating any surprise for audience.
In terms of design, HTC One would have the same tradition featuring unibody design. As usual, the device wouldn't have any microSD card slot. This time, HTC one will have 2300 mAh capacity battery, which is a step ahead of 1,800 mAh battery of HTC One X. In addition, HTC One will be available in two colors–red and usual black and white colors.
See the full specification of HTC One smartphone: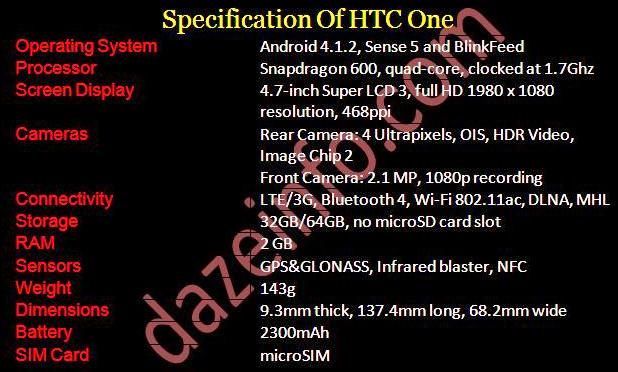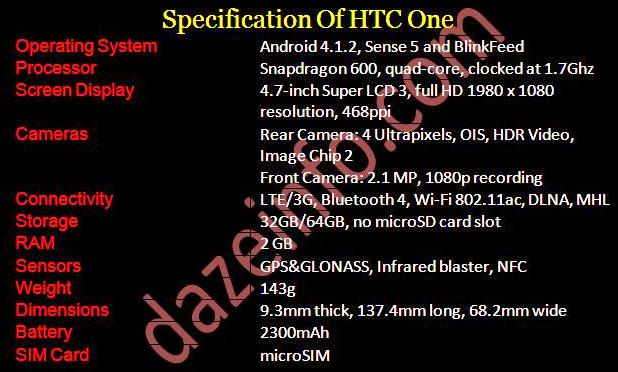 Price and Availability:
As per the Taiwanese handset maker, the new HTC One will be available for sales from March 15 2013 onward. The device will be available on 185 carriers around the world. HTC One will go on sale in the U.S. on three major carriers–AT&T, T-Mobile and Sprint. While in the U.K, the device will be available on all major carriers such as O2, EE and Vodafone. On the other side, in Canada, HTC will be available on all four major carriers—Rogers, Bell, Telus, and Virgin Mobile. Till date, we haven't got any official information related to the pricing of the device, but the device is expected to have roughly $600 price-tag.
HTC One Trade-In Program
Interestingly, HTC is offering $100 or more for customers those who want to sell their old HTC smartphones towards the purchase of the HTC One. Indeed, this would be one of the finest ways to get rid of  older smartphone to new HTC One. For getting the offer, users will have to pre-register their email account, and then, they will have to qualify for Visa prepaid card worth at least $100 or the trade-in value of users' older phone.
Watch the video how actually device looks like: http://youtu.be/N9A8NnBbW_A