While everyone are confused with social marketing, here is a study by Simply Measured which actually resolves problem to an extent.
In the past three months we have witnessed number of new features and policy changes on Instagram, while some motivated brands to adopt it some actually build little repercussion among users. This study surely helps those brands which are still planning out things for 2013 by showcasing brand's performance on Instagram.
"Now that the platform is maturing, it is no longer just about adoption. Instead, brands need to pay close attention to how their followers are responding, and make the necessary adjustments to capture their attention and realize the full potential of this powerful network", said Adam Schoenfeld, CEO of Simply Measured.
Adoption comparison among social networks
Simply Measured announced that the world's top brands continue to develop on Instagram by adding 1.6 million followers in the past three months and increasing engagement by 35%. According to this study , 59% of the world's top brands are now on Instagram. With 90 million monthly active users, 40 million photos per day, and 8,500 likes per second, Instagram has now managed to magnetize top brands.
It it seen that Facebook and Twitter are in neck to neck competition in this adoption race, close to 100%.
Its also said that as the adoption rates by brands increase on social networking sites adoption rates on Pinterest and Instagram are growing at lighting speed, by the graph we get that Instagram has grown by 9% while Pinterest by 10%, in almost three month period.
It is pretty much clear that these photo-sharing sites would surpass Google+ in next few months by giving tough competition to it. The number of top 100 brands active on these photo-sharing sites is almost nearing to Google+. And despite of Instagram being mobile only application it has proved its stability by keeping up the pace with Pinterest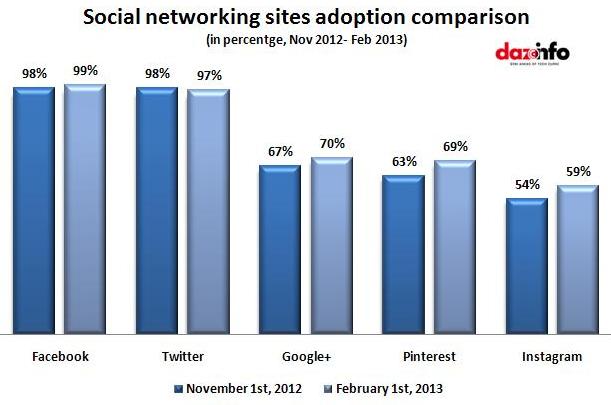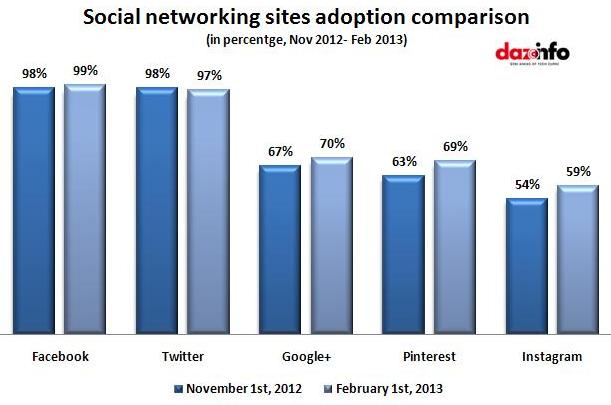 Instagram brand adoption in 2013
Recent introduction of Instagram's Web Profiles and Web Feeds has made a  significant impact on brand awareness and engagement. 59% (up from 54% in November) of the Interbrand 100 now use Instagram and followers of those brands increased by 41%, total audience size of 5.8 million users and engagement with top brands increased 35%. Also, 41% of brands now post at least one photo per week, up from only 34% last quarter.
Accounts which post once a week escalates to 41% while active accounts photos posted increased to 55%.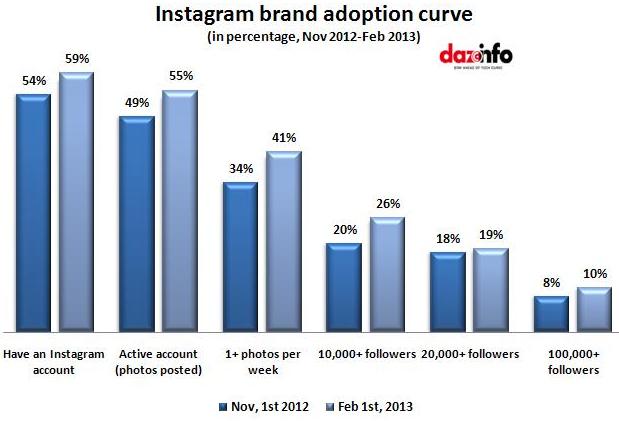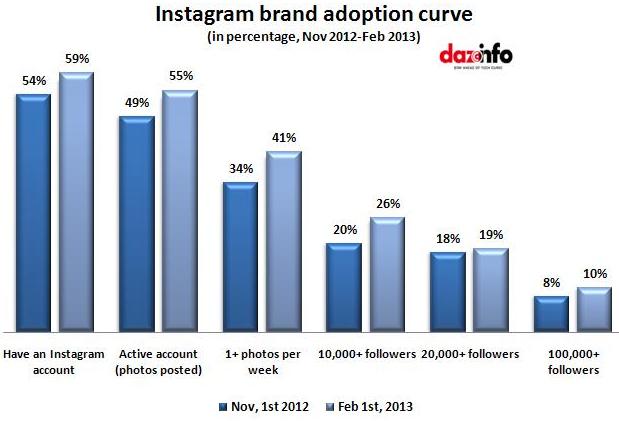 Among top brands, luxury and apparel companies continue to lead the way. Adidas and Ralph Lauren rose in the rankings to join the top ten brands, each with more than 100,000 followers. This group that saw average engagement growth of 19%, while Gucci (65%) and Tiffany & co (75%) almost increased their follower engagement by two folds. Interestingly, overall consumer engagement with top brands increased by 35% quarter-over-quarter. Plus, the average brand photo received over 4,800 engagements (likes, comments, Tweets and Facebook shares).
The number of brands with 100,000+ followers increased from 8 to 10, led by MTV, Starbucks and Nike. 26% of brands now have over 10,000 followers, up from 20% quarter-over-quarter.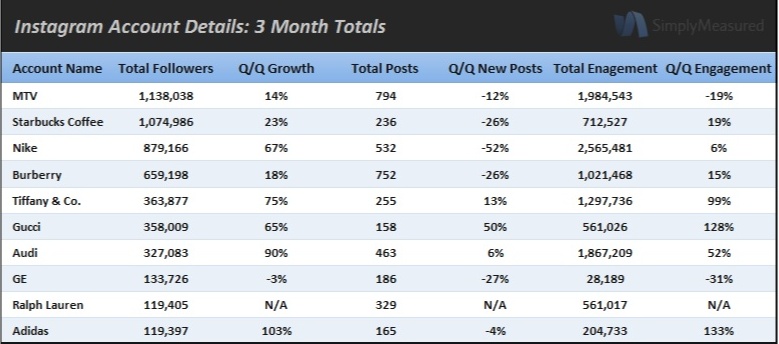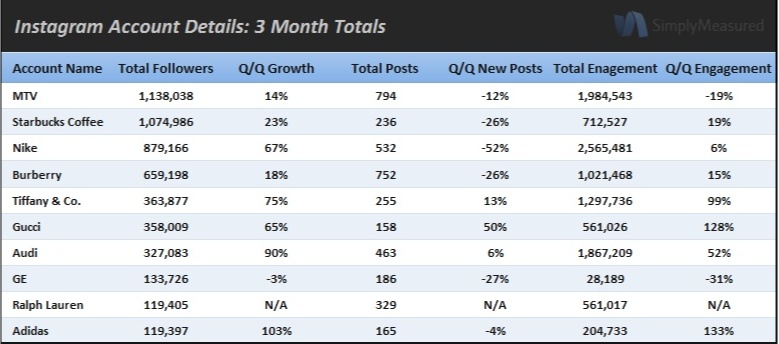 Most engaging/used filters
98% of Instagram photos posted by top brands are now shared to Facebook, resulting in 274 engagements per photo and 30% increase quarter-over-quarter. At the same time, engagement with Instagram photos on Twitter declined as Instagram dropped Twitter cards integration with Instagram.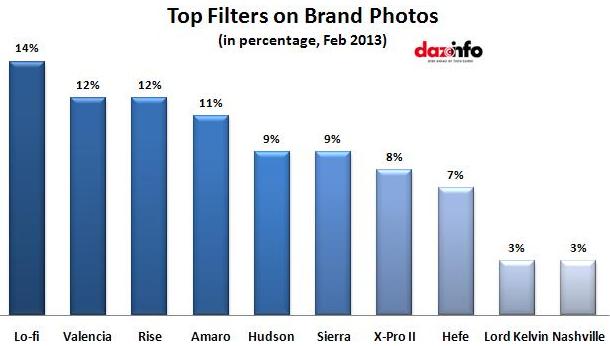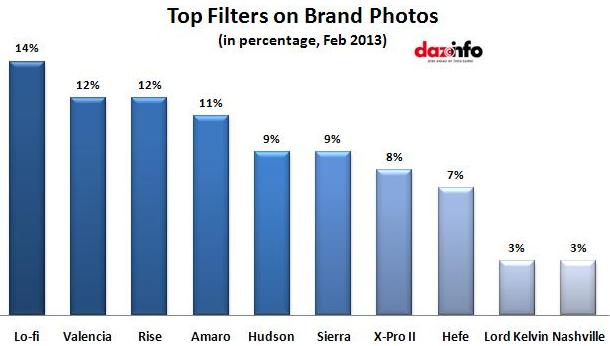 It seems that Photo-filters by brands are declining as of August 2012(when the study regarding this happened for the first time) it recorded that 60% of the brands used filters for their photos, down 20% now. Lo-Fi remains the most trusted filter, while Hudson boasts the most engagement.