Microsoft couldn't keep itself away from hardware business; the company jumped into the money-making segment with Windows Tablet last year. It's said that 1.25 million units of  'Surface RT' were sent to distribution channels during the last quarter, but sales of the channels were significantly lower, might be around 55% to 60% of the total figure. The sales of the device are expected in the range of between 680,000 and 750,000. But according to IDC,  900,000 units of Windows Tablet sold during the quarter. In comparison, Apple shipped 22.9 million iPads during the same period. In other words, Windows Tablet is still far behind of iPad in terms of shipments.
According to a Forrester's recent survey report, conducted among 9,766 global information workers, 1 in every 4 employees want to work on Apple's iPad in their respective organization, while 1 in every 3 want to have iPhone. Undoubtedly, Apple's best selling iPad and iPhone have made a strong impression among consumers.
The proportion of workers, those need three or more devices at anytime, anywhere for information, has reached to 29% of total global workforce in 2012,  up from 23% in 2011. As per the survey report, 21% of respondents use their tablet at least weekly for work. However, the proportion of workers using smartphone at least once in week is more than double (48% ) compare to the tablet's. Interestingly, 58% of respondents, those are  using tablet for their work, rely on Apple's iPad; the proportion of the employees is more than the twice compare to those using Android tablet at the workplace, and also, 5 times the number using Windows Tablets.
Employees Prefer Android And iOS As Next Smartphone Platforms For Work
In terms of smartphone holding, both iOS and Android's mobile handsets are being used as a primary work device by employees; 37% of respondents admitted during the survey that they had Android device, while 34% said iPhone. More importantly, BlackBerry–the handset manufacturer once known as synonyms for corporate mobile–held 15% share among respondents.
There's a huge opportunity for Apple to make strong presence in enterprise sector, as device respondents are likely to get their hands on iPhone and iPad for their next work smartphone and tablet. Breaking out some facts, 16% of respondents (in survey) already had an iPhone, and 33% wanted an iPhone for their next work smartphone.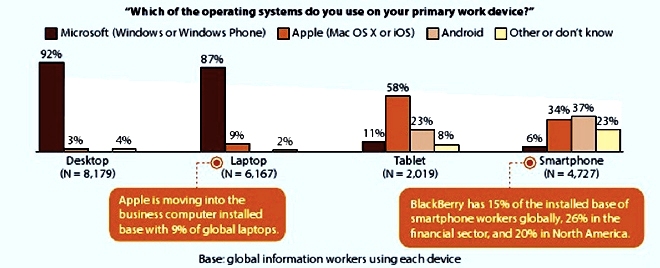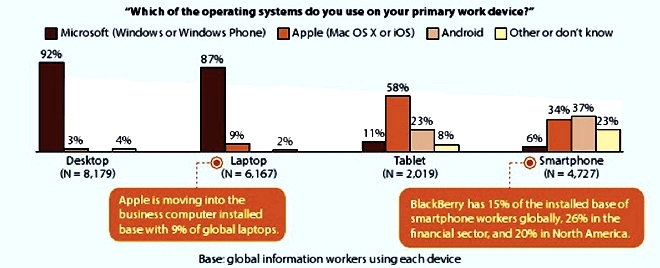 Windows Tablet Seems Promising For Enterprises
Apple has always been a dominating player in the tablet segment. The survey reports says that 26% of respondents are willing to work on iPad as their next work tablet, more than twice the percentage those want to work on Android-powered tablets. On the other hand, demand of Windows tablet seems promising in enterprise sector; 32% of respondents said they would prefer a Windows tablet for their next work tablet.
Furthermore, Microsoft has still sustained its supremacy in desktop and notebook computing solutions space. Windows platform is still the most popular platform for enterprises; 92% and 87% of desktop and laptops respectively are currently running on Windows OS platform. However, Apple is making headway in the notebook sector with its Mac lineups; the company's MacBook line is currently accounts for 9% of the global enterprise install base. As the trend of "Bring-Your-Own-Device" (BYOD) is ramping up, the iOS platform is gaining momentum among enterprises.
It's pretty much clear from the report that there's a huge opportunity for Windows Tablet in enterprises. The sales of the Windows tablet wasn't lackluster–sales of 900,000 tablets during a quarter of new entrants is impressive–during the last quarter.
Via: AppleInsider