At the time, mobile gadgets (especially Smartphone and Tablet) are among the hottest topics to discuss. These devices determined the trend of holiday season in 2012. It seems that fever of holiday season has not yet moved out from the head of Smartphone and Tablet users. This holiday, people fiercely took part in online shopping through their mobile handsets.
According to a mobile ad network Chitika, which measured smartphone and tablet traffic before and after Christmas, the iPhone 5 was a top gainer among Smartphone category, representing 1.11% gain in terms of usages during post holiday season (period immediate following Christmas). On the other side, Samsung Galaxy SIII showed off 1% gain during the same period.
But we could experience a greater variance among Tablets. One side where Amazon's Kindle Fire's market share grew considerably, while on the other side, the iPad share dropped off in days after Christmas, from 86.0% to 78.9% following the holiday week.
The firm found on its network, Kindle Fire gained 3.03% of overall market share in days after Christmas, nearly doubling its total share of Tablet traffic to 7.51%. Apparently, Samsung's Galaxy lineups—both 7-inch and 10-inch versions—got a fair momentum with 1.38% gain, while Google Nexus Tablet demonstrated nearly 1% of gain in post holiday duration (period immediate following Christmas). As expected, BlackBerry's Tablet traffic share dropped meagerly by 0.02% during the post holiday.
Although, the traffic share of iPads (including its all models) shrank down to 7.14%, despite it accounted for highest 78.86% of overall traffic. However, it's expected that iPad could climb back above 80% of overall traffic later this year. From this holiday season, it has been noticed that people were willing to present less expensive Android-based Tablets to their relatives and beloved one, compared to high-priced sophisticated Tablets.
An activation of Android and iOS devices reached to their all time high in this holiday season. An app analytic platform—Flurry—has just released its report about the number of new devices which came online during the holiday season. The analytic platform has reportedly explained that over 50 million iOS and Android devices were activated between December 25 to December 31, up from over 20 million during the same period of the last year.
Before the Christmas, from December 4-17, just 1.07 million apps were downloaded, while between December 25-31, 1.76 million apps were downloaded.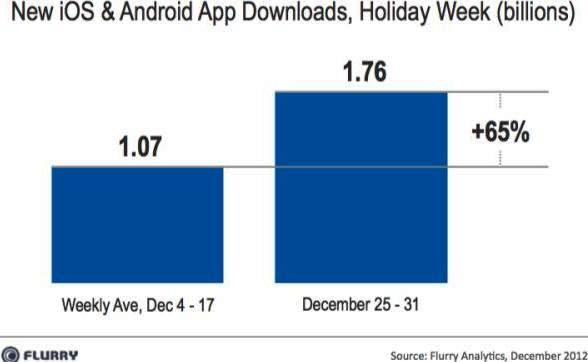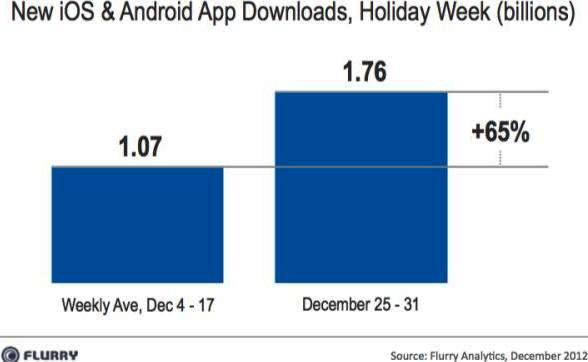 Just a few days before, Flurry reported that 17.4 million Android and iOS devices were activated on Christmas day alone. In addition, the firm has also released worldwide app downloads, in countries-wise. The U.S. accounted for highest app downloads (with 604 million marks) during the holiday period, followed by China and U.K. with 183 million and 132 million downloads respectively.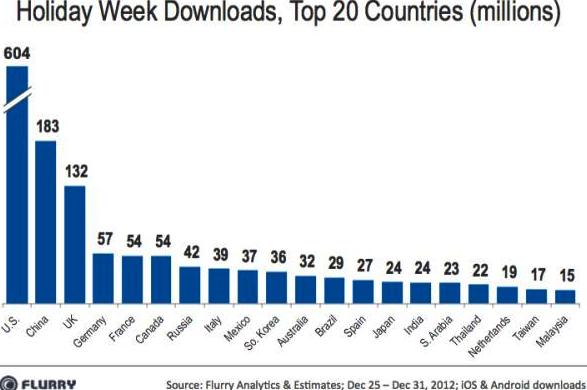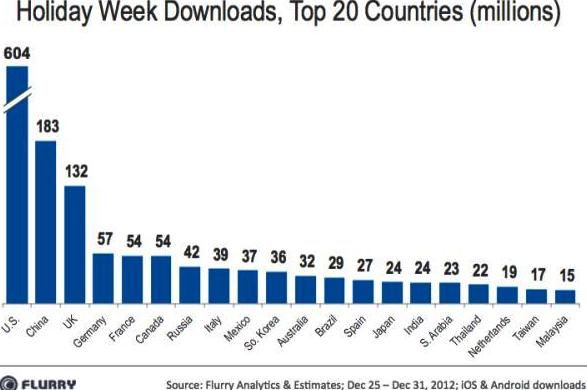 However, Flurry has not yet released any separate information related to number of Android and iOS devices activated, not in combined. But it's expected that iOS has accounted for more than half of the new activation this holiday season year–taking leverage on sales of its fourth generation Tablet and iPad Mini.