Users are now more likely to own large scree size smartphones. As demand of Samsung Galaxy Note II (Phablet)soaring up, it has sparked out a discussion on portable screen mobile devices. However, Phablets (hybridized smartphone and tablet) are still not sufficient to meet users' all requirements. On the other side, portable 7-inch tablets at very affordable price tags have continuously been drawing the attention of users around. This is the reason why majority of users around considered tablet as a more suitable Christmas gift than smartphone.
Anyway, Christmas day is quite important in terms of mobile device activation. According to Flurry's latest report, covered a catalog of 260,000 apps that use its mobile analytic platform across Android, Amazon and iOS devices (claimed to account for roughly 90% of total new device activation), 17.4 million smartphones and Tablets were activated on 'Christmas Day' alone, up 2.5X in number compared to the previous year. Christmas day activation exceeded the rest of the month (from Dec 1-20) by 332%.
Thanks to Google's Nexus Tablets, Amazon's Kindle Fire and Apple's 'iPad Mini' that pushed the device shipments in this holiday season. However, the biggest winners on Christmas day were iPads and Kindle Fires.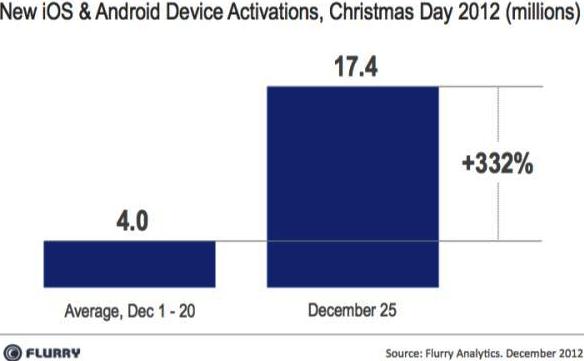 On Christmas Day this year, apps downloads (Android and iOS) reached to 328 million, up 112% compared to the rest of the months (Dec 1-20). The app downloads on 'Christmas Day' broke all the record for any single day, up 36% over the last year.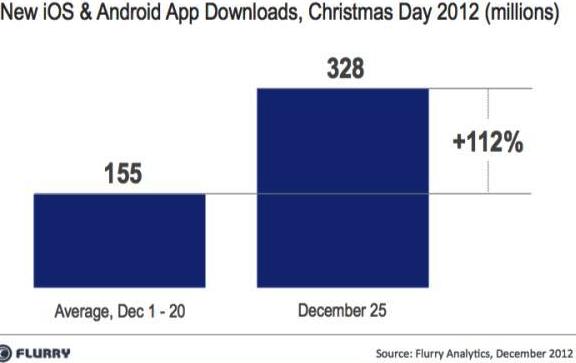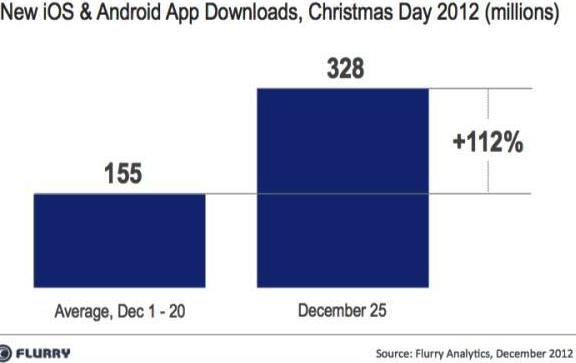 On Christmas Day, download per hour peaked early at around 11 AM, and it remained strong throughout the day until 9 PM. It's pretty much clear from the graph below that Christmas day represented a single-day-peak app downloads. By the end of this holiday season, 2 billion apps are expected to be downloaded, up from 1.2 billion in 2011.
Interestingly, Tablets accounted for 51% of all new devices activated on 'Christmas Day', up from 20% in the last year. Actually, these devices are available without contracts, and this is the reason why people preferred more (on Christmas day) to tablet against smartphone.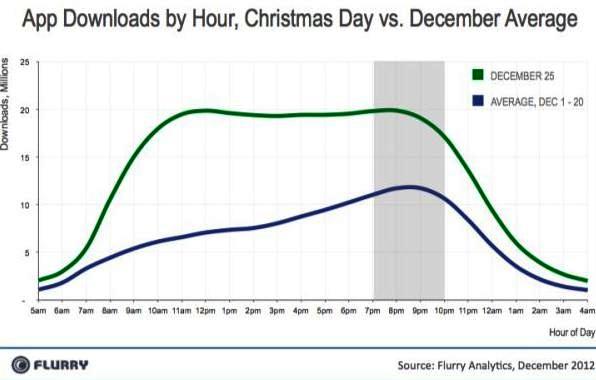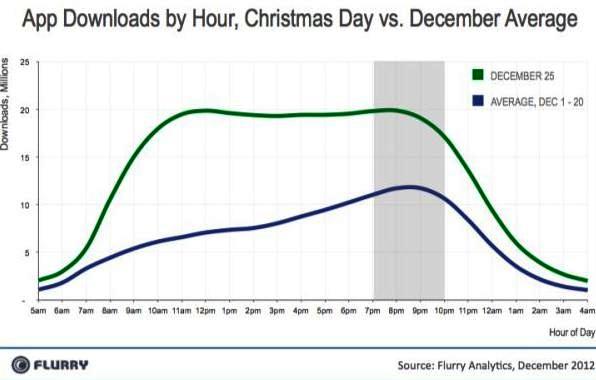 Still, tablet is considered as a premium device. Despite, people went in the favor of tablets on Christmas day, compared to smartphone. As demand of tablets is continuously ramping up, it could be a great hearsay for tablet manufacturers.