We have already been astonished with 'Black Friday' and 'Thanksgiving Day' online shopping, but it seems that consumers are still interested to spend online for this holiday season. Indeed this time, online spending is going to make an outstanding record. Thanks to comScore, which has reported holiday season's retail e-commerce spending for the first 30 days of November-December 2012 holiday's season. For holiday season till November 30, online spending reached to $20.4 billion figure, up 15% compared to corresponding days of the last year.
Last week, three individual days—November 26, 27 and 28—surpassed $1 billion figure in terms of online spending. Cyber Monday recorded highest ($1.46 billion) 'Online spending' compared to any other day in history. Besides, in the last week, Tuesday and Wednesday (November 27 and 28) also recorded $1.26 billion and $1.11 billion online spending respectively.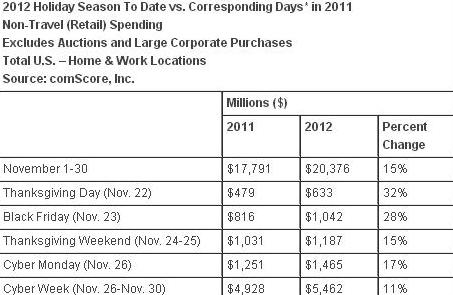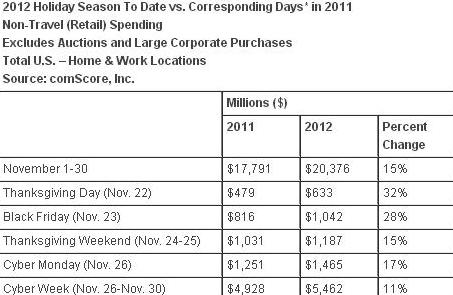 More importantly, we could see more free shipping in this holiday season, which is being provided by significant number of retailers. comScore has reported that more than half of the e-commerce transactions have included free shipping in the past three weeks of this holiday season, with a peak of 57% on November 25.
During first five weeks of this holiday season, it has been noticed that consumer spent an average of 42% more on free shipping transactions compared to paid shipping, demonstrating a 51% higher average order value during the week ending November 25.
As usual, Smartphone and Tablets continued their stronghold in all product category sales during the online holiday shopping season which ended this year December 2. Digital content & subscription was top gaining category, up 25% compare to the corresponding days of the last year. On the other hand, the computer hardware category (on the strength of Tablets sales) showed off a 15% Y/Y growth in first 30 days of this holiday season, compared to the corresponding days of the last year. However, traditional laptop and desktop computers posting modest gains during the same period of this holiday season.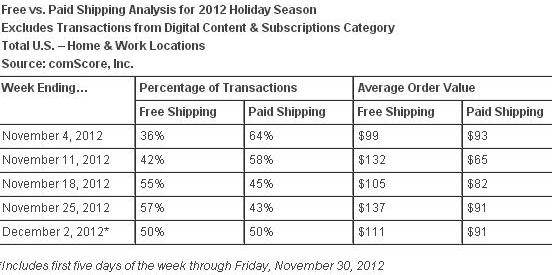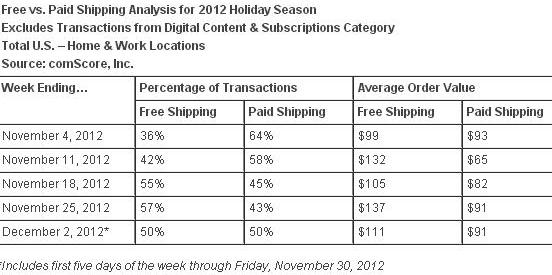 Average order value for free shipping reached to maximal level ($137) on November 25, 2012, while paid shipping (average order value) was just $91 on the same day. As online spending reached to maximal level on Cyber Monday, it could be a good bode for online retailers. Of course, you are all eager to know what could be the overall online spending this holiday season, But it's really unpredictable for any one to crunch the numbers before the holiday season ends.