Undoubtedly, 'Black Friday' and 'Thanksgiving Day' showed off great beginning of Christmas 2012 and holiday shopping season. Of course, online retailers succeeded to entice significant number of users by touting amazing discounts and offers on Black Friday and Thanksgiving Day. Besides, bricks-and-mortar retailers also succeeded to leverage over the holiday shopping season, and this is the reason why every major of retailers offers mobile application this holiday season to better help to customers.
With the mobile application, in-store consumers are able to enhance their shopping experiences by adding items to their cart, finding clearance items, browsing a store catalog, and more importantly, they can share special offers with their friends.
Interestingly, this holiday season, online retailers are offering mobile applications for savvy shoppers to use in-store. Now, Amazon's 'Price Check' and Ebay's 'Redlaser' shopping applications are allowing customers to compare prices, see product reviews and even buy online without going  through frighting check out lines. The market share comparison of retailers on Black Friday as follows :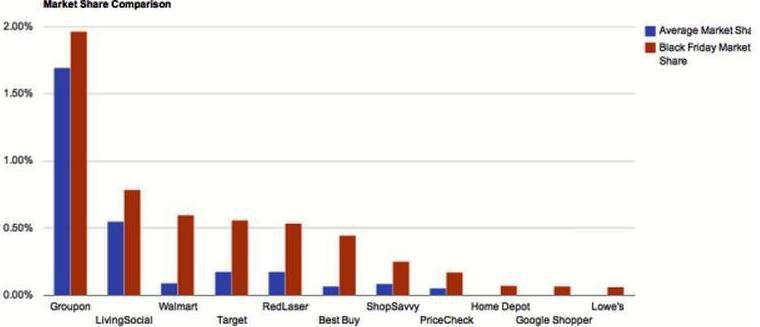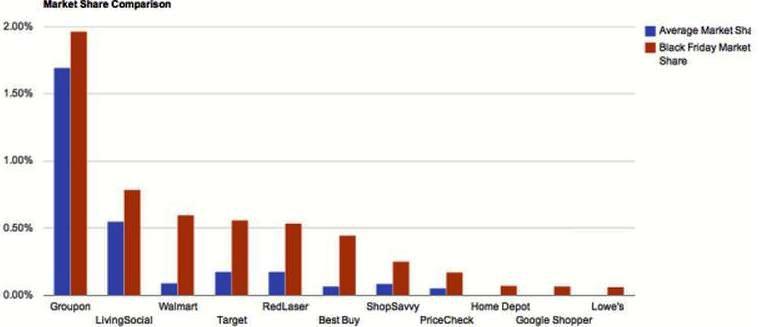 According to Onavo, 7.36% of iPhone users in the U.S. used at least one shopping app for searching deals on Black Friday 2012. While Groupon and livingSocial respectively had the highest market share in terms of usage on Black Friday. On the other side, Best Buy and Walmart reported greatest Y/Y growth in app usage on Black Friday this year. Among bricks and mortar stores, Walmart and Target enjoyed largest market share on the day.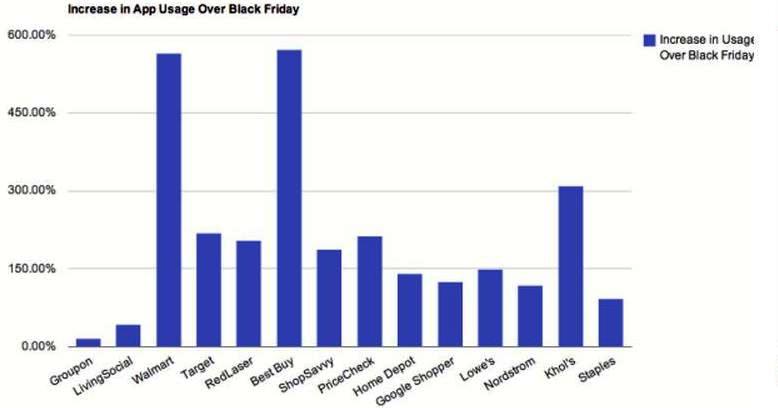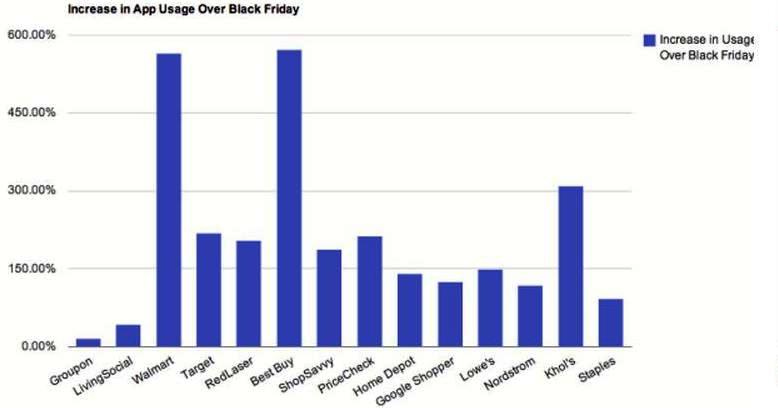 Though, Onavo didn't incorporate Amazon in their study, but on Cyber Day (Yesterday), Amazon offered an ad-supported Tablet for just $129. Yesterday, users had an opportunity to save $30— which can be used to accessorize their Tablet. Also, the online retail giant offered the unlock screen ads version Tablet with $30 discount. Post Cyber Monday, Amazon is offering the Tablet 'with and without special offers' at the price tag of $159 and $174 respectively.
According to a recent index from Branding Brand, 3.08 million users visited the retail sites in the U.S. on 'Thanksgiving day', and of these, 63% were iOS users while 32% accessed the sites with their Android devices. Surprisingly, just 29,880 visitors ordered for the products and, of these, iOS contributed 70% of deals against 29% by Android. Overall, an average order value was reported $81 while it stood to $81 for iOS and $80 for Android.
Comparatively, Black Friday turned out more impressive and excited among users; More than 3.5 million people visited online retail sites through their mobile devices, and of these, 63% were iOS device owners while 32% were Android. Out of 50,905 users, who actually ordered for the products, 69% used iOS devices while only 29% placed an order through Android devices.
Image Courtesy:  Onavo