In Q3 2012, almost two-third of smartphones shipped were powered by Android OS. According to IDC's recent report, 181.1 million units of smartphone were shipped in the last quarter, among all 136 million units were Android-powered. As per Gartner, 428 million units of mobile handsets were shipped in Q3 2012 and smartphones accounted for almost 40% of overall shipments.
In the last quarter, Samsung shipped almost 98 million units of mobile handsets and more than 57% of handsets shipped were smartphones. More importantly, Samsung shipped 4 out of 10 smartphones powered by Google's OS in the last quarter. On the contrary, other Android partners were struggling to gain market share. However, HTC recorded break even shipments in the quarter.
Anyway, we could also encompass HTC as well—succeeded to hold third notch in Q3 2012 in terms of smartphone shipments. Interestingly, even Apple's share of operating profit from global mobile phones dropped to 60% in Q3 2012, whereas Samsung and HTC succeeded to manage an operating profit of 39% and 1% respectively in the quarter. Google is now trying to rescue Motorola, and it does not want to be known by Samsung. Now, there's a discussion around whether Samsung has made Android popular or Android has made Samsung popular. If Android has made Samsung popular then why other hardware manufacturers are struggling to make their presence in the market?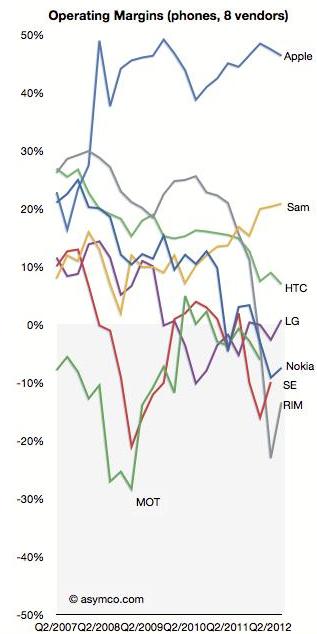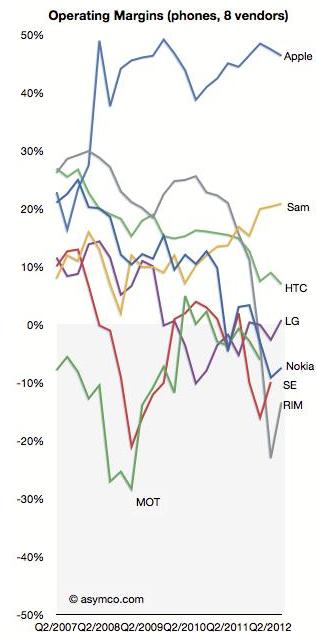 Yesterday in an interview, Microsoft's CEO–Steve Ballmer–called Android ecosystem "wild", "uncontrolled" and 'susceptible to malware'. However, he supported Apple ecosystem, called it "highly controlled", but same time criticized it for highly-priced.
The rise of Android over the last three years has been really an impressive sort of things. It's true that Android came a year after the arrival of iPhone, but it smashed down some potent players such as Nokia and RIM in very short spam of times. However, Android smartphones are considered as boon for customers because they could easily afford. But the one of the paining issues with Android is that the market share of its partners (other than Samsung) such as Motorola, Sony Ericsson and LG has steadily been declining since last couple of years.
Samsung is the only company that has been generating sustainable profits with Android OS. Samsung launched its first Android flagship—Galaxy S—and right off the bat it grabbed 20% of overall Android market share. With the launch of Galaxy SII models, it succeeded to grab 40% of Android's overall smartphone market in terms of shipments. Last quarter, one out of ten smartphones shipped in the market was Samsung Galaxy SIII, most successful smartphone smartphone in Q3 2012
How Samsung's Dominance In Smartphone segment Could Jeopardize Other Android OEMs ?
Samsung is currently manufacturing Android smartphones at all price ranges with variant screen sizes. Moreover, Android partners (rather than Samsung) are seeking for some other platforms. The reason is quite obvious, if they can not generate dollars with Android then why they should invest on the platform. That's why, HTC has opted to work on Microsoft's Windows Phone platform. But ironically, Samsung also wants to leverage on Windows Phone platform and its Ativ S is right at the corner.
As Android has steadily succeeded to grab two-third of smartphone market share in terms of shipments, with similar fashion, Samsung is uniformly gaining Android market share. In next few years, Samsung will succeed to ship two-third of Android devices.
Also, Samsung is currently working on its own OS–Tizen. And more importantly, it won't be worthless to say that Tizen-based mobile platform will fully compatible with Android apps. There's also a possibility that Samsung could leave Android platform for Tizen in forthcoming years. Then what will happen to Android OS ? Of course, the platform will lose two-third number of users around the world. Google really needs Android platforms for its services that the search  giant is supposed to recoup its all the investment through mobile ads. Samsung's gradual take-over of Android could be fatal for Android as well as its partner.
Image Credit: Asymco