An increasing demand of smartphones has managed to buck the trend of mobile industry. Now, mobile handset is more than a 'calling and texting' device, and this is the reason why the demand of feature phone in matured markets has been declining since the last year. Besides, we could easily see the pressure on mobile industry from wider economic downturn and lackluster demand of cheaper and low-end feature devices in major markets such as the U.S., U.K, and more.
According to a Gartner's recent report, 428 million mobile handsets were shipped in Q3 2012, down 3.1% compared to the same quarter of the last year. On the other side, smartphone continued to outshine in Q3 2012, representing 39.6% Y/Y growth in the quarter. Interestingly, 169 million units of smartphone shipped in Q3 this year. In other words, smartphones accounted for about 40% of overall shipments of mobile handsets for the quarter.
However, Q3 2012 was little impressive in comparison to the previous quarter in terms of unit shipments; 419 million units of mobile handsets were shipped in Q2 2012. Samsung Galaxy flagships (especially SIII and Note ) and Apple's iPhones (4S and 5) played significant role in overall mobile handset shipments in the last quarter. In Q3 2012, Samsung sold 18 million units of Galaxy SIII model, while Apple sold 16.2 million units of iPhone 4S during the same period. More importantly, one in every ten smartphones shipped in the last quarter was Samsung Galaxy SIII.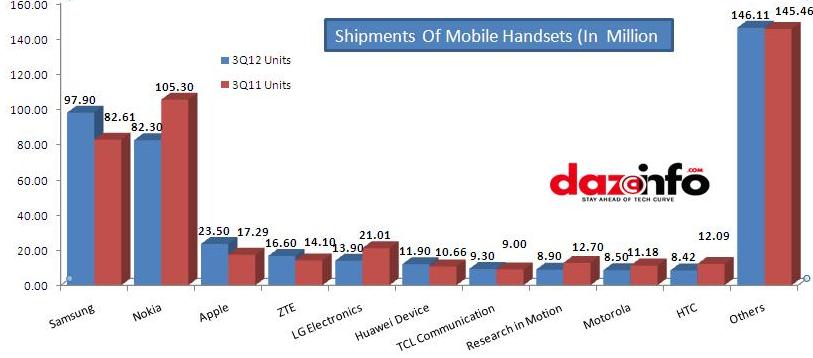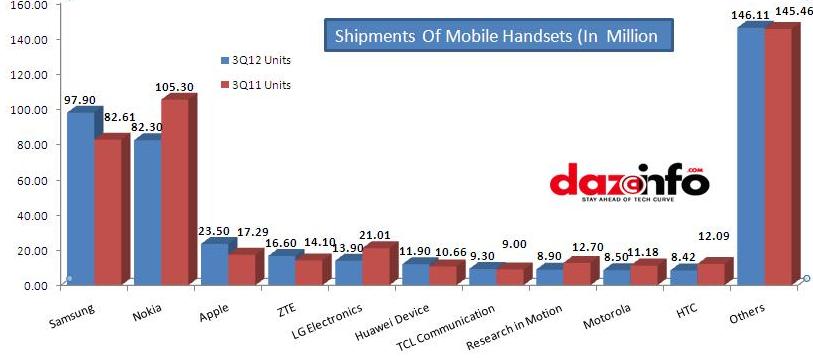 Of course, Samsung continued its supremacy in mobile handset segment in Q3 2012, and shipped 98 million units of mobile handsets in the quarter. However, Nokia was succeeded to manage second notch in terms of overall mobile handset shipments, but its position dropped to seventh in Q3 this year from third in Q2 2012. On the other side, Samsung showed off 18.6% year-over-year growth in sales of mobile handsets in last quarter. In Q3 2012, two Chinese mobile handset vendors succeeded to make their presence in the list of world's top ten mobile handset vendors.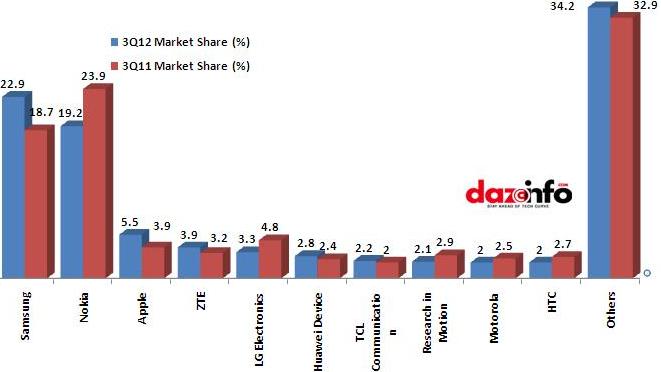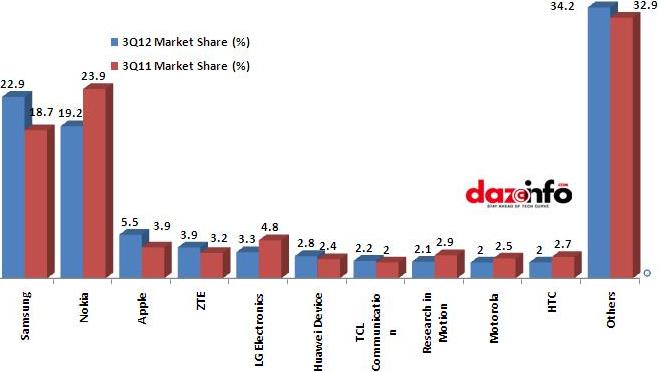 Nokia's mobile phone sales plunged 21.9% in the third quarter of 2012 compare to the same quarter of the last year. The sales of Nokia's device was driven by "Aasha" models, whereas shipments of Windows Phone powered Lumia smartphone dropped by more than 1% in the last quarter compared to Q2 2012. The company shipped just  7.2 million units of smartphone in Q3 2012.
But probably, most painful to watch in Q3 2012 was Symbian decline: The OS could manage to hold just 2.6% market share in Q3 2012, dropped from 16.9% in Q2 2012. For Symbian's decline, Nokia's decision is somehow responsible along with cut-throat competition among mobile OS. Last year, the Finish mobile handset manufacturer decided to work on Windows Phone platform rather than Symbian. But the Windows Phone platform is still struggling to make its stronghold in the market.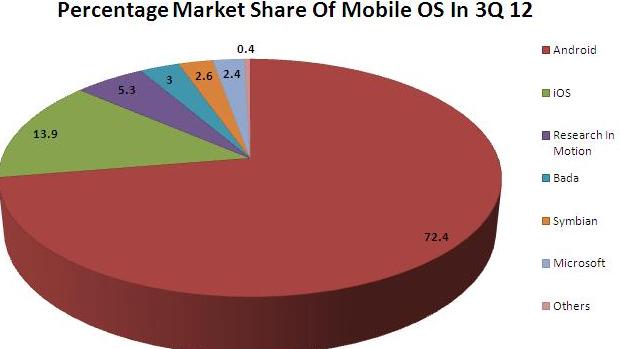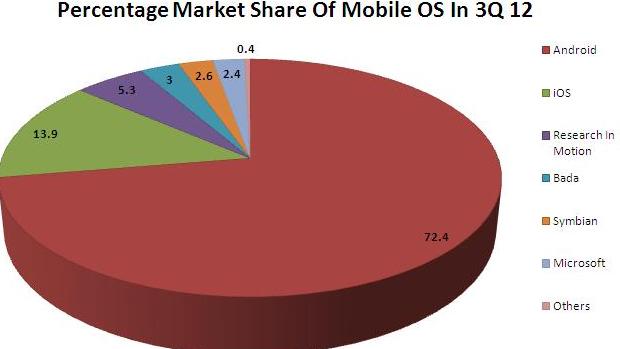 In comparison to Symbian, the condition of Microsoft's mobile OS is quite better. At the end of Q3 2012, Windows phone/ Windows Mobile succeeded to grab 2.4% of overall mobile OS market share, up about 1% compare to the same quarter of the prior year. At present, Microsoft's mobile OS is being used by Samsung, HTC and others in addition to Nokia. Windows Phone 8-powered smartphones are right at the corner, and Microsoft has kept huge expectations from its latest mobile OS.
After subtle investigation, you will definitely find out that the competition in smartphone segment is just among two-horses–Samsung and Apple. On the other side of horizon,  in mobile OS segment, the battle is confined with just Android and iOS. Astoundingly, 72.4% of smartphones shipped in Q3 2012 were Android-powered. In comparison, Android's nearest rival iOS could mange to hold just about 14% market share in Q3 2012.