Multimedia contents are no more abhorrence by Industries, companies, marketers and viewers. As Internet infrastructure is refining across the globe, the adoption and influence of video contents are at its best in recent times. Global brands are also understanding the bandwidth of the video contents and making their best efforts to create videos meant to be viral and appreciable.
Red Bull is, apparently, inherits quite creative capabilities – besides selling energy drink – than any other brands. According to a latest study by viral video creator GoViral, Red Bull leads the chart of Top 100 Most powerful viral video brands, beating many well-known globally acclaimed creative dinosaurs like Apple, Samsung, Google and Disney.
The list contains many interesting hidden facts too; Samsung has beaten Apple in the list by securing 5th position against 11th position Apple could manage the best. Undoubtedly, mocking iPeople is working for Samsung better than Apple's straight feature display ad.
Tech companies have either not adopted the viral view of videos or are not creative enough as Google is the only IT company that secured any position among top 10 viral video brands. The effect and impression of Old spice guy is still blooming, resulted in 6th position.
Car makers are trying to leverage over video contents as most of the companies are placed at head-to-head positions. BMW, Volkswagen, Mercedes-Benz  and Toyota have got themselves ranked among Top 20 viral video brands with 12, 13, 15 and 20th position respectively.
Despite of getting bread and butter from Internet itself, the shocking placement of many Internet properties is enough to astound anyone. Google, Facebook, Yahoo, eBay and Amazon are the only ones who hold position the list of Top 100 viral video brands – but somewhere down. It's only Facebook – after Google – that managed to reach at 45th position.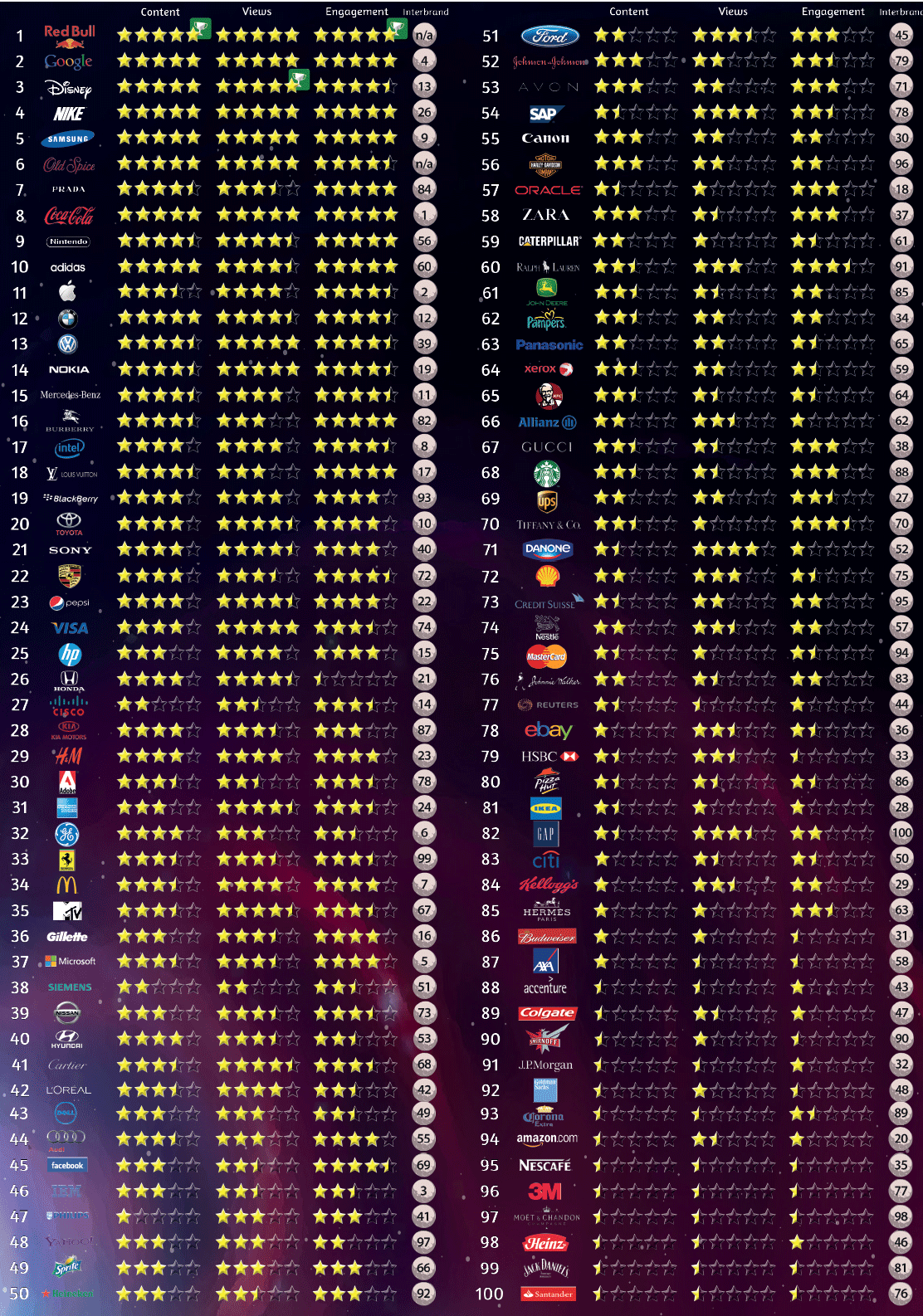 However, when it comes to Content based segregation its Red Bull, while it's Disney that leads in Views based. Ultimately, its again Red Bull that created the maximum buzz by topping in Engagement based segregation.
To list the Top 100 viral video brands, GoViral considered four factors mainly: The number of raw views a company's video recorded, the engagement a brand's video created, company's interbrand ranking to show how valuable a brand is, and a subjective matter of quality, innovation and relevance.
While we leave you to pay much more attention towards the complete list above, here is a Red Bull video which could portray a justified image in your mind over 'Why Red Bull videos are highly engaged and content rich.