On November 5, Samsung spilled the beans on its Facebook page that the shipments of Samsung Galaxy SIII surpassed whopping 30 million units milestone. However, we already estimated that Samsung Galaxy SIII could crossover 30 million units by the end of this year, but the device reached the figure somewhat earlier. According to a recent report from Strategy Analytic, Apple's iPhone 4S is no longer the world's best selling smartphone. Now, Samsung is a 'new mighty king ruling over the magic realm' of smartphone. Yes, it's true. The South Korean company shipped 18 million units of Galaxy SIII model during Q3 2012, and succeeded to grab 10.7% of smartphone market share in terms of shipments.
What Made Samsung Galaxy SIII The Best Selling Smartphone ?
First, a large touchscreen (4.8-inch) of Samsung Galaxy SIII entices screen enthusiasts to get their hand on the device. The Galaxy SIII has outstanding features and specifications and this is the main reason why the handset is considered as the one of the best smartphones. Furthermore, Samsung is offering the device over 296 carriers in 145 countries. Of course, extensive distribution of the device across more than 100 countries has boosted the shipment of Galaxy SIII model.
More importantly, Apple buyers holding off on purchase ahead of the iPhone 5 launch in the last quarter that fueled to shipments of Samsung Galaxy SIII smartphone.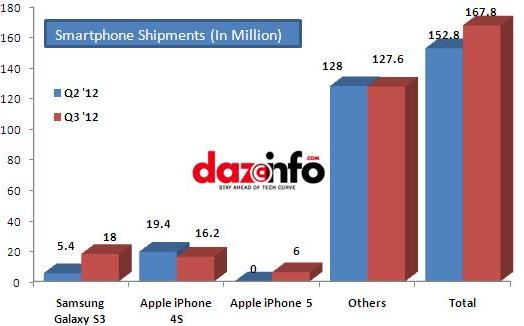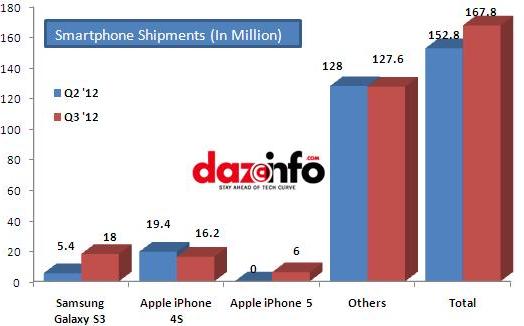 In Q3 2012, one in every ten smartphones (shipped by vendors) were Samsung Galaxy SIII. In addition to these, India and China are considered as Samsung's two biggest markets. In China, Apple dropped off  the top five smartphone vendors in Q3 2012. On the other hand, Samsung succeeded to sustain its supremacy in smartphone segment in China with 14% market share, followed by Yulong, Lenovo, ZTE and Huawei respectively.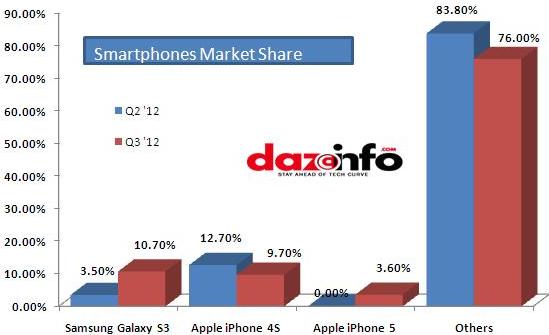 Apple shipped 16.2 million iPhone 4S units in Q3 2012, down from 19.2 million in Q2 ended June 30 this year. However, Apple's iPhone 4S succeeded to manage 9.7% market share.
It's Tough For Galaxy SIII To Retain Its Supremacy
Samsung Galaxy S3 was quite popular with consumers and operators across North America, Europe and Asia. But as iPhone 5 went off on the right foot, it could be one of the threat for Samsung Galaxy SIII in Q4 2012. This time, demand of iPhone 5 is expected to be doubled in India, where the device is currently running out of stocks.
Indeed, it's tough to speculate whether Galaxy SIII could retain niche position in smartphone realm or not. The reason is quite obvious that Apple shipped 6 million units of iPhone 5 in Q3 2012 since its launch on September 23. Interestingly, Apple shipped 5 million units of iPhone 5 in the first weekend since its launch. Besides, it's also expected that iPhone 5 would outburst smartphone market in this holiday seasons.