With 1 Billion active users, Facebook is enjoying undisputed dominance over Social media and largely over Internet too. Despite of this, serious business implications are just missing and sites, like Pinterest, are marking their presence.
A recent survey to check the pulse of Online Consumer – by BizrateInsights – depicts that Pinterest is much more influential than Facebook over online shoppers and helps them to stay more updated about brands and products they are connected online. Pinterest is more often used as a destination for shopping inspiration, tracking and product discovery.
69% of online consumers who visit Pinterest have found an item they have purchased or wanted to purchase compare to 40% who visited Facebook. Interestingly, Pinterest users are also more engaged with retailers or brands – 43% Pinterest users like to stay connected with brands/retailers compare to just 24% over Facebook.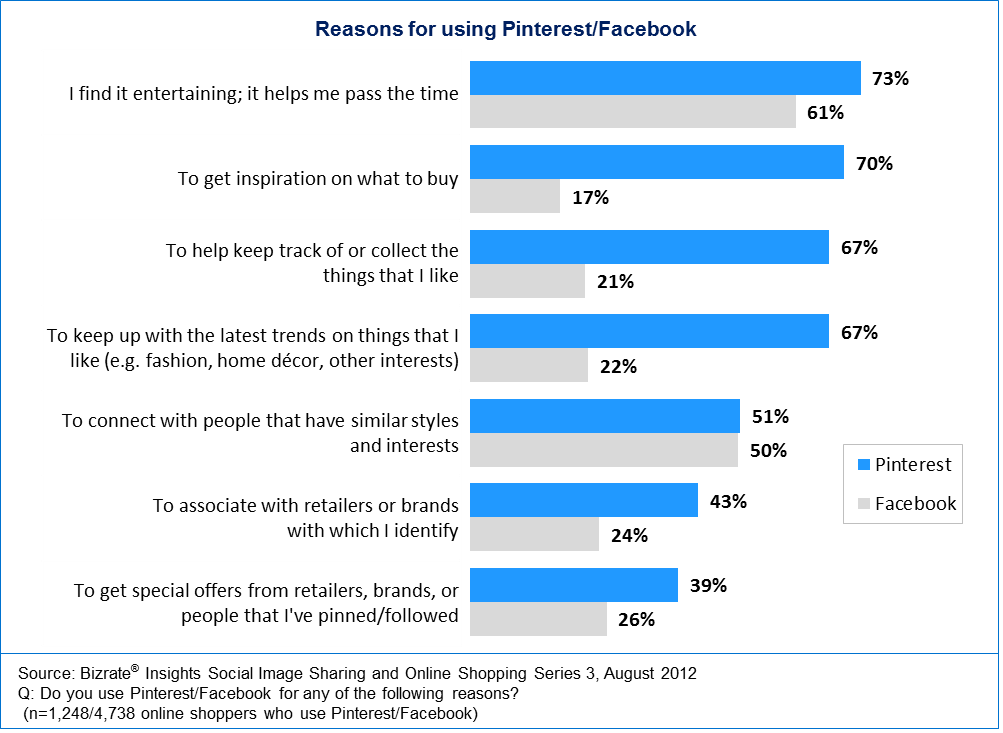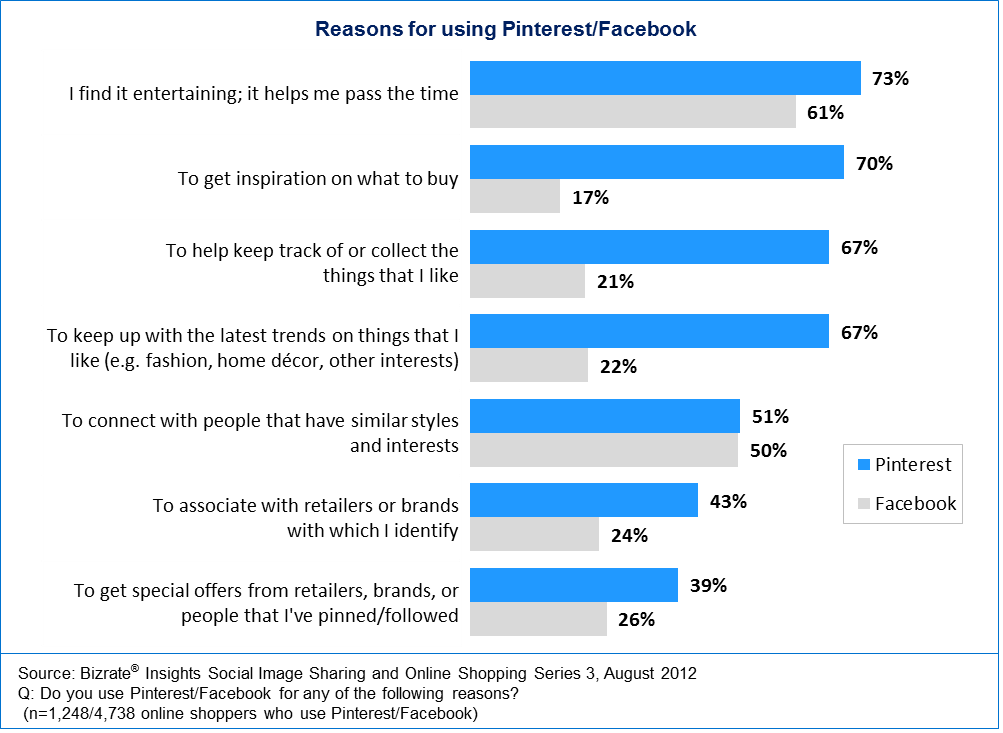 Pinterest A 'Creator' But Facebook A 'Participator'
However, while segregating the whole cycle of a marketing process, Facebook and Pinterest have got their own importance and dominance with respect to various stages. When a product/ brand is created, it's Pinterest that acts as more effective network as 'Creator' than Facebook. The activity of Discovering and Pining a product is more preferred with 55% Pinterest users than Facebook (37%).
Progressing with marketing cycle, Facebook leapfrogs Pinterest in making online consumers to act, participate and stay active with brands/retailers. Facebook users are more responsive and active when it comes to self-initiated activities like searching for products/retailers, browsing products/retailers' photos, brands' coupons or participating Facebook events related to brands/retailers.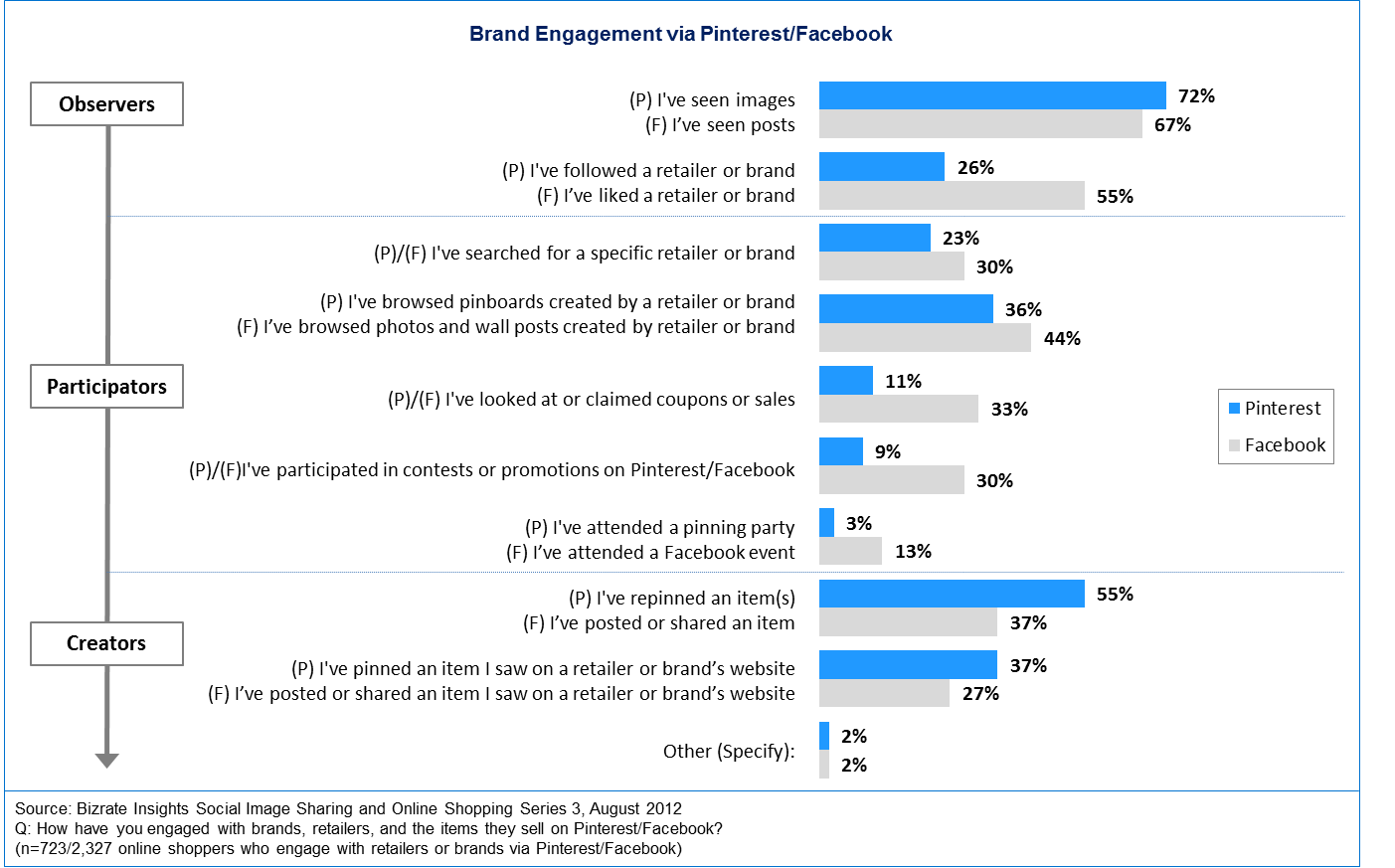 It clearly indicates that both the networks have specialized itself in various aspects of brands' marketing starting from discovery till post-buy observation. PInterest users base is comparatively quite smaller, though, for emerging and new retailers/products or startups it's the best platform to launch marketing initiatives. However, Over a period of time, same brands/products should graduate from Pinterest to Facebook for constant engagement and online promotion.