This time, everyone is waiting to see how Windows 8 devices will reinvigorate PC market. Undoubtedly, dozens of Windows 8 powered laptops and Tablets with eye-catching designs and features are coming next month. And it's also true that we have already familiar with handful of these Windows 8 powered devices. But what's new with the OS ? Microsoft has endeavored to unify two platforms—desktop and Tablet—through Windows 8 .
Presently, Microsoft wants to make its strong foothold in dynamic mobile segment.  It's pretty known that Windows has already entrenched itself in home computers and enterprise segments. And really, it would be a dream for Apple and Google to contend Microsoft in these segments. At present, there are about 1.3 billion Windows users worldwide and now, Microsoft is betting high on touch and more app-centric features (rather than file and folder features).
For Users' Prospective:
Microsoft has focused on touch screen with metro tiles interface over traditional conch laptops. Of course, users will have lot more things to do on new Windows 8 laptops with their fingers than traditional clamshell laptops. With Metro tile interface and touch screen, Windows 8 could entice non-touch screen laptop users towards its platform, especially when the matter comes with the flicking up and down to long web pages.
It's speculated that Windows 8 Tablets and Hybrid laptops are coming with the very similar prices. There should not be any confusion with Windows 8 and Windows RT products–which is based on ARM architecture instead of Intel or AMD. Every RT laptop/tablet will come with pre-installed Microsoft Office and price of the product will start from $599–however, user will have to pay extra $150-200 for additional clamshell -style keyboard dock.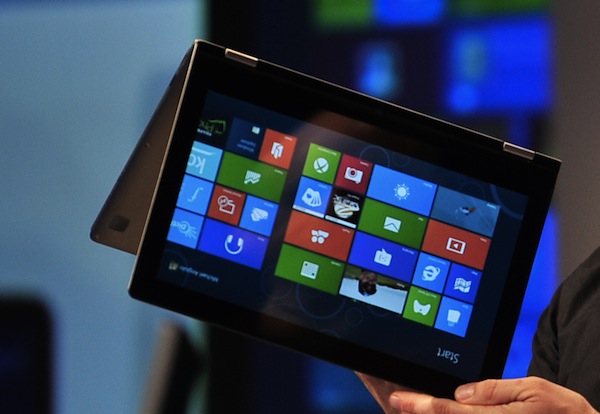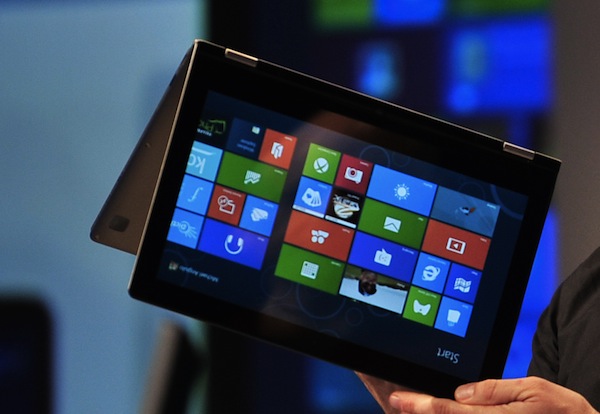 It's estimated that every major PC makers (Windows partners) are going to launch at least a product powered by Windows 8. The Windows 8 running devices are being designed uniquely; Several "slider" laptops are offering 'screen fold back' of a full 360 degrees and also, screen sliding down over the keyboards.
In addition to these, Microsoft is offering upgrade license for those who purchased Windows device after June 2 of this year, but before January, 2013, for just $14.99. Besides, Windows users (having Windows 7, Vista and XP) will be able to upgrade for $39.99 as well.  I have already stated above that Windows RT will only come with pre-installed on Tablets, but Windows 8 Pro and Windows 8 Basic will be available for public download.
Microsoft Metro tiles interface are arranged in groups on the start screen and they can be customized as per users' preference. Additionally, the semantic zoom provides an easier way to navigate by mean of content-rich apps. Besides, navigation through the charm bar (a navigation bar placed at the right corner of the Windows' screen) facilitates users to search apps, files and setting, share contents, configure external devices and more. In terms of Windows 8 installation on the device, the process is remarkably simple. Windows 8 powered devices will effectively be worked with keyboard, mouse and touch.
One important feature that I have noticed that Windows 8 allows multi-touch gesture on touch pads; however, it's not unique or new, Macs devices have been using multi touch-pad for few years. Windows 8 has three default gestures for touch pads: Pinch-to-zoom, edge swiping and two finger scroll along X and Y axes.
Undoubtedly, this time Microsoft is looking beyond of its traditional design, interface and functionality in order to make the devices uncompromised. I have no doubt that Microsoft's charming approach for searching and socialization will attract users, but also, it's cool log-in-options will lure a significant numbers of desktops and Tablets users. In log-in option, users can create local account and they will be able to synchronize Windows 8 settings including Internet Explorer 10 history, account setting like Facebook and Twitter, background setting, email, instant messaging and more with other Windows 8 powered devices.
For Enterprises Prospective
At present, majority of enterprises and businesses are supporting Bring-Your-Own-Device (BYOD) format. Now, employees i these organisation can use their own devices for official purposes. Indeed, BYOD trend has created a need to deploy computing plan that encompasses multiple devices. Earlier, Microsoft already described that using Windows 8, administrator could manage  the smartphone OS with the same tools that they use to manage their PCs. Definitely, unified Windows 8 Path could reduce an overburden on IT sector.
It's quite clear that x86 apps will not work on ARM devices due to performance optimization reasons–anyway, the architectures are also different. Moreover, Windows 8 is quite impressive in security concern due to its enhanced exploit mitigation, password management and encryption and stronger sandboxing.
In terms of apps development, Microsoft allows corporate–style apps in its Windows Phone Marketplace and prior to submit the apps, developers will have to go for certification. While on the users side, they will need to use Windows Live ID—another point of administration.  Microsoft's forthcoming Office 2013–focused on cloud–will enhance a revolution towards device independent computing.
Just few days before, I explained how Microsoft is aggressive towards its mobile ecosystem. The company has reportedly announced to have more than 100,000 apps on its app store. As I have already discussed that app developers have a lot to do on Windows 8 platform and they will definitely prefer to work on this platform. Over 1 million Windows 8 'Consumers Preview' were downloaded in just 24 hrs after it was released at MWC event in February this year.
Undoubtedly, Microsoft has strong management track record and it could leverage on its popularity. Nevertheless, Windows 8 is an innovative OS and it has ability to change the notion of the worldwide detractors.