Just a few days before, I showed off about the impact of m-commerce over e-commerce. Astoundingly, 35 million NFC-enabled smartphones were shipped last year, while 1.2 billion units are expected to be shipped by 2015. As the technology advances, penetration of smartphone is uniformly increasing in e-commerce segment and also, it's also quite helpful for ecommerce websites to generate more dollars.
According to two recent images (revealed by an ecommerce customization company Monetate),  the global leading ecommerce websites received just 3.31% of their total traffic from Android-powered smartphones, up from 1.76% last year. However, Android smartphones have marked 85% year-over-year growth in ecommerce space in Q2 of this year. On the other hand, these leading ecommerce websites received 5.41% of total traffic from iPhones in Q2 of this year, up from 2.45% in the same quarter of the previous year. Apple's iPhone has recorded an 117% year-over-year growth in Q2 of this year.   See the graph (below) for detail web traffics (generated by Apple and Google's smartphones) during one year period ended June of this year.
In terms of Smartphone market share, once again Apple is dominating over Google. In Q2 of the last year, Apple dominated Android with 57.24% market share, but it lost its market share to Android during Q4 of the last year. Later, Apple succeeded to manage 61.19% market share till the end of Q2 of this year, when Android had just 37.46% of market share.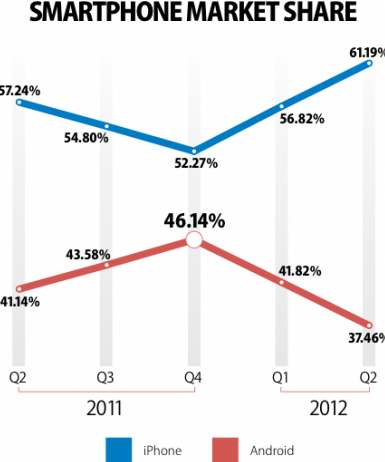 It does not matter for ecommerce sites that people are more likely to get their hands on Android latest Jelly Bean version or Ice cream Sandwich version, but it matters that how many smartphone users are being attracted towards their websites for shopping and more activities. For ecommerce websites, Apple's iPhone is quite lucrative and obviously they would like to create a more user-friendly ecosystem for iPhone users compare to Android platforms. Indeed, Android is lagging behind Apple's iPhone in terms of ecommerce.
Source: Monetate
Via: Business Insider