Mobile has now become one of the lucrative platforms for advertisers. Advertisers are focusing to mobile platforms for the promotion of their brands and that's why; the numbers of ads are increasing on this platform with dizzying pace year-over-year. Opera has recently reported its in-depth study on monetization of mobile advertising. It's clear from the study that the devices having better usability (touch screen and larger screen) and functionality (including click to call, expend, play videos and more) are considered to have strong monetization potential.
In other words, the mobile platforms which are offering more interactions between advertisement and users are capable to generate more dollars. That's why; iOS platform has highest eCPM compare to others platforms. iPhone leads the Smartphone OS pack with an average eCPM of $2.85, followed by Android with $2.10. On the contrary, other mobile platforms are considerably behind compare to Android and iOS in terms of eCPM. Undoubtedly, for better monetization performance, the device will likely to be more user-friendly.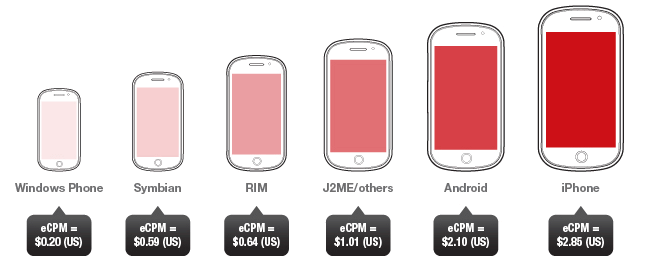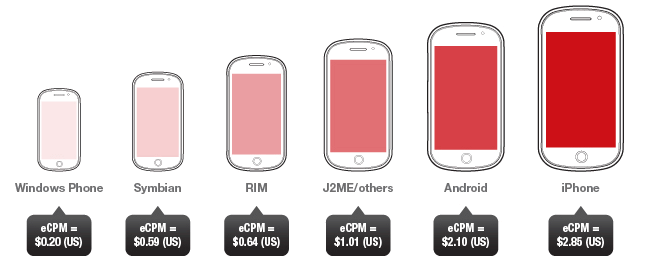 For HTML 5 Canvas (which is considered as mobile friendly browser), specialist developers are keen interested to build stunning animation and full screen rich media overlays in order to improve engagement. However, they are also currently relying on Safari 3.2 and Android 2.1 for the run of their apps. Moreover, the popularity of platforms is also playing a significant role to entice a considerable number of advertisers towards the platform. It's true that Windows Phone has encompassed number of advanced features, despite advertisers are more likely to go with Android and iOS platforms.
See the table below, where you will find that iPad achieved highest eCPM of $3.96 across Opera Platform in Q2 of this year due to its optimized user-friendly functionality and usability (screen size and touch screen). Now, iPad has become one of the most preferred platforms for advertisers.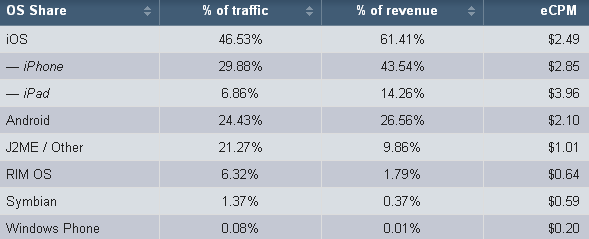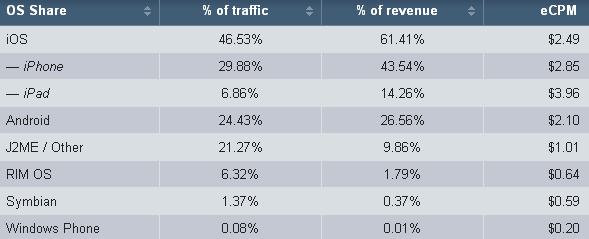 The study has revealed that the demand of Tablet ad execution have been grown up 140% compare to the last year. In addition to these, it has estimated that Tablet is going to be even more important for ad execution in next 6 months. It's pretty clear that Apple's iOS is delivering majority of rich media ad impressions compared to other platforms. Henceforth, mobile vendors will definitely endeavor to make their platform more user-friendly in sense of functionality and usability.
Image credit: Opera Software