It has been cleared that Apple is going to proclaim major software updates–including iOS 6, an updated version of iCloud and OS X Mountain Lion– at the WWDC event next week. However, it's not clear that whether it's going to announce hardware specification of iOS 6 or not, but, it's quite unambiguous that the company will announce Mac Hardware specifications. However, it's also expected that the company could unveil few new accessories at the event next week. We might expect accessories such as new cables, refreshed keyboard, mice, Airport and something else.
Previously, a digital forum "9To5Mac" revealed that the redesigned MacBook Pro will have Retina Display screen with a screen size of 11-inch.  But, a recent leaked image from another forum "Weiphone"  shows MacBook Pro having 13-inch (diagonal) widescreen with resolution of 1280 by 800 pixels. A leaked image has been provided below: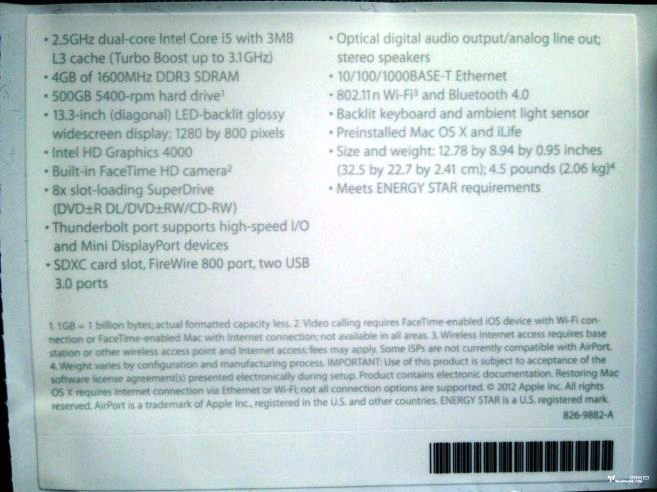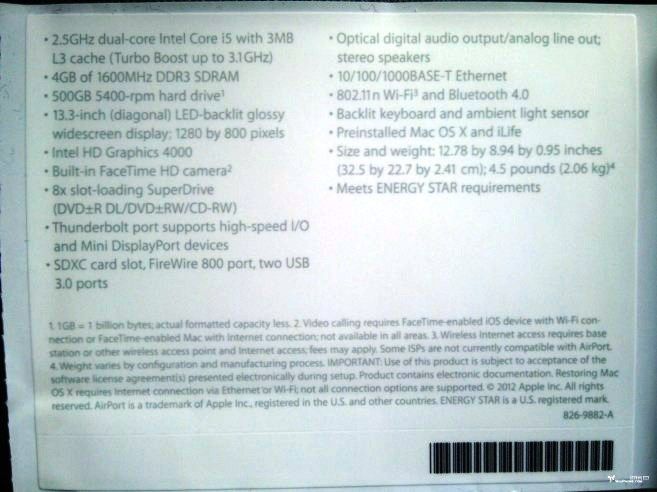 Most noticing features in this leaked specifications are Intel HD graphic 4000, USB 3.0, Thunderbolt I/O port support, and 4GB of 1600MHz DDR3 SDRAM.
Besides MacBook Pro, Apple is expected to announce an 13-inch MacBook Air, new iMacs in two different sizes and also Mac Pro at WWDC next week. The price of Mac Pro model is speculated to be the same as the current model. Previously, I mentioned that Apple could lower down the price of its MacBook lineups later this year in order to contend Intel's Ultrabook lineups, which seems ethical. But, we might foresee a different design for Mac Pro compare to the existing design.
A recent rumor states that Apple has started to gather 'Mac Pro stocks' in its retail stores. However, it's also expected that the company could implement super fast 3.0 technology and Thunderbolt I/O technology in its next generation MacBook Pro–which is depicted by the above leaked image.
In addition to these, we might see faster Thunderbolt I/O technology in forthcoming pro desktop. Indeed, Mac Pro is Apple's one of the high-end machine for professionals. Astoundingly, the company updated its Mac Pro last time in July 2010, but I don't why the company was unconscious about its high-end professional device so far.
Image credit: Weiphone