Last year, Google introduced custom-designed font "Roboto" for Android 4.0 OS like some other players such as Apple. It's now available for developers, designer and font geeks for free downloads. The font has been released in 16 different typeface variations by the company. The font download is available in a .ttf (True Type Font) file format, which could easily be worked with Microsoft Office and other productivity software options. In addition to this, it can also work with graphic design tools such as Photoshop.
I am little bit confused with the openness of Google's Android OS or Chrome OS or more. Recently, a  burning topic has been sparked out around whether Google is breaching the decorum of openness of its Web Fonts or not. In present scenario, Google is projecting itself as ingenuous creator in the development era.  It's true that open source demonstrates the freedom of expression but now it has become a source of entrepreneurial competition.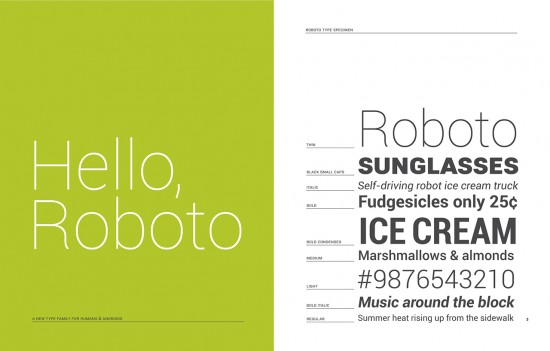 It's quite known that Google started its webfont project in May 2010. The company released the project in order to contend Typekit and Webtype in the market. Google's project is definitely platform oriented—to create Android, chrome OS and Google Docs—rather than to make or promote applications. The company's Droid and Roboto is the purport of its platform oriented strategy.
Do you think the availability of 1001 font on Google site (without any cost) is altruism of the company? If you are thinking it is, then it's your big gaffe. Google always endeavored to grab our attention into revenue—either by selling ads or distributing open-source code—and it's reality.
I have no issues with making money from open source as many companies are doing. But, the openness means that you can share with your friends and colleagues. If you design fonts, definitely, you would like to share among to whom you wish, but it is really not happening on the Google's platform. Here, "Google is only caring to Google". It does not matter what's happening with your sentiments.
It's no wonder that you are thinking that open-source developers work for free, but, the reality is somewhat different, they are being paid for their assistance.
The employees are paid by Google those who are working for the organization, and indeed, Google is making money from Google Web Fonts. If you think the matter with distinct way, then you will get the answer that Google escalate the enthusiasm of the designers who generously contribute the company at the nominal money or sometimes free.
The world is full of swindlers, most of the time especially stingy clients used to say that they have not sufficient money to afford the project. Apart from this, for surviving in the world you will have to sacrifices something, that's why, most of designers are being implicated by open-sources clients. For getting exposure, sometimes these designers work for open-source client without taking a single buck.
I am little disappointed with this policy where the weaker is being exploited by the stronger day-by-day.  Google is trying to persuade designers to spare their time and work below the market value, for the pleasure of being open-source contributor.