Google's innovative mobile Operating Syastem "Android" dominated in Q3 and Q4 last year. However, in last holiday season, Apple's iOS operating system made its influence little greater in the market compared to Q3 due to its revolutionary iPhone 4S.  As data released on Android developer site, Gingerbread were running on 58.6% of all Android devices in last 14 days prior to end of Feb 1 worldwide, followed by Android 2.2 (Froyo) —succeeded to occupy 27.8% of the total Android market share. Android 2.1 (Éclair) had only 7.6% share in the last 14 days. While Android Ice Cream Sandwich (ICS) had succeeded to dominate 1% of the total Android market share.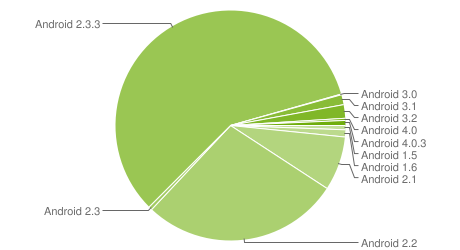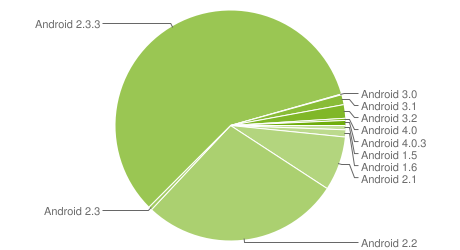 Honeycomb's various updates, running on the different Android based Tablets were able to nab only 3.4% share. Gingerbread's growth is highly incredible and consider as most successful Android version ever.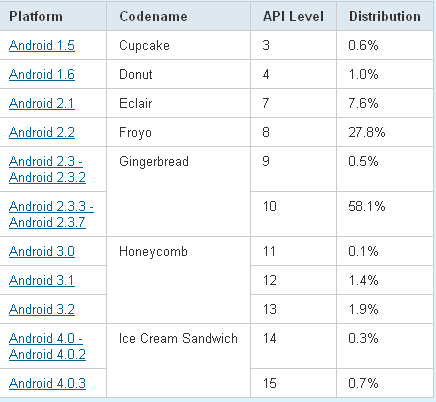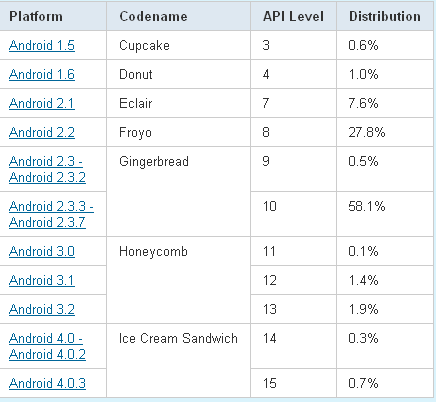 In December 2011, Android Gingerbread (Android 2.3) occupied 50.51% market share followed by Froyo with 35.3% of the Android market share. Éclair grabbed 9.6% of the total handset. On comparing both results,  Gingerbread is getting stronger, up by 8.5%, while Éclair's share has dropped by 2%.
The grasp of Android over the Tablet sector has always been poor, but it has increased by 1% from 2.4% in Q4 last year. Android Ice cream Sandwich is compatible for both Tablet and Smartphone.  A sequence of ICS's lineup is coming this year and Android is going to explode the mobile market.
Recently, a research analysis firm had stated that Android made its supremacy in the mobile OS with 47% market share followed by Apple's iOS 43% in Oct/Nov 2011. The market share of Android had declined by 13%, while Apple's iOS market share increased by 17% in Q4 compare to Q3, last year.
The major rival of Android is Apple—which has outstandingly performed in the last Christmas holiday, while other rivals like BlackBerry and Windows Phone is struggling in the market. However, it might be good indication for the company, there's over more than 500,000 Android devices are activating every day.