Android is the most innovative smartphone operating system developed by Google which always stays updated and secure. As a result, Android's six versions are in the market – Cupcake, Donut, Éclair, Froyo, Gingerbread and Ice Cream Sandwich. Surprisingly, among all Gingerbread is most dominating OS which has the acquired 50.51% of all Android's market alone whereas rest of versions account for a total of 49.49% cumulative.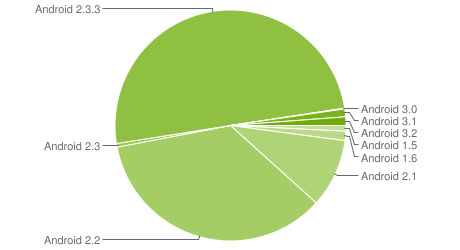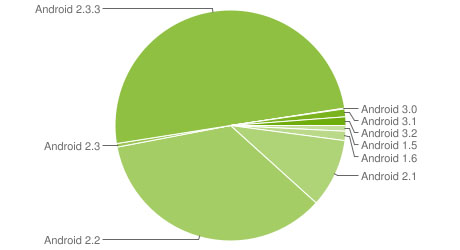 After Gingerbread (Android 2.3), Froyo is second most successful Android OS version which controls 35.3% of Android market share. Thereafter it comes Éclair which is running on 9.6% of Android handsets. Donut and cupcake contribute the negligible market share of 1.3% and 0.8% respectively.
This is the first time that the Gingerbread has become the most dominating Android version but Ice Cream Sandwich is being considered as the unsurpassed innovation among all the versions of Android.  The future of Android shifted from Froyo to Gingerbread and Gingerbread's outlook now moves to Ice Cream Sandwich which is the latest Android operating system.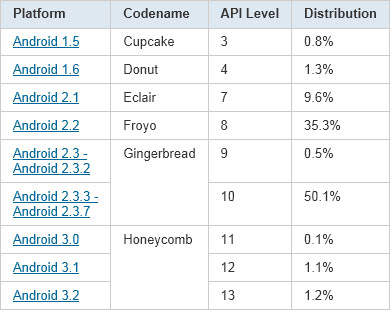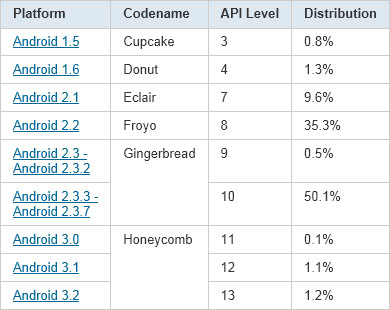 Interestingly, combining all the versions of Honeycomb (3.0, 3.1, and 3.2), only 2.4% of Android devices are presently running on the it which depicts the poor dominance of Honeycomb on the tablets market. Though, Honeycomb is meant only to support Tablet, It's Apple's iPad popularity that made it very disgraceful in the tablet market only to put it in survival state. However, the upcoming version of Android – Ice Cream Sandwich (ICS)- is more competitive operating System among all Android OS as it a combine form of OS meant for smartphone and Tablet industry.
Indeed, it's a grace for Android developers that the half of the Android phone are still running on Android's Gingerbread but dreadful in sense  that the version was released a year ago and seems outdated and quite unattended.
The recent success of Samsung Galaxy has proven the potential of Ice cream Sandwich (ICS) in both smartphones as well as in Tablets. Android's recent version is the most popular among all mobile operating system including the ones launched by Apple, Microsoft and RIM. Now, it's the time to move from the older version to new version of Android which is compatible on both smartphone as well as on Tablets. Definitely, Ice Cream Sandwich – also known as ICS and Android 4.0 –  has the capability of being the most dominant operating system among Android's all versions including Gingerbread.