Facebook is trying its level best to compete with Google+ and that's showing in constant update for last few months. Today, it has announced that, going further, character limit for updating a post has been increased to 60,000 characters. This is the second time in a year when Facebook has increased this limit; first it was increased from 500 to 5,000 and now 60,000. Apparently, the change is mainly due to Google+ which fueled up the competition by waiving off any character limit on status update. This directly indicates that tussle between Google+ and Facebook has been surging.
One should remember that from the day of launch market analyst are considering Google+ a most prominent competitor of Facebook and, up to some extent, it's true as GPlus is attracting more number of users by the launch of various updates and features – missing in Facebook.
However, when I tested the character limit of Facebook it's around 63,206. If you write something above then that then it will direct write "Status Update Too Long" and ask users to publish it as 'Note'.
I am sure you all must be thinking how did I chooses 63,206 words? Its best answer is given by Facebook engineer Bob Baldwin. Who wrote "I set the exact limit to something nerdy. Facebook … Face Boo K … hex (FACE) – K … 64206 – 1000 = 63206 :-)" in response to its VP Mike Schroepfer's post.
Below pic provides clear idea how Facebook has changed its character: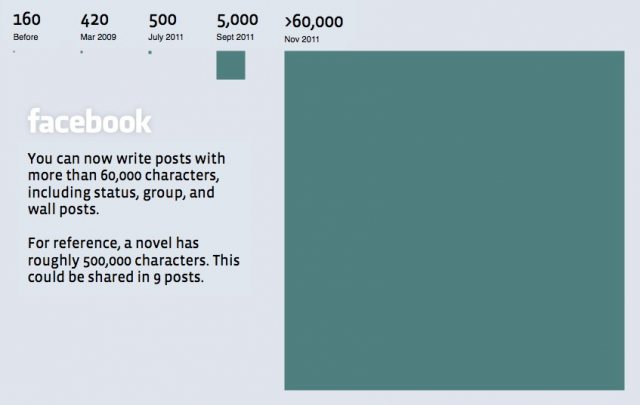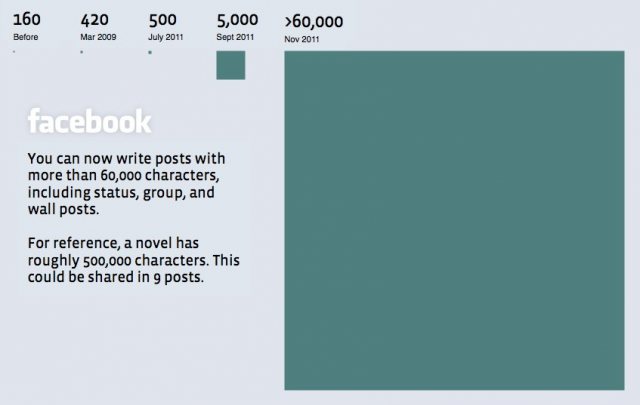 However, when I cross verified the claim of Google+, which claims unlimited characters limit, I was disappointed as  doesn't accept more than 1, 00,000 characters too. Infact, if anyone tries to exceed that limit a message pops up saying "There was a problem saving your post. Please try again." So, what made Google+ to claim no characters limit ? Is it just an illegitimate attempt to lure users or is there any problem in my Google+?
I think that Facebook has made a meaningful change by allowing users to post up to 60,000 but do users really have that much of patience to post 60,000 characters as their updates ? It can only be useful if someone wants to publish their report or a book on Facebook. So, how will it benefit general users and why these two giants are head-to-head for such a feature which are no meaning for general users? Its very difficult to procrastinate that any user will really be exhausted with 60,000 characters limit in their status update and even if someone happens to witness this how many will really care to read the whole status update – which generally be personal message or discussion ?
Hope, both internet giants will focus towards some impactful feature which could bring substantial advantages for users. If, the cat-fight still continues, no wonder users – who are already having it enough from social media slowly – will move away ! What do you think friends ?