Nokia is widely expected to unveil its windows Smartphone this week. When Nokia's chief executive Stephen Elop will address big cellphone maker's conference (London) on Wednesday, all eyes will be concentrated on the device in his hand.
Really the conference will elaborate to investors, as well as consumers, about Nokia's new strategy for Smartphone. The company's sales have been declining since 2007, and new Smartphone in the market may lead good start in this holiday selling season.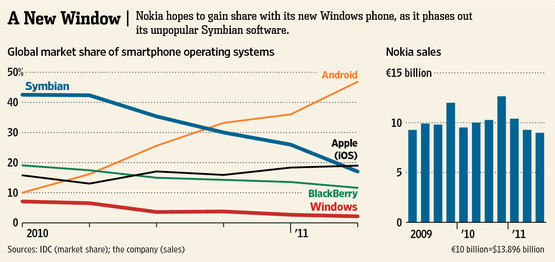 In February 2011, Mr. Elop said that Nokia will be refrained from this struggle stage soon, and also pledged to move out Company's Symbian Smartphone OS – previously which was criticized and now outdated. Lately, he managed to charm Microsoft and struck a deal for Windows Phone 7 only to replace Symbian Smartphone software.
The company is already battling with lots of renowned competitors like Apple's iPhone, Smartphone that run Google's Android and also up against Windows Smartphones made by Samsung, HTC and others.
Jo Harlow, Nokia's executive vice president of smart devices said that upcoming Nokia's Smartphone will be the first, which includes Nokia's own technology such as mapping application, little different from others phones in the market. She also emphasizes that Nokia's primarily intention is getting them to consumer earnestly.
Nokia had struck the deal with Microsoft in February, to produce its new Smartphone in less than a year. Since then Nokia restructured its Smartphone division to Microsoft's operations to strengthen its ties. Especially, appointed Ms. Harlow to study how Microsoft works, which created decision making bottlenecks, product teams by giving product- design engineering, quality management and product marketing. Nokia also appointed an executive to oversee partnership between these two companies and their working strategies.
Ms. Harlow said, "The change in the structure of the Smartphone division encourage her Smartphone team to make decisions themselves, instead of kicking them upstairs", and also has reduce the time by 30 % to 40%.
Nokia, once known as the innovator of mobile phones, has lost around 66% of its market value since Apple launched the iPhone in 2007. While Nokia still remains the world's best and biggest cellphone maker by volume, it is already witnessing decline in market share as consumer shifted from mass-market phones to Smartphone. Company is facing severe challenge from cheaper Android Smartphone and that's why, company has announced more than 10,000 job cut to reside afloat.
Closely working with U.S. carriers Verizon Wireless, AT & T and T-Mobile USA, Nokia has opportunity to comeback in the U.S. market as leading mobile company. Chinese market is also on target, where the company hopes to continue strong Smartphone sales and now the company has started to plan new strategies to dominate this markets – once again !