It was bound to happen but the thing matters the most – Style and Duration. Undoubtedly, Google's Android is the titan in the Smartphone OS market and with the latest report from Canalys it has further strengthens its position distance by miles with arch rival iOS from Apple. The global smartphone market has been dominated by Android with 48%, largely supported by Asia-Pacific that recorded the maximum sale in Q2 of 2011, as per the latest report from Canalys.
Globally, the smartphone market has witnessed 73% year-on-year growth, consequently 107.7 million units were shipped in Q2 2011 alone. Out of which, Android alone has counted 51.9 million shipment registering 379% growth than a year ago. Android's phenomenon growth has been mainly driven by massive adoption by almost every major handset maker like Samsung, LG, HTC, Sony Ericsson and Motorola.
Interestingly, besides Android its Apple's iOS platform – getting used in iPhone – has appreciated its smartphone market share to 19% beating one time overall mobile leader Nokia's Symbian to third position.  Apple has shipped 20.3 million units in Q2 of 2011.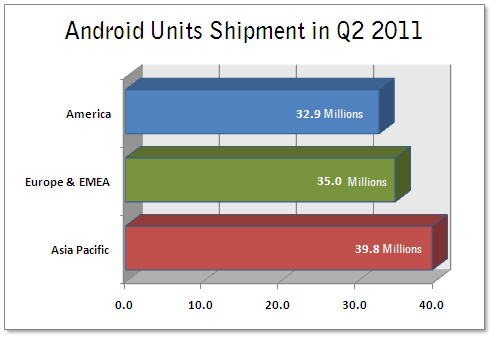 Recently, Google had claimed to unlock 500,000 Android devices every day and company is recording 4.4% growth in such figures with each passing week.
But the biggest monitoring surprise would be the launch of Nokia Windows Phone late this year. According to one study Windows Mobile platform is forecast to beat Apple's iOS only to regain its second position by 2015.
Despite of such encouraging facts and figures of Android, Google seems to be in little trouble with Android. Since the Android acquisition in 2004, company has faced multiple law suits and while company is busy handling another similar battle related with Nortel patent, Microsoft is silently emerging the biggest gainer from Android. Microsoft is slowly settling down with off-court adjustment with Android based Smartphone makers like HTC, Samsung which is allowing the company to mint millions.