It seems that people have started showing their confidence in Facebook's login data security. Atleast a latest report from Janrain, a user management platform that enables third party sign-in, claims so. The analysis is based on sign-in process of 350,000 global websites which are using "Engage" – A single sign-in (SSI) product which enables websites to authenticate uses through more than 18 login details like Facebook, Twitter, Linkedin or Gmail. For the very first time in a year, Facebook has surpassed Google as the consumer preference for signing into Internet sites using Janrain.
Compare to Q4 2010 when 27% of online users preferred using Facebook login to sign-in to sites, 35% of online users in Q1 2011 have shown confidence in using Facebook login detail. However, Google has lagged behind with 31% followed by Yahoo and Twitter with just 13% and 7% share respectively.
Interestingly, Janrain has also analyzed sign-in data by type of site as well. Facebook remains as most preferred choice for sign-in to news media sites for the second consecutive quarter with 34% share compare to 32% in previous quarter. Yahoo is the second most preferred selection of users with 28% share of all social logins in the news media sector. Essentially, Facebook's share is expected to scale up further with the introduction of new commenting section which can be integrated with any website for comments management.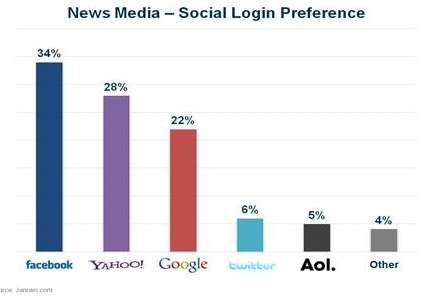 Even in retail space, Facebook is recording year on year growth but at the expense of Yahoo. Facebook's login share on retail sites is up 10% over the past year, and Yahoo's login share is down 11% year-over-year. In this space Google's share remains constant in last four quarter.