Undoubtedly, Microsoft has created history with Windows OS for desktops for more than two decades. People are influenced and satisfied (despite of few criticism) with the performance, features and friendly user interface of variant flavors of Windows OS. Unfortunately, Microsoft's OS – Windows Mobile, which has just covered a decade of formation in last April, has failed to replicate the same charm among mobile users against Apple's iPhone and Nokia's Symbian platform.
Now after a marathon run and constantly growing competition, specially from the most anticipated closest competitor – Google, Microsoft has decided to go through the major transition with its mobile initiatives. Like Windows Vista and Windows 7, when went through first ever major transformation in algorithm, new Windows Mobile 7 OS is ready to go through the same phase.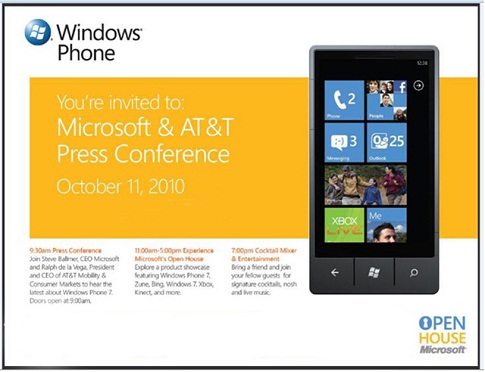 We had reported last month that the possible launch of Windows Phone 7 can happen in October when Microsoft had completed the development of new Windows Phone 7 platform and released to phone manufacturers for final integration (RTM ) stage. After facing the heat from the market when company's market share started plummeting sharply, Microsoft has finally decided embrace the new smartphone philosophy. With completely new user-friendly UI, absence of stylus and with a promise "You Get a Life" with new Windows phone 7, company is expecting positive response from market. The new Windows Phone 7 is coupled with an OS that enables easy integration with Microsoft's services Xbox Live and Bing, as well as social networks such as Facebook.
Anyhow, just after few hours from now, we will get a chance to learn what really Windows Phone 7 has in it when it will be launched. All claims, ads and promotions look very promising besides some of the draw backs which are already known: Windows Phone 7 won't support 'copy and paste' and 'tethering' functionality.
Till we come out with the first hands on review of "Windows Phone 7", do let us know what your expectations from such device are. Please use our comment section to talks about your expectations and features you have with Microsoft's revamped mobile initiative.